Suppose you want a service that you can use for downloading anything you like without worrying about download limits or credits. Then, you should consider trying out Envato Elements for sure.
It is a paid subscription service that provides you with access to more than 2,000,000 digital assets. You can easily download it to use in your projects. Also, it allows you to use either monthly or annually billed subscriptions. Using Envato Elements, there is no need to worry about download limits or credits.
It is great because you get the flexibility and freedom to try and use different graphics, themes, and files. Before you select the ones, you find perfect for your project. Many designers create Envato Elements digital assets. However, every designer gets paid for their work from a revenue-sharing model.
Furthermore, half of the revenue is shared with content creators who supply the assets used in the service.
Benefits of Envato Elements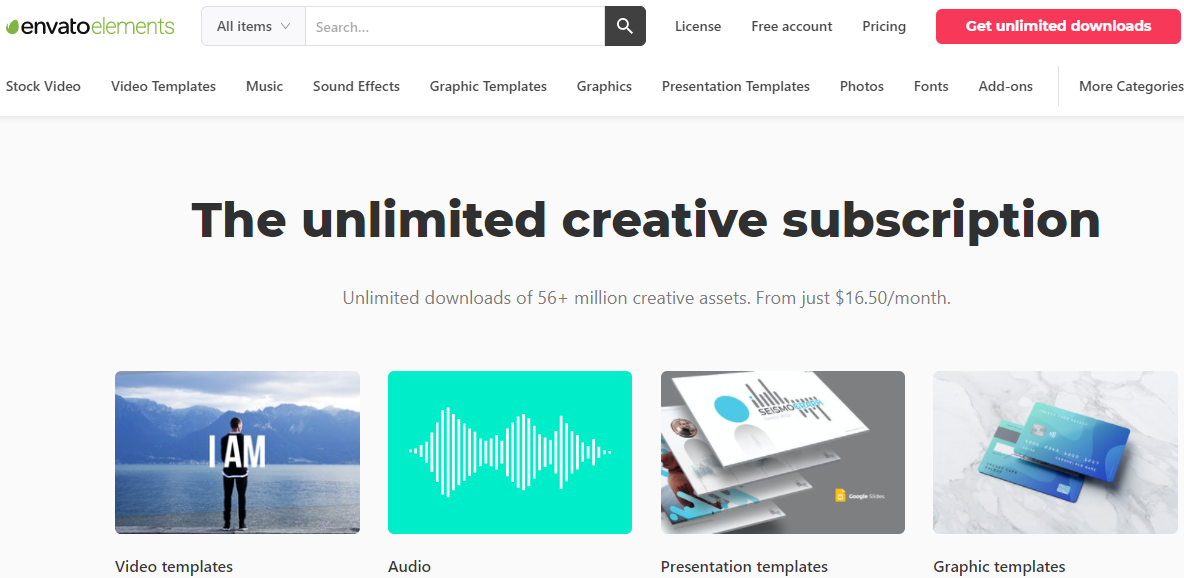 The truth is there are a lot of benefits you get if you use this service. For example, you get a lot of videos, graphics, images, and WordPress themes.
Also, if you are a blogger, you get a chance to search for a high-quality image to use for your posts. Or you are an audio producer, then search for perfect sound effects or a vlogger who needs a video template or stock video files.
This service is just excellent for you. Every person who needs to use visual and audio content needs to check out this superb service to improve their business. And as it is known, nowadays, more and more people need audio or video content to enhance their business. Also, this is why more and more people use it. That is what makes it so popular!
However, in the following text, you will learn more about this fantastic Envato Elements alternative called POWR. It is a tool worth mentioning because it has so much to offer, and it is worth trying. So, let's check it out a bit to see what's so great about it.
POWR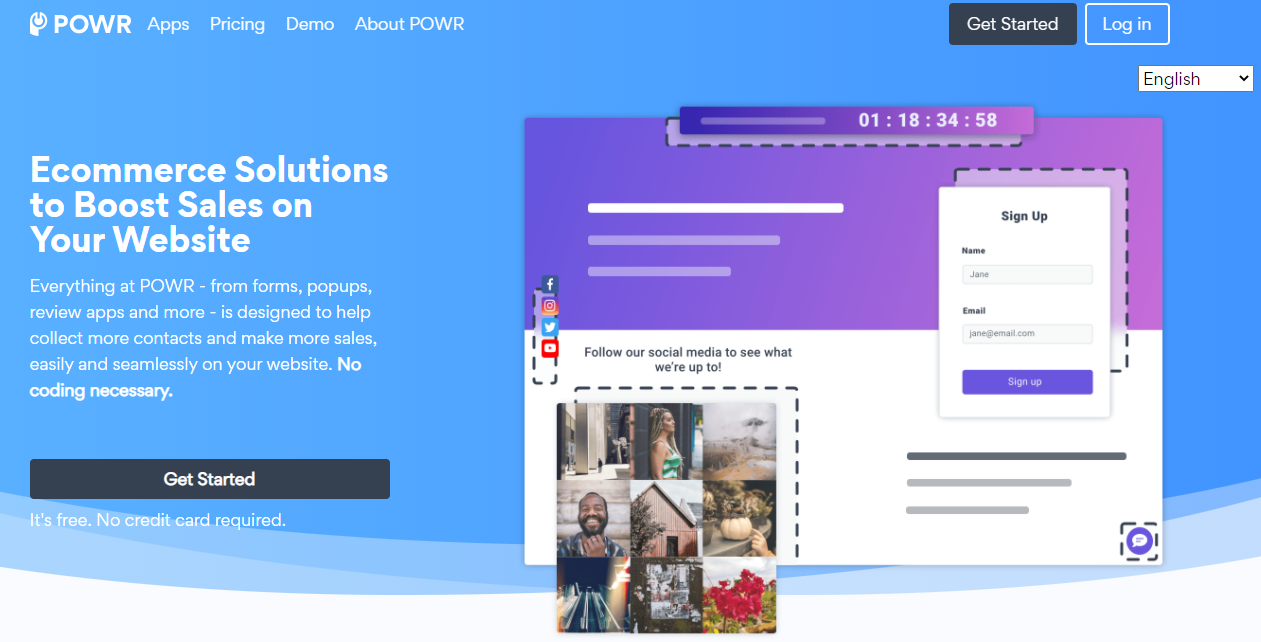 Firstly we have to mention; these two services have a lot in common. Envato includes way more elements and provides you with some fantastic templates. However, if you are looking for a quick way to create a particular form with your image, video, or graphics, we recommend using POWR. That way, you will avoid paying for something you don't need at all.
Also, you can use both of these tools if you are not an advanced developer. But you instead want to create your website quickly and easily. POWR will provide you with some outstanding, pre-made elements for lead capturing. There are no codes, no programming, just a simple click of a mouse.
So, instead of paying for the options you probably won't use, it's better to go with the POWR alternative. You will still be sure you still have everything you need. It's the perfect way to guide your visitor through a "maze" and lead them to become your buyer, step by step.
Main Features
Now, let's see what POWR has to offer to you! Some of the most important features should be listed first, so let's start with that.
You get more than sixty apps for forms, social feeds, checkout buttons, pop-ups, image galleries, and more;
The tool can integrate with hundreds of website platforms and sync contacts with marketing suites; all that from one dashboard;
It is an excellent alternative to Envato Elements;
It is the best option for e-commerce businesses and website designers;
It saves your time and money, but at the same time, it accelerates your sales and boosts your conversions ;
But there is much more to it than just this. POWR gives you the strength of the whole engineering team with no coding, all folded in a tiny toolbox. It allows you to integrate with hundreds of website platforms and has some embedded apps. These apps will help you reach more conversions using pop-up coupon offers.
However, that way, cart abandonment is reduced. Especially when you have a live chat to help your buyers with specific issues, if there are any.
POWR lets you use templates in the form builder to adjust your forms to your users. Try using contact forms, payment forms, event registrations, and more. Also, for your customers' best, make all the previous responses visible. Add emoji feedbacks, star ratings, and more.
More Important Features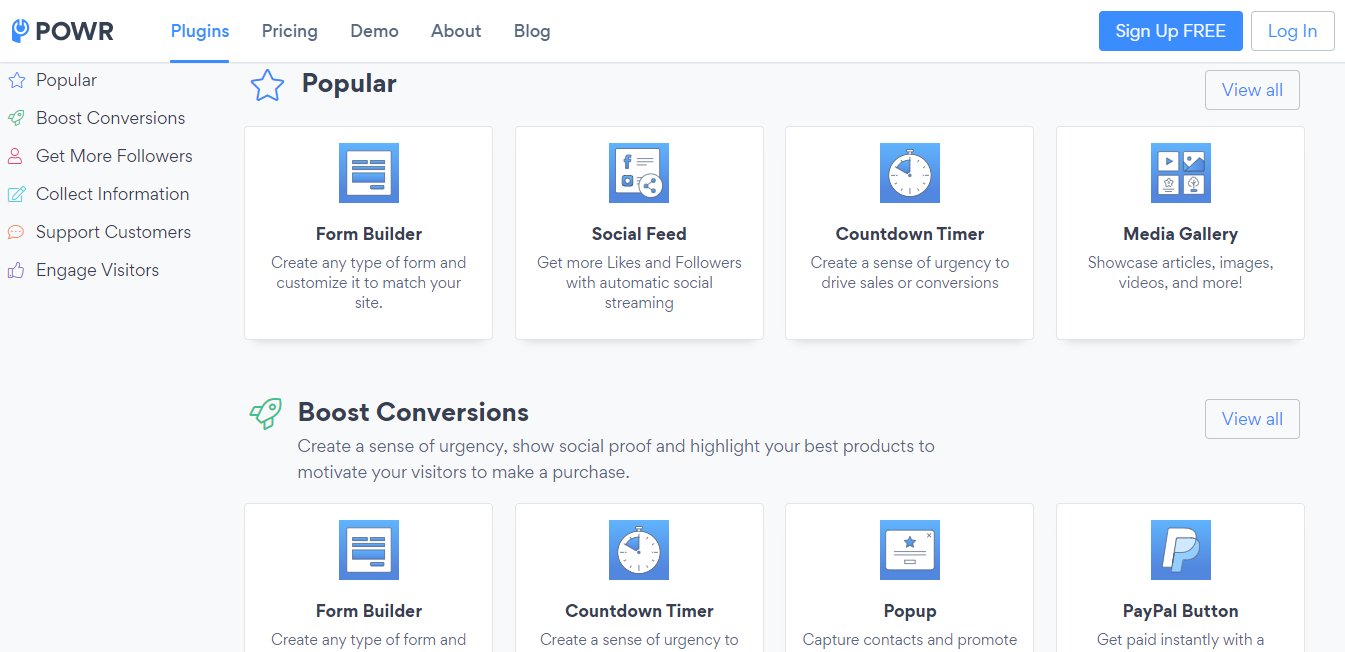 Also, when the customers see all those buttons, such as the Buy Now-Pay Later feature, PayPal button, or options for paying via credit or debit card, they will be engaged. There is also a fantastic feature, such as a countdown timer. Use it and boost your sales by creating a sense of urgency.
You can also draw your visitors' attention by adding a mesmerizing photo gallery where they can see all your products and offers. You can also add comment sections, FAQ-s, and more for a more accessible sale. Once you try POWR, you will see your business grow. Also, it will make you wonder how you used to run your business without it before.
With all those apps, options, and more, the work will be much easier, and POWR will boost sales in no time. With all those seamless checkouts, live chats, engaging pop-ups, and other unique features, there is nothing you can't do. The more you dig to POWR, the more opportunities and fabulous things you find. That is why this alternative is highly recommended.
Conclusion
POWR is a fantastic alternative to Envato Elements. Also, if you put some effort into exploring it and finding out all of its advantages, you could end up quite surprised. It provides you with some great features and stunning results in no time.
That is why this option should be first on the list when you are trying to find an alternative to such a powerful service as Envato Elements. Hopefully, you found this article helpful, and you will not hesitate to try and see its excellent results yourself. It is worth a shot. Good luck!