Over time, most people have adapted to a fast-paced lifestyle, making it more convenient for them to use a mobile device for completing a purchase instead of using a laptop, for example. This is why it's important to use the best website builder so your site looks great on both desktop and mobile. But a small problem exists. Many sites are not intended for use on a mobile device, and those that are usually are not fully optimized. Thankfully, creating a dedicated mobile app can fix this.
Now, you are probably wondering what the other benefits of creating an app from your site are. Well, apps provide users with faster loading, better performance and are fully adapted for use on mobile devices. By having an easier way to interact with your business, users will be satisfied and return more often to your app or website.
To make creating a mobile app easier for you, we will list four tools that will help you get a mobile app out of your WordPress site.
1. AppMySite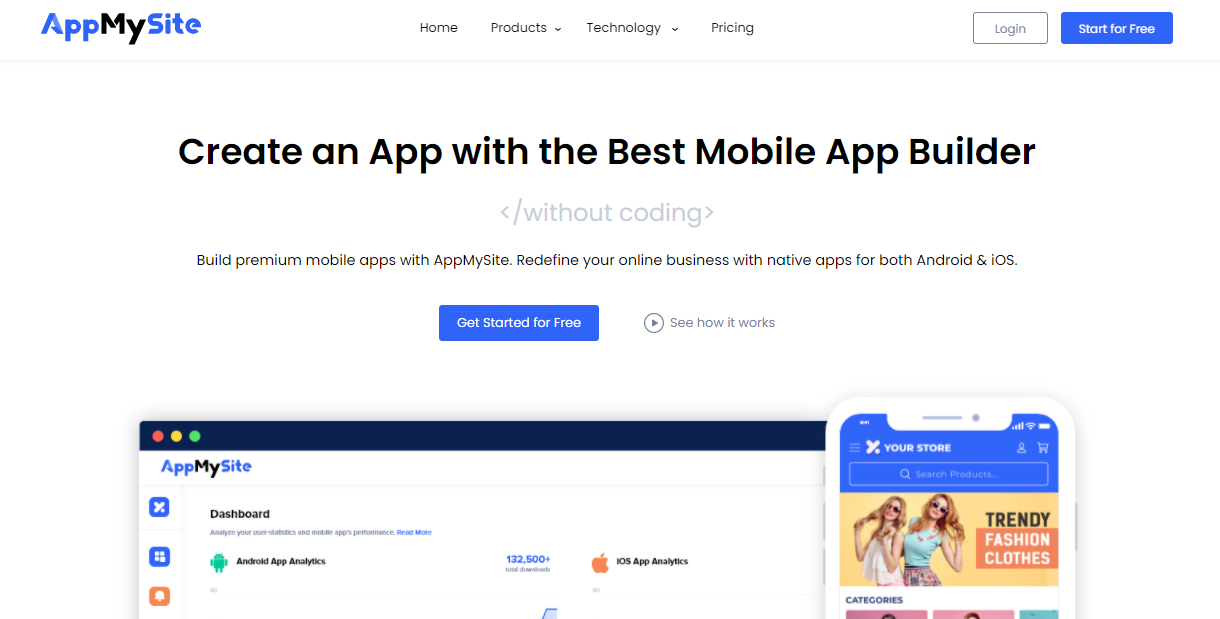 AppMySite is an AI-powered app builder that helps every website owner in the blink of an eye. And the best part about it is that you do not need to know how to code if you want to use it.
Using this tool, you can quickly add checkout settings, product lists, on-sale products, logos, and everything else that will help you create a great mobile app. But, the essential feature that this tool offers is "App Connectivity & Sync". With it, you can connect the app with your WordPress site in a blink of an eye. After you have done all this, you can also check how your site will look on your mobile phone using a mobile device emulator or live app previews for Android and iOS apps.
If you opt for this tool, there are three license tiers for you to choose from. In the first license tier going for $39, you will get all the features that this tool offers, and you can use the tool on three websites. But, you will be getting the most bang for your buck if you pick the third license tier, which will also provide you with a white-label mode, language support, and a multisite add-on for $199.
2. Appmaker.xyz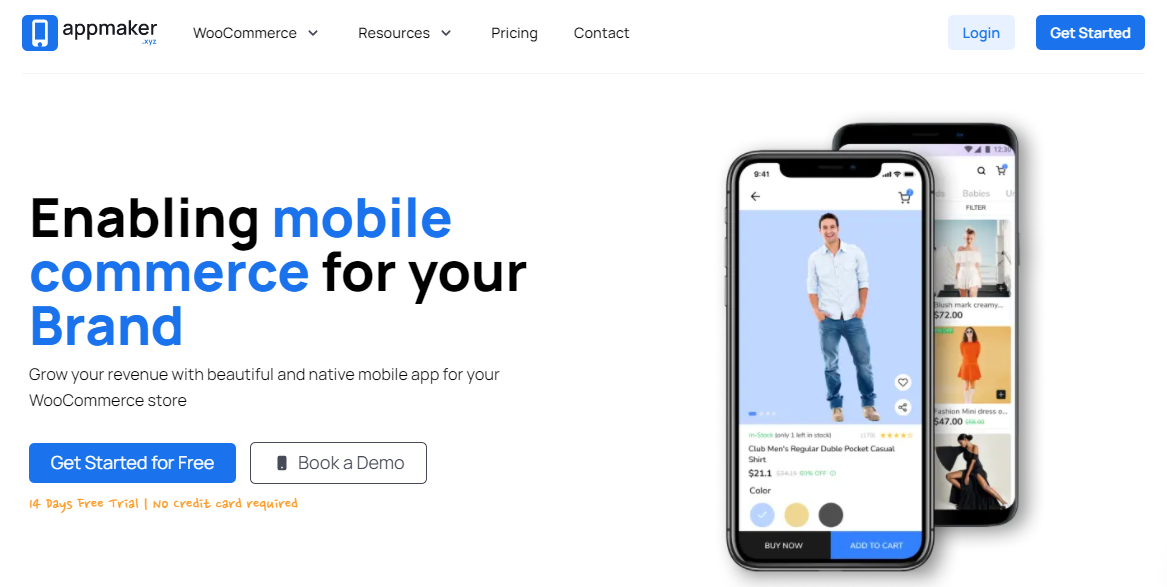 Appmaker.xyz helps you transform your store into a mobile app. It has a drag-and-drop app builder that is both user-friendly and does not require any coding experience. So, you can start using the tool yourself without any problems and without having to do any research beforehand.
With the 14-day free trial offered, there is no reason for you not to try and see if this tool is something that you will like.
Within the tool, you have an option named "In Sync with your store". With it, you can control products and stock on your site. You can also add push notifications that will pop up on your customers' mobile phones and inform them of news regarding your site and entice them to visit it.
Besides that, you can also add coupons that will help you motivate customers further.
There are three pricing plans you can choose from. Plus, no matter if you are trying to create an app for your WooCommerce store, WordPress site, or are looking to develop a custom app, Appmaker.xyz has got you covered. You can read more about the pricing plans on their website and then decide what suits your needs the best.
3. AppPresser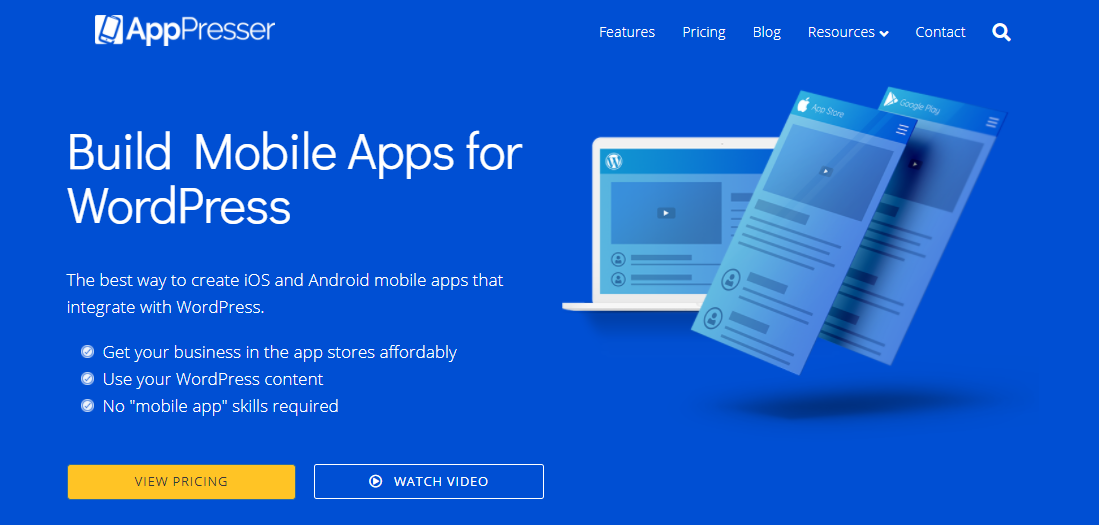 If you are familiar with WordPress, you will also be familiar with AppPresser because they work similarly, and it will be easy for you to get used to it. Besides, you can connect it to various other components such as BuddyPress.
This tool is excellent because it allows you to see your analytics and social presence expansion, create push notifications, and most importantly, convert your WordPress website into an Android or iOS app.
While making your app, you can see what it will look like in the end and try it out.
As far as pricing is concerned, you can choose between annual and monthly pricing plans. We suggest that you go for the annual "Advanced" plan. In it, you will get all the features that this tool provides, as well as BuddyPress, push notification integration, and much more.
We also recommend that you check out this video. In it, you can see how easy it is to customize everything. And even though they do not offer refunds, they have a 14-day free trial, so you can try things out and see if this tool is your cup of tea.
4. MobiLoud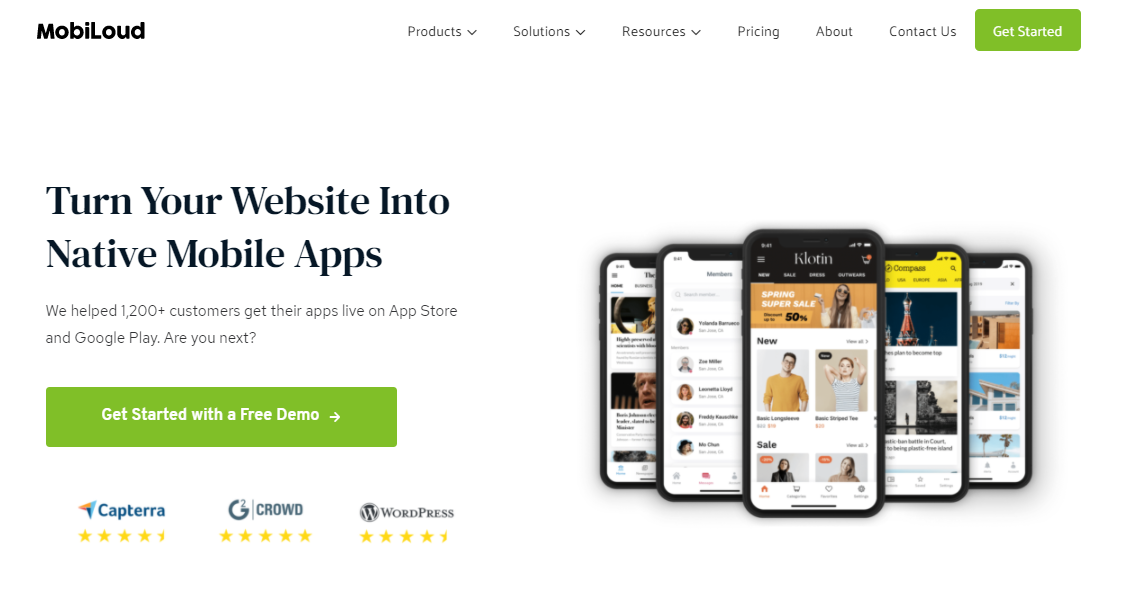 If you are looking for an app builder that will be in sync with your site and work with any other site or app, why not try MobiLoud. It will help any WordPress site owner convert their website into a mobile app. It is excellent for everyone that already has a stable audience, for example, organizations, professional bloggers, and digital publishers.
This app builder provides you with complete support services that allow you to chat with experts that will help you with the app-building process. Not only that, but they will also help you take care of design during development, publishing, and maintenance. In a nutshell, they will hold your hand throughout the whole process.
They offer three monthly plans and three annual plans. So, we suggest that you check them out for yourself.
Conclusion
Now that you have found yourself a suitable app builder, why not go and try it out. Using one is not that complicated, and with it, you could improve your business in a blink of an eye.
We would like to once more recommend that you give AppMySite a try as it offers the best features for the best price.
Creating a mobile app is something that you should not postpone in today's mobile phone-reliant society. So, go and make a great app that you can be proud of.