Many people do not know that an efficient payment structure can indeed increase sales, that's why we decided to write this article.
Having well-organized payments towards your business partners can create a trustworthy relationship between you and them. But sometimes it is hard to manage everything, pay your partners, create invoices, and documents, pay your employees – it would be so much easier if you had a tool, just one tool, that could help you with all of this.
Luckily, you have us on your side to introduce you to one such tool. Once you start using it, your bookkeepers, sales team, and marketers will thank you for it!
So buckle up, we are in for a ride.
All-in-One Tool for Creating an Efficient Payment Structure
Keeping all the important documents such as receivables, bank balance reports, invoices, etc., on different email accounts, platforms, and especially paper files can be very chaotic.
But what if I told you that you can have all of that in one place? With Deskera, you can! And on top of that, when using it, you'll an overview of things such as salary liability, employee attendance, and reimbursements.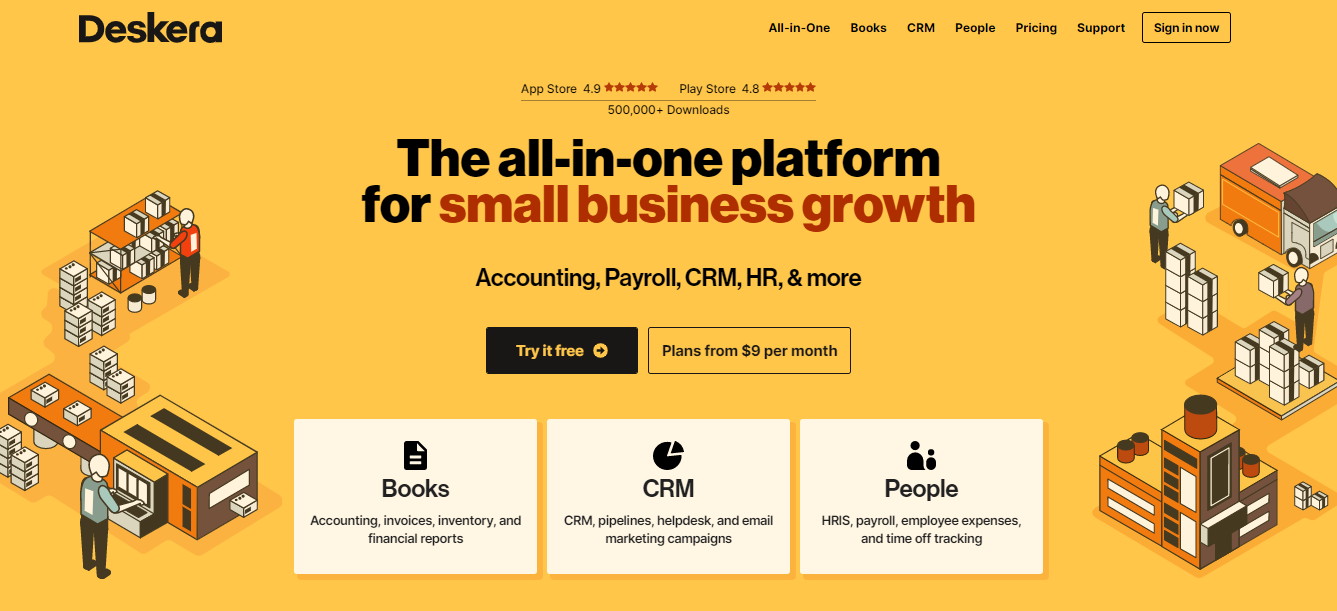 Deskera is a smart online platform for small business owners that helps them manage invoicing, CRM, payroll, HR, and more.
It has three modules, Deskera Books, Deskera Sales, and Deskera People. Every module has its own purpose, but they all also share one, which is to help you navigate your business with ease.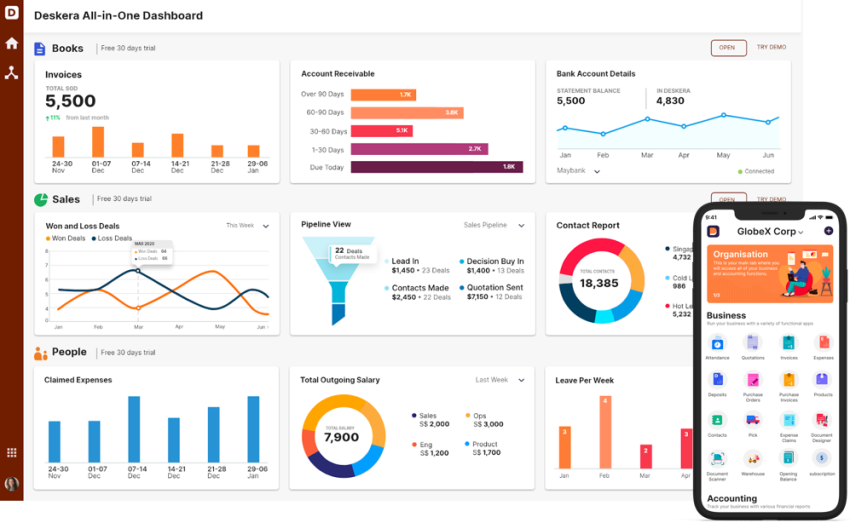 Deskera Books keeps track of your sales and purchases, profits and loss summary, and some trend analytics.
With Deskera Sales, you have a great overview of the deals you won or lost, the pipeline view, the contacts report, and much more.
Finally, Deskera People is amazing for managing the payroll.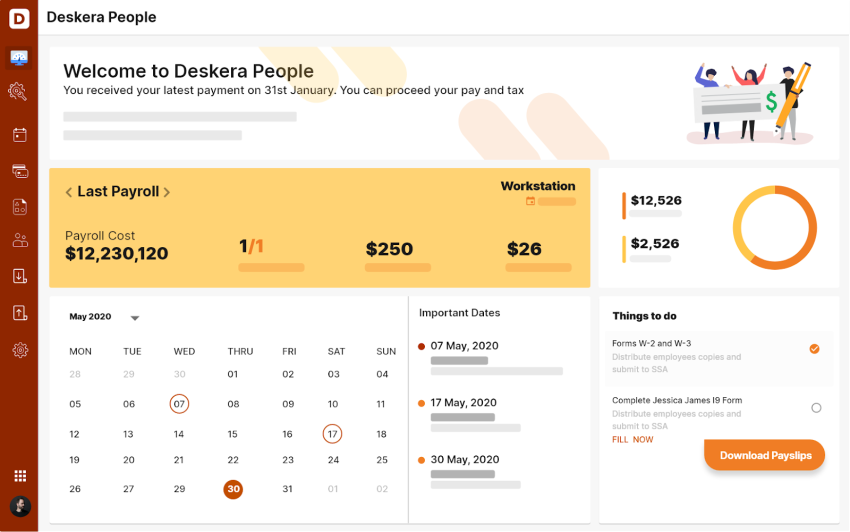 What's more, you can access all the modules with the Deskera mobile app which handles every desktop feature like a champ!
Deskera makes it very easy to manage multiple businesses with their Books module. It will take care of compliance and reporting behind the scenes; your only duty is to catalog receipts, payments, product sales, and invoices.
While we are on the topic of invoices, we should mention that you can create your own with this tool from scratch or using a template. Plus, you can do all of that either from your laptop or mobile phone.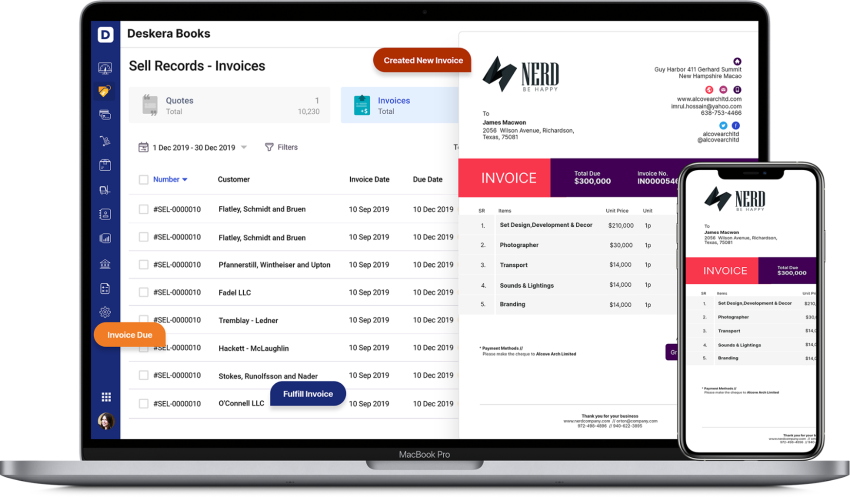 With Deskera, you can convert your quotes into invoices with just a click and include Stripe payment links so you get paid instantly.
Their online CRM will let you manage sales and support without any problems. And as if that wasn't enough, they also let you customize and configure your own sales pipeline so that you can make sure all of your deals are moving down the pipeline properly.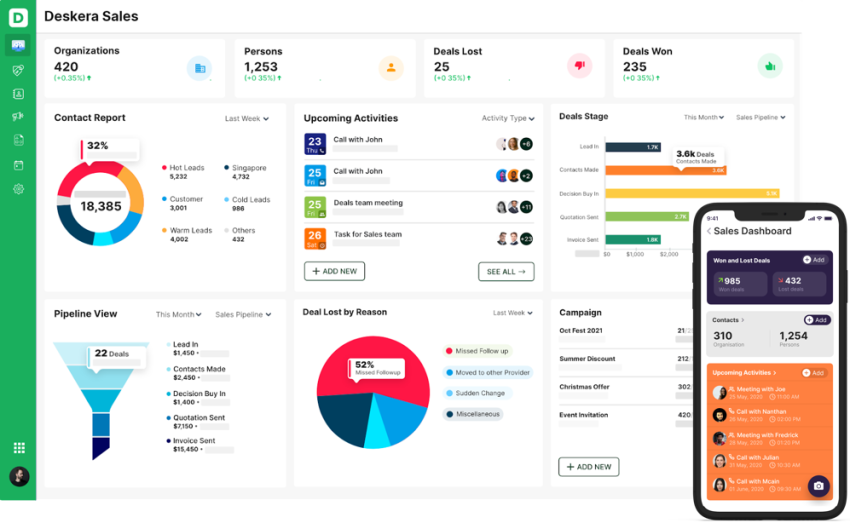 Using Deskera, you can make sure that all your employees get their salaries on the same day, every month. You can also set up a custom payment schedule or reuse pay runs from previous periods with no problem.
On top of that, this little helper gives you electronic pay stubs and detailed payroll reports so that you can keep up with everything in no time! And not to forget, it automatically accounts for reimbursements and unpaid leave.
Speaking of taking a leave, with Deskera,  you can very easily configure leave policies and let your employees apply for leave digitally via their phone or desktop. Managing reimbursements is also very simple, just scan the receipts with the camera on your phone, fill the online claim, and voila!
One more amazing feature that this tool offers is email marketing campaigns. Creating one is easy, just import your email list or create a new one from the existing contacts in the CMR.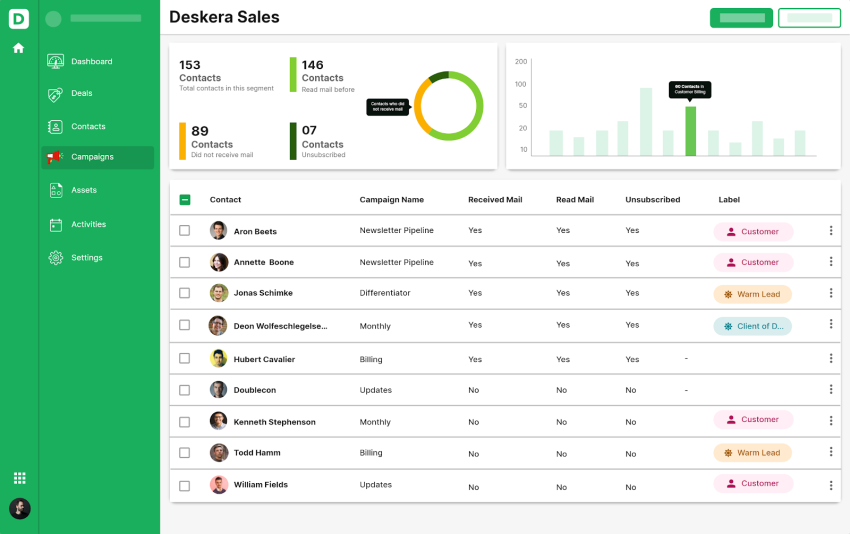 From there, you can create awesome emails using the templates that Deskera provides and send them in no time!
Also, you can send emails directly via Deskera if you connect it to your Gmail account or IMAP, and thus have all your email correspondence on one platform.
Conclusion
Running a business is difficult, no matter the size. Managing bills, payments, invoices, and everything else can be a lot of work – that's why Deskera is the perfect assistant for you!
This tool will, for sure, make the business world a much nicer place. With it, collecting invoices and creating them will not take more than a few clicks. The same goes for paying your business partners and employees.
So, do not shy away from using a tool like this that will take care of things for you and will give you more free time to close deals while the rest is taken care of!