Sending the right emails to the right target audience is a very important marketing step for any marketer or business owner. Almost every email marketing campaign includes a promotion of a new business or new product.
So, in order to reduce bounces and improve deliverability, we compiled a list of the top 7 email verification and validation service sites. Please read the list below and find the right solution for you.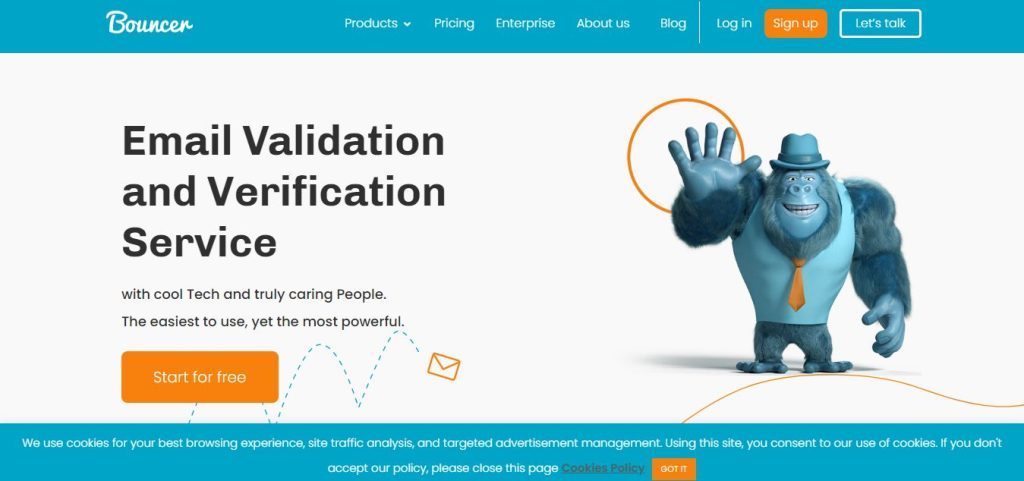 Bouncer offers three solutions for your email verification: Email List Verification, Email Verification API, and a Free Email Checker. This email validation and verification service is a powerful one and is trusted by over 1000 companies.
The features that the Email List Verification app offers are:
Drag and Drop solution to import a list of 250K email addresses in one go.
Disposable checker that will mark inactive or invalid domains in your email address list.
Catch-all
Customizable download options
The Email Verification API Bouncer solution is easy to use and very fast. You will receive immediate verification in the form of real-time email results. API is flexible, and the recommended batch size is up to 10K emails. The Bouncer verification API can check 100K emails per hour.
Bouncer Email Verification pricing is based on a Pay-As-You-Go model, with the final price determined by the number of email addresses (the lot minimum is 1000).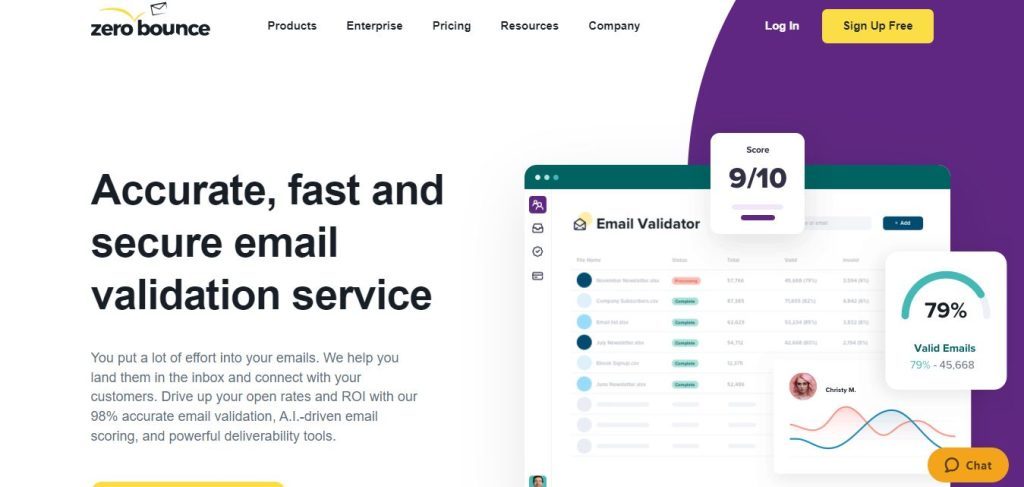 The ZeroBounce email verifier is easy to add to your site. It offers a real-time email verification API with instant email validation results. Using this app, your email list will be cleaned of all typo mistakes. All fake email addresses will be banned from your list.
The features of the ZeroBounce email verification API are:
Complete software kit connection (.NET, PHP, Python, Java, and Swift)
The process is automated, so there is no need for manual adjustments.
Abuse Email Detection
Spam trap detection
Toxic domain verifier and much more
The pricing plans of ZeroBounce are simple ones. They offer Pay-As-You-Go rates and you will get 100 free monthly validations when you sign up.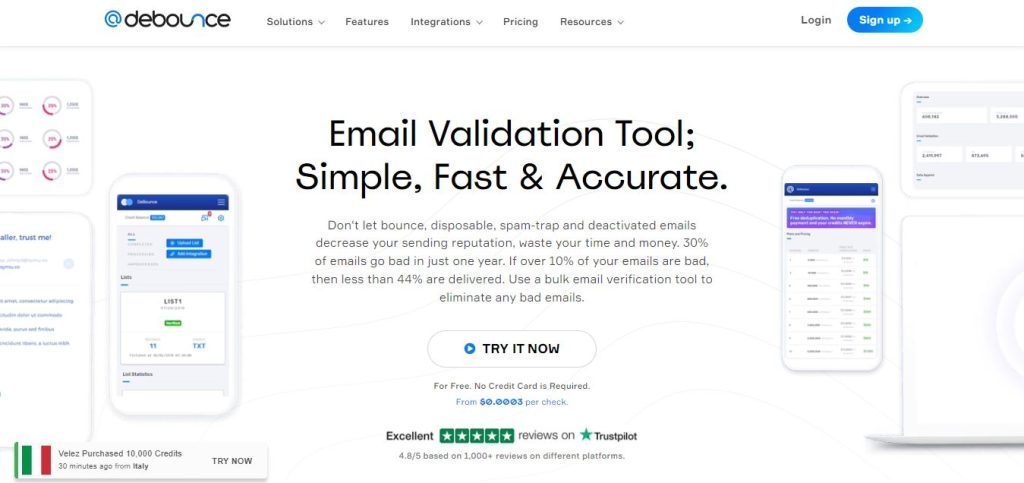 DeBounce is a popular and trusted email validation solution. You will minimize your bounce rate since it will remove any invalid email addresses using SMTP check. One of the features that DeBounce provides is its disposable email checker and catch-all domain checker.
A great feature is a syntax eliminator that will remove all addresses with invalid syntax when you use a bulk email checker.
Other excellent features of DeBounce email validation are:
Anti-grey listing technology
Email deduplication
Email verification API
Selectable download
Team account
MTA validation
Pricing goes from $10 for 5000 verifications up to $1,500 for 5 million verifications, and all prices include taxes and fees.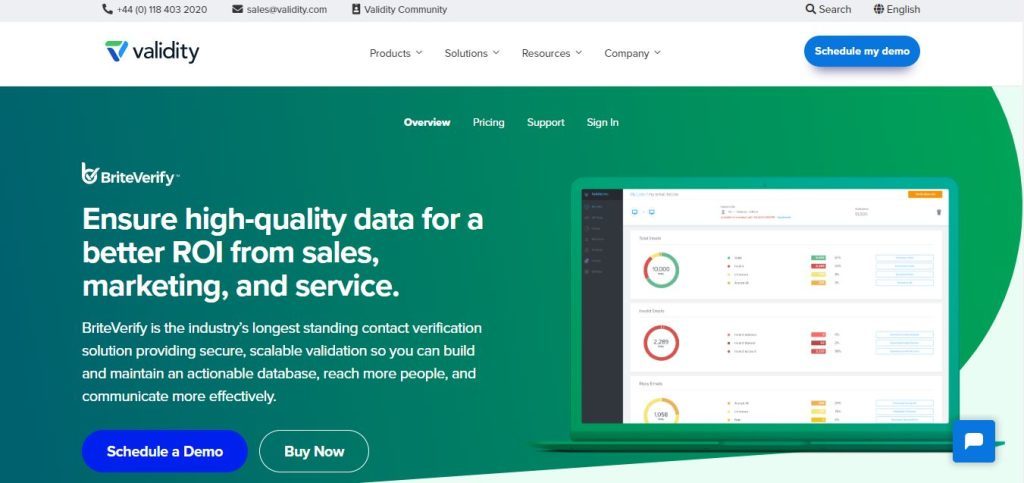 BriteVerify will help you improve your deliverability with a real-time validated contact information option. Using its bulk validation option, you can easily check all emails in your stored data section. Your campaign email list will be free of emails that are no longer active or have been changed or disabled.
BriteVerify easily integrates with any platform you use, so it will save you the hassle of moving to another platform or system. The integrations offered by BriteVerify are easily customizable, and that is a plus for this email validation solution.
Pricing plans depend on the product, solutions, and resources you need, but you can schedule a demo to see how BriteVerify works.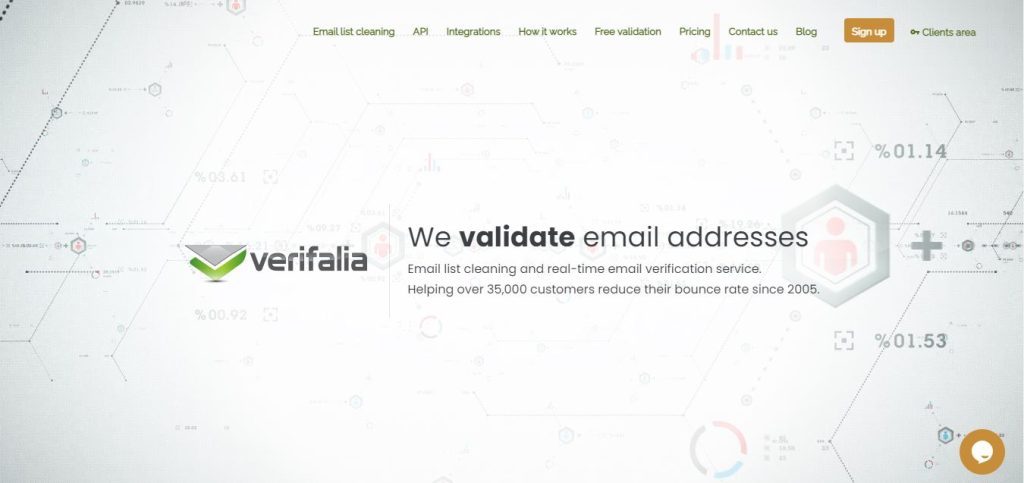 The Verifalia solution was developed in 2005 and offers email list cleaning and email verification in real-time. Verifalia is an online service, and you can verify your email list without downloading any apps. You can also integrate the Verifalia API into your site to have the ability to validate incoming emails in real-time.
The features that Verifalia offers are:
Syntax verification
Domain & DNS Check
Mail exchanger test
Mailbox confirmation
International verification
Catch-all detection and many more
Verifalia's pricing plans are Ultimate, Enterprise, and Professional. There is also a starter plan and a free plan, so you can choose which one is the most suitable for you.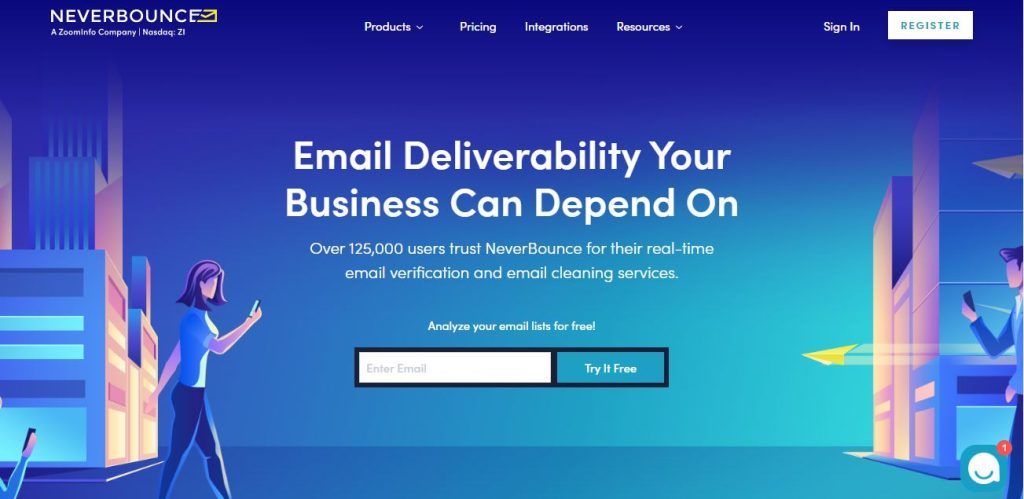 NeverBounce will offer you the opportunity to analyze your email list for free, and this verification system currently has over 125K users. NeverBounce has three solutions for its users: Clean, Verify, and Sync.
With the Clean NeverBounce solution, you can check and upload even large email lists. This solution can be connected and used with multiple integrations. The complete process of cleaning your email list is very simple: Upload your list. Download a clean list that will deliver approximately 99.9% of the listed emails.
The Verify solution gives you the option to add it to your lead pages or any place where you collect your emails. This includes:
Lead Generation
Newsletter signups
POS
CRM or CMS
Registration forms, which are essentially a list of places where you can add verify, are virtually limitless. The Sync NeverBounce solution enables you to use the automation feature for email list cleaning that is up-to-date.
Pricing plans are the Pay-As-You-Go plan and the Sync subscription plans for automated cleaning (beginning as low as $10/month).
Xverify is an intelligent email verification solution that covers your email marketing needs in full. It is a global solution built for the EU, and your data will be secured when you use their services. Xverify verifies all data in Xverify's secure data center.
Xverify's email verification solution will eliminate hard bounces, reduce user complaints, protect your users against fraud, and increase your overall deliverability.
Using Xverify, you will have almost 98% accurate email verification on the most popular email domains. Instant results will convert your leads in real-time, and the auto-correction feature will be at your disposal too.
Since Xverify is mobile-ready, you can use it on your mobile phones. The price is calculated by Pay-As-You-Go rates and the number of emails.
Conclusion
This list is made carefully by checking all popular sites that offer email verification and validation services. We encourage you to visit each of the websites we have listed and determine which one is best for you and your business. The great thing is that almost all of them offer a free trial period, so you can try firsthand what they have to offer.