Content creation is evolving in this world, and video editing has become an integral part of this dynamic landscape. Whether you're a seasoned content creator or just starting, having the right tools can make all the difference. CapCut Creative Suite is one such tool that offers a comprehensive toolkit for video editing, graphic design, and team collaboration. What's more, it's available with no credit card required, making it accessible to everyone. In this article, we'll take you on a journey through CapCut's offerings and explore how you can begin your creative journey with this versatile suite. Also, visit the transparent background maker offered by CapCut to benefit from every feature.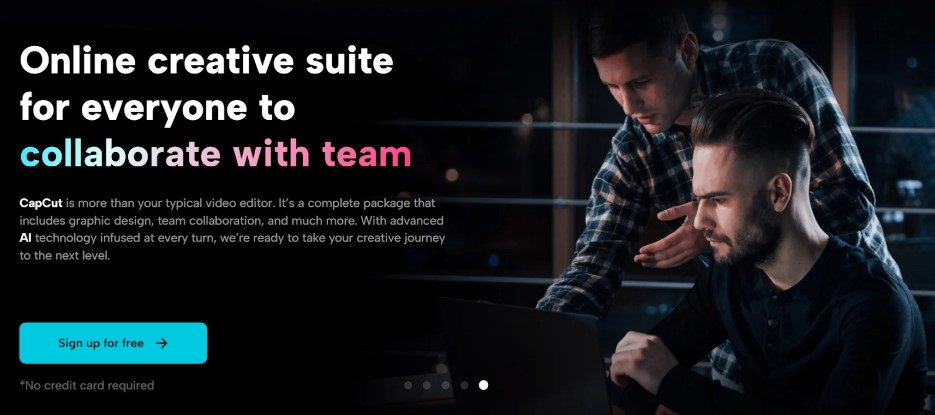 The Best Toolkit: CapCut Creative Suite
With CapCut Creative Suite, you can do more than just edit videos. With graphic design, image editing, video editing, teamwork, and much more included, it's a comprehensive package. CapCut has everything you need to produce visually striking videos, create visually striking images, and work effectively with a team.
Unleash Your Creative Potential
CapCut Creative Suite is designed to empower your creativity. With its advanced AI technology infused at every turn, you'll be able to take your creative journey to the next level. Let's explore some of the key features that make CapCut Creative Suite a game-changer.
No Credit Card Required: Accessibility for All
One of the standout features of CapCut Creative Suite is its accessibility. You can get started on your creative journey without the need for a credit card. This means that anyone, regardless of their financial situation, can access and use CapCut's powerful tools.
Lightweight Yet Powerful Video Clip
CapCut's online video editor is the perfect choice for those who want a lightweight yet powerful editing tool. Without having to bother with software installation and downloads, you can edit your videos at any time and from any location. The no-credit-card-required feature means you can jump right in and start creating engaging videos.
Auto Captions: Enhancing Accessibility
One essential component of content creation is accessibility. With the help of CapCut's auto-captions feature, you can create free captions for your videos instantly. This not only improves the accessibility of your content but also makes it more engaging for a wider audience.
Multiple Tracks Editing: Unleash Your Creativity
With CapCut, you can edit videos with an infinite number of text, images, audio, and video tracks. This implies that you are free to use your imagination to create your content in any way you see fit. Since a credit card is not needed, you can experiment and improve your videos without having to make any payments.
Sound Effects and Music Adding Energy to Your Videos
Your videos' emotional impact can be greatly increased by using sound effects and music. CapCut Creative Suite comes with a vast library of royalty-free sound effects and music that you can use without paying extra. You can use these components to give your videos more energy.
Crop, Trim, and Resize: Quality Editing
Quality is essential when it comes to video editing. With CapCut's editing tools, you can split, resize, crop, and trim videos without sacrificing quality. Your content can be adjusted until it satisfies all of your requirements.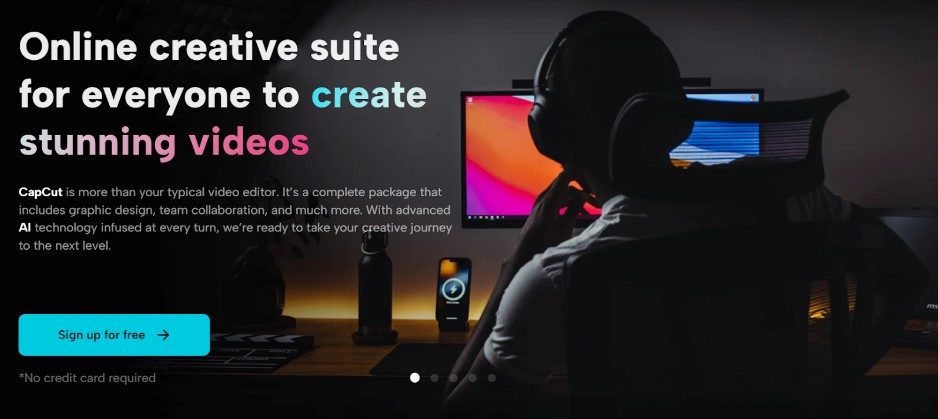 Remove Background: Magic in Action
One of the standout features of CapCut's online editor is its ability to automatically remove backgrounds from videos and images without losing quality. This feature is not only impressive but also time-saving. It's a valuable addition to your creative toolkit. If you want to make a free logo, visit the 3d logo maker.
Templates for Personal and Commercial Use
Templates can save you hours of work, and CapCut Creative Suite offers a vast selection of stock footage and templates for videos, images, graphics, and more. What's even better is that these templates can be used for both personal and commercial projects, and they come without watermarks. This feature allows you to create professional content without any financial barriers.
CapCut's smart tools are powered by advanced AI technology. These resources can help you become more creative and elevate your work to new levels. Whether you're looking to enhance images, apply color correction, restore old photos, or generate AI portraits, CapCut's smart tools make the process effortless.
Image Editing: More Than Just Video
While CapCut Creative Suite is renowned for its video editing capabilities, it doesn't stop there. The suite offers a range of image editing features that allow you to design and enhance images with ease.
Image Upscaler: Enhance Your Visuals
CapCut's image upscale helps you enhance the quality of your images. This tool can be incredibly useful when you want to resize images without compromising on their resolution. It's an excellent addition to CapCut's creative suite.
Color Correction: Perfecting Your Images
Color correction is a fundamental aspect of image editing. CapCut's color correction tools allow you to adjust and refine the colors in your images, ensuring they look their best. This feature is particularly useful for photographers and graphic designers.
Old Photo Restoration: Preserving Memories
Restoring old photos can be a sentimental journey. CapCut Creative Suite makes it possible to bring those cherished memories back to life with its old photo restoration feature. Because you don't need a credit card to start this journey, you won't have to worry about money.
AI Portrait Generator: Creative Freedom
The AI portrait generator is a unique tool that lets you create artistic portraits with ease. CapCut's AI technology enhances your portraits and adds a touch of creativity to your images. This feature is perfect for artists and photographers.
Photo Colorizer: Adding Life to Images
Adding color to black-and-white photos is a fascinating process, and CapCut's photo colorizer makes it simple. You can breathe life into historical photos or experiment with artistic effects. The absence of a credit card requirement means you can dive into this creative process without any financial constraints.
Image Style Transfer: Express Your Vision
Image style transfer is an exciting feature that allows you to apply different artistic styles to your images. It's a fun way to experiment with visual effects and express your unique vision.
Low-Light Image Enhancer: Illuminating Your Photos
Enhancing low-light photos can be a challenge, but CapCut's AI technology can work magic. It brightens up your images, making them more vivid and appealing. This feature is valuable for photographers and anyone looking to improve the quality of their photos.
Collaboration Made Easy: Team Features
In today's world, collaboration is key to success in content creation. CapCut Creative Suite understands the importance of teamwork and offers a range of features that make collaboration effortless.
Team Management: Inviting and Collaborating
With CapCut Creative Suite, you can invite people to spaces and assign them different roles and access levels. This means you can work together with your team, manage files, and create content seamlessly. The no-credit-card-required feature ensures that you can invite collaborators without financial constraints.
Cloud Backup: Safeguard Your Work
CapCut's cloud backup feature is invaluable in ensuring the safety of your creative work. You can securely store and access your files from anywhere, giving you peace of mind that your projects are safe and sound.
Content Hub: A Hub of Resources
CapCut's content hub is a valuable resource for creative professionals. It provides access to news, community discussions, and downloads for both Windows and Mac. This means you can stay updated with the latest features, and connect with fellow creators.
Conclusion: Your Creative Journey Begins Here
In conclusion, CapCut offers a comprehensive and accessible solution for video editing, image editing, graphic design, and team collaboration. The absence of a credit card requirement ensures that everyone, regardless of their financial situation, can embark on their creative journey with CapCut Creative Suite. Whether you're an aspiring content creator or an experienced professional, CapCut's versatile tools and AI-powered features provide the perfect toolkit to bring your creative visions to life. So, why wait? Start your creative journey with CapCut Creative Suite today and unlock the potential of your creativity.