A PDF is a digital document structure that combines graphic images (raster and vector graphics), texts with various formats and labels, multimedia inserts, and connections into a single electronic document with minimal quality loss. At the same time, the PDF format document is small and easy to use. The format encompasses almost all software packages, which is an important feature. Furthermore, the format allows adding a password and even an electronic signature to the document. That is ensuring the comprehensive authenticity of the electronic document in the original.
What is PDF Expert?
PDF Expert is a comprehensive PDF editor that allows us to add various types of notes to our files. Of course, we cannot edit the text already in the PDF. PDF Expert will enable you to add, underline, and delete PDF text. You can also include a note, draw, or add shapes such as arrows or squares. It allows you to add predefined posters, a signature, and even a tag by making all text the same color. It performs the same functions as paper documents colored with a fluorescent marker. 
This tool can copy files from your Mac or PC to your PC via Wi-Fi or USB. It makes it simple to save email attachments. Files can be synchronized with various cloud services and shared with contacts. If you have essential documents, you can protect them with a password and encryption. You can also use preview mode to edit the PDF by tapping on the text you want to change and correcting it from the editor.
What is UPDF?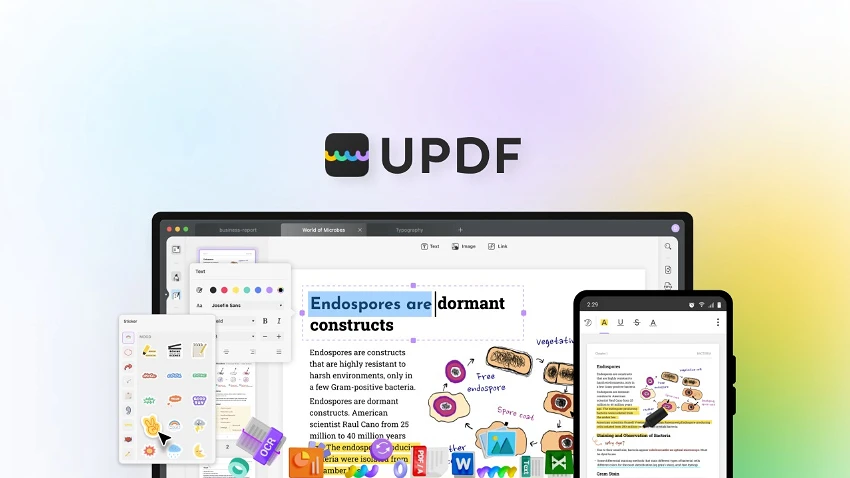 A great alternative to PDF Experts is UPDF. As a PDF reader, UPDF offers a seamless and convenient experience. It provides a wide range of methods for enhancing readability. Go through the entire PDF document with a personally tailored reading experience. There are predefined layouts that allow for this. Observe your documents as a single page or as two pages. With UPDF, you can also select scrolling or two-page scrolling! Add bookmarks to your PDF to help you navigate it. While viewing documents, use UPDF to search for specific text. Read your eBooks without having to struggle to access data amid the files. Set up multiple tabs in UPDF to view PDFs at the same time. 
This tool allows you to easily annotate PDF documents. It includes several helpful PDF markup tools. You can also work with other users to thoroughly review your PDFs. Post remarks, emphasize important words, or cross out sentences in PDF documents. Text boxes and post-it notes can be added to UPDF. You can add more than 100 different stickers and labels to your PDF. You can even add a personalized stamp to any part of the document. Add watermarks or backgrounds to the text, photos, and links. Take care of the PDF text by adding and deleting content as needed. Take control of the text's properties, such as font, style, color, etc.
Conclusion
With the features mentioned above, UPDF provides many more amazing possibilities for you. This is one of the most comprehensive PDF editing tools online. It will help you edit and convert any PDF document you are working with. Convert your PDFs to editable Word and other popular formats. That will enable you to edit them in their native applications. The fantastic thing about this tool is that it can be done in just a few clicks!
Insert blank pages quickly or delete unwanted chapters from your PDF. You can do that by selecting and erasing them. Spinning or turning the page in different directions is simple to create consistent, tidy PDFs.