Picking the right SEO tool for your business is a tough decision to make, as you have a lot of options to choose from, and even if you find a solution quickly, comparing and weighing the pros and cons can end up wasting more time than it's worth. To make your life that much easier, here is a comprehensive review of Squirrly SEO, as well as a comparison with two of its biggest competitors, Yoast and Rank Math.
Squirrly SEO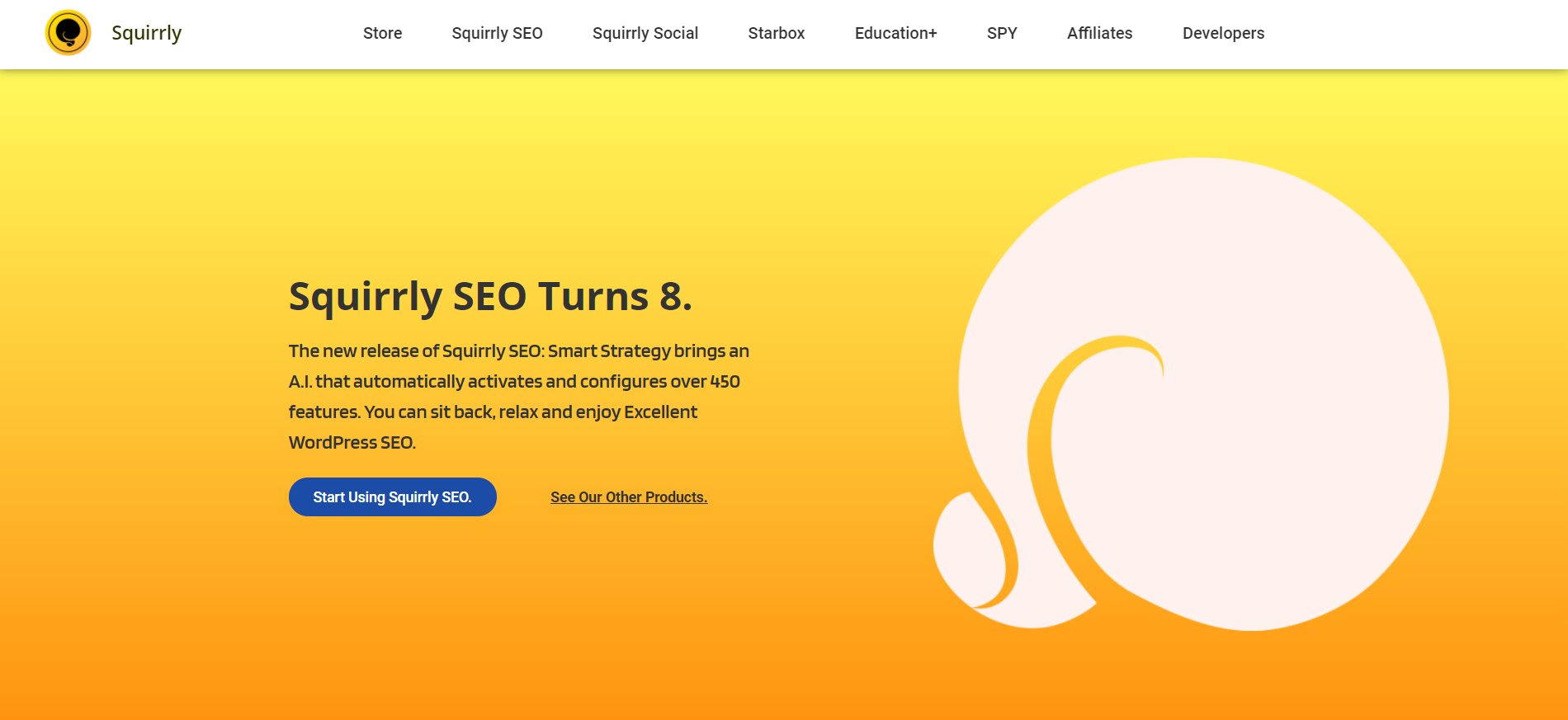 Squirrly SEO is a data-driven and A.I.-powered SEO tool for WordPress. With its strong focus on accessibility, it provides both beginners and experts with a robust set of tools that can take your website to the next level. While having 450 features in a single package might sound a bit overwhelming at first, Squirrly SEO's clean and easy-to-navigate user interface makes working in it a rewarding experience. Before we take a look at precisely what information Squirrly SEO provides you with, we first need to mention the way that it presents this data.
While other software like Rank Math and Yoast present data to you in a rigid way, Squirrly SEO uses a more efficient approach. By giving you daily SEO goals, Squirrly reinforces the notion that SEO is a long-term game. These daily goals are generated specifically for your website and help you tackle this big task in the most optimal way possible. Now, not only does it point out what you need to fix, but it also tells you how to do it. This, in combination with a visualization of your progress, makes Squirrly SEO feel more friendly than Yoast and Rank Math.
Let's look at the general SEO workflow. To make it easier to follow, we are going to split it into nine steps. By looking at it this way, we can easily compare the features that Squirrly SEO has, compared to its competitors.
Keyword Acquisition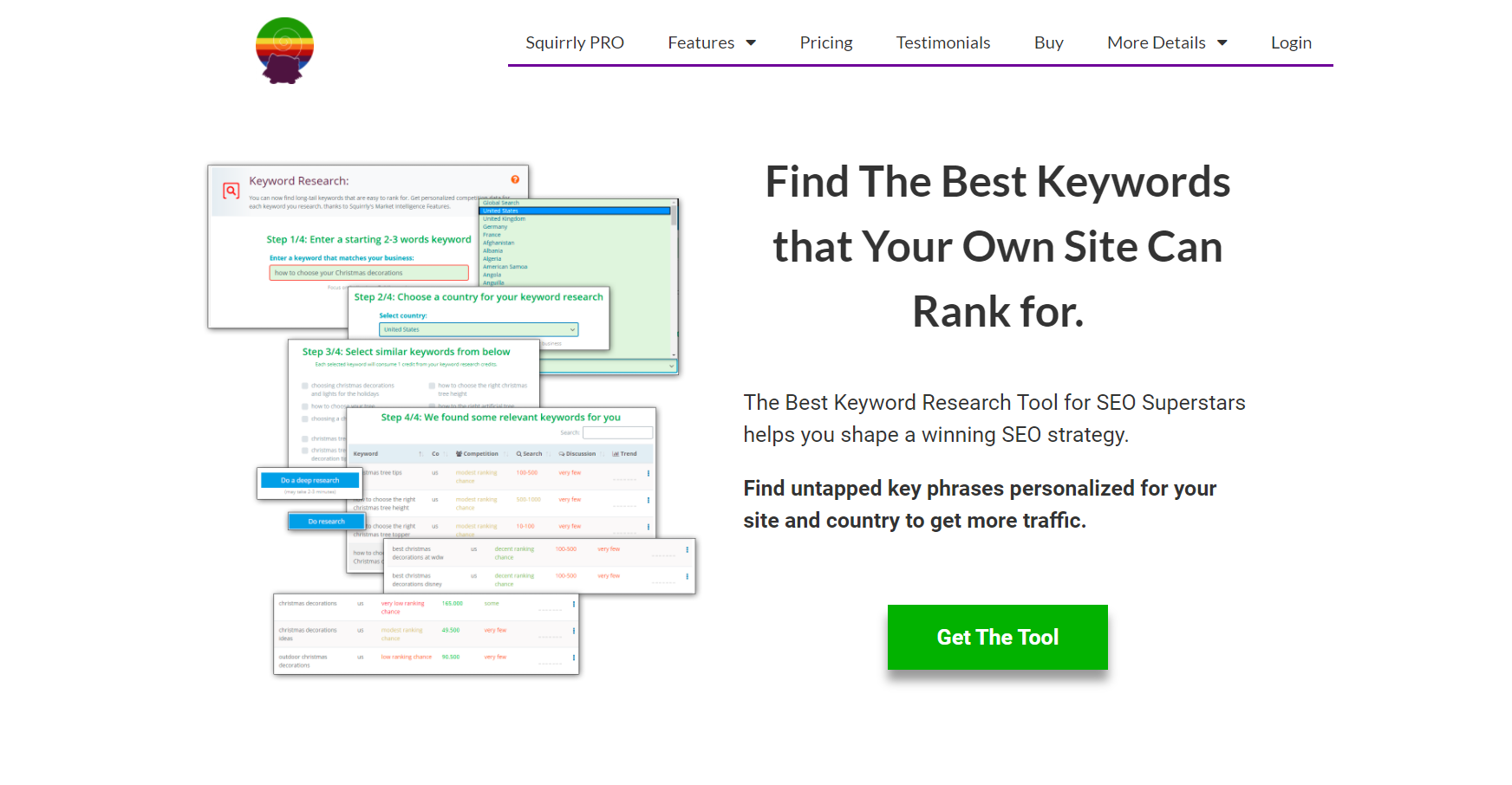 A big part of SEO is keywords. Be it finding out what the most common ones are or generating key phrases, having a good grasp on this is crucial. To help you find the perfect keywords, Squirrly SEO provides you with a "Keyword Research Tool", a feature that neither Yoast nor Rank Math possesses. This tool lets you filter results by country as well as generate long-tail keywords. Squirrly SEO doesn't stop there as it also shows you how many pages have optimized this topic and compares your site's authority to theirs.
If you find yourself momentarily outmatched, don't worry. Simply check what keywords are trending and if there is any discussion about this topic on social media. Once you do that, choose one of the recommended keywords provided by Squirrly SEO. Then once your website gains a bit more notoriety, you can check your keyword history and try to compete with the big shots for the number one spot.
Keyword Organization
After you find just the right keywords, you need to organize them. Doing so will help you bridge the gap between doing the research and implementing changes. To do this in Squirrly, navigate to the Briefcase tool. With it, you will be able to color code and label keywords, which will allow for easy filtering and overview. We were surprised to see that neither Rank Math nor Yoast has any way of doing this.
Having said all of that, we would love to see the team at Squirrly expand on this idea, as it falls a bit short of being great. While being able to add notes and additional information to specific keywords or tags would be great, this tool gets the job done and centralizes the whole SEO process in one platform, which is a big plus.
Content Creation
This stage consists of you creating the content for your webpage or blog. And while this part is heavily dependant on the creator, we can always seek to make it easier. If you have been using Yoast as your primary SEO tool, this part has been pretty straightforward. That is because Yoast doesn't offer any features other than a live SEO assistant. Rank Math fares a bit better as it additionally provides Elementor integration and multiple keyword optimization.
Having said that, Squirrly SEO has all of the previously mentioned features, plus additional Divi and WPBakery integration, real-time text analysis, a cloud version, and a blogging assistant that lets you create content-rich posts without putting in too much effort.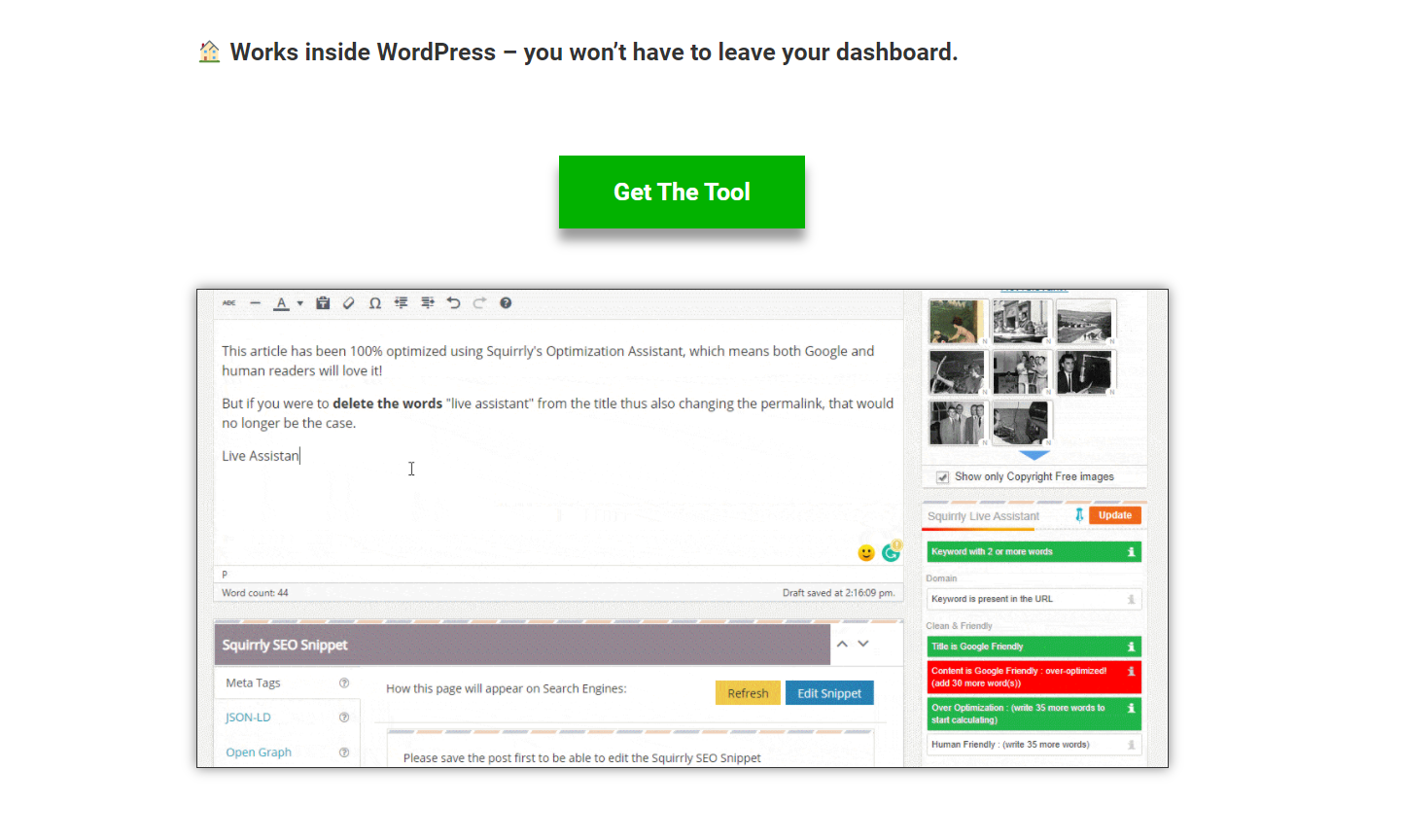 Publishing
Once your content is ready to be published, you need to take care and edit the meta details, add JSON-LD and other descriptors so that Googlebot can find and rank your page more easily. All three tools provide you with features like a meta title, a description, a keyword editor, as well as a way to easily add additional information to your page's search result by using JSON-LD. After you edit all of that, you should integrate easy ways to share your page on social media.
If you are using Yoast, you are limited in this regard as you can only add rich pins. Still, you will get the best experience by using either Squirrly SEO or Rank Math, as they have Facebook pixel integration, rich pins, and social media post preview for Facebook and Twitter. Having said that, Squirrly SEO has an automation feature that can help you automate a portion of this work and a duplicate removal tool.
Statistics
Checking how your page is doing after you make it public is a crucial part of this whole process. Making changes without knowing how something is performing would be a fool's errand. Calculating experience metrics and auditing your page is easy if you are using Squirrly SEO or Rank Math as they are fully integrated with Google Analytics and offer built-in metrics experience calculation.
Between the two, Squirrly SEO takes the cake, as it displays this data more effectively. By color-coding information with either red or green, it quickly tells you how you are performing in certain fields and displays additional information like traffic health, time on page, and bounce rate. When it comes to this step, Yoast is quite lackluster as it offers no helpful features.
Influence SEO Signals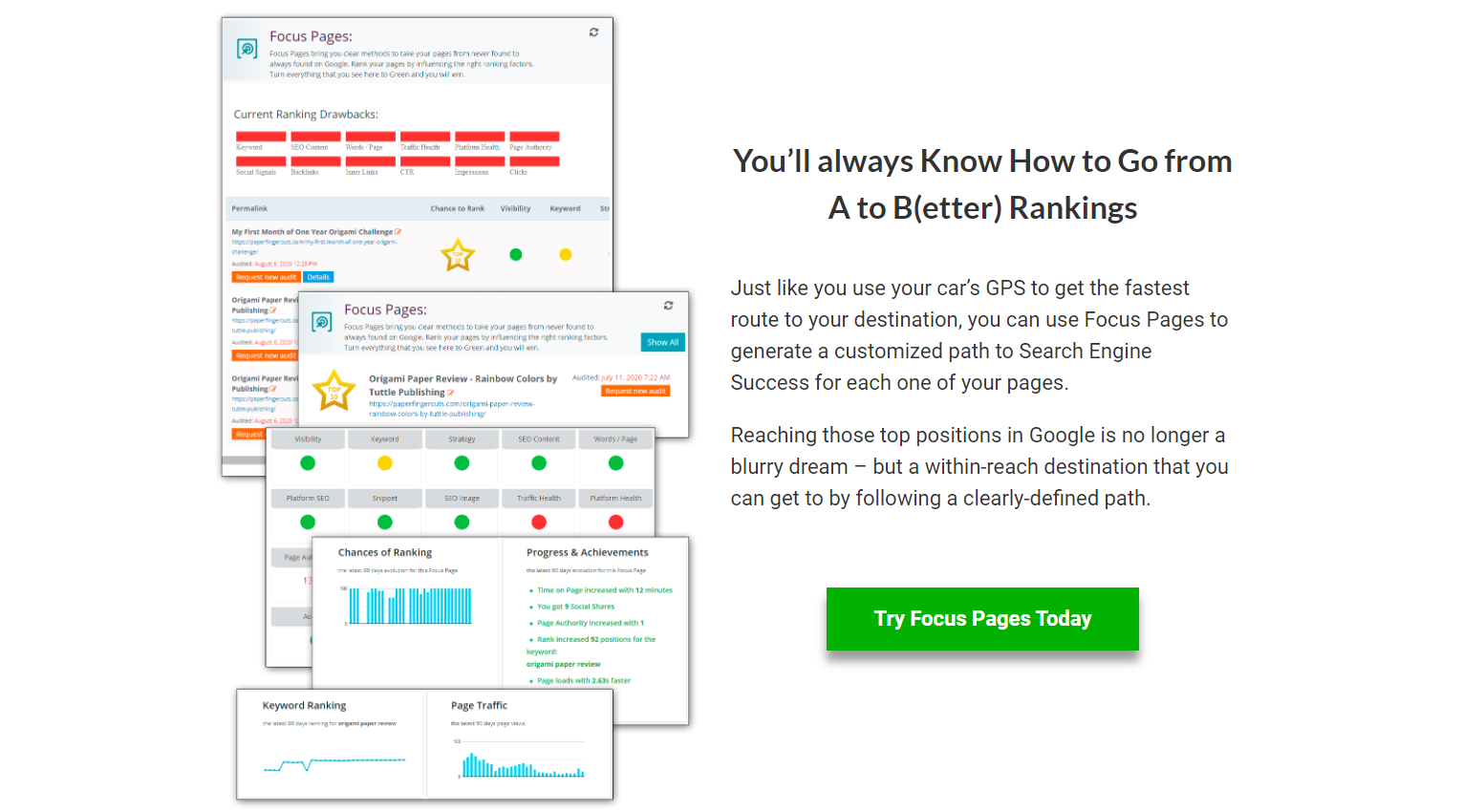 Now that you know how your pages are performing, it is time to implement worthwhile changes to supercharge your website's metrics. Doing so with Squirrly SEO is a breeze as the previously mentioned daily goals feature makes this step that much less confusing. But in case you finish all of your daily goals, you can head on over to the focus page, which will provide you with more than 54 additional ranking factors that you can work on in order to improve your website. No other SEO tool has any of these features, making Squirrly SEO the clear winner in this category.
Page Audit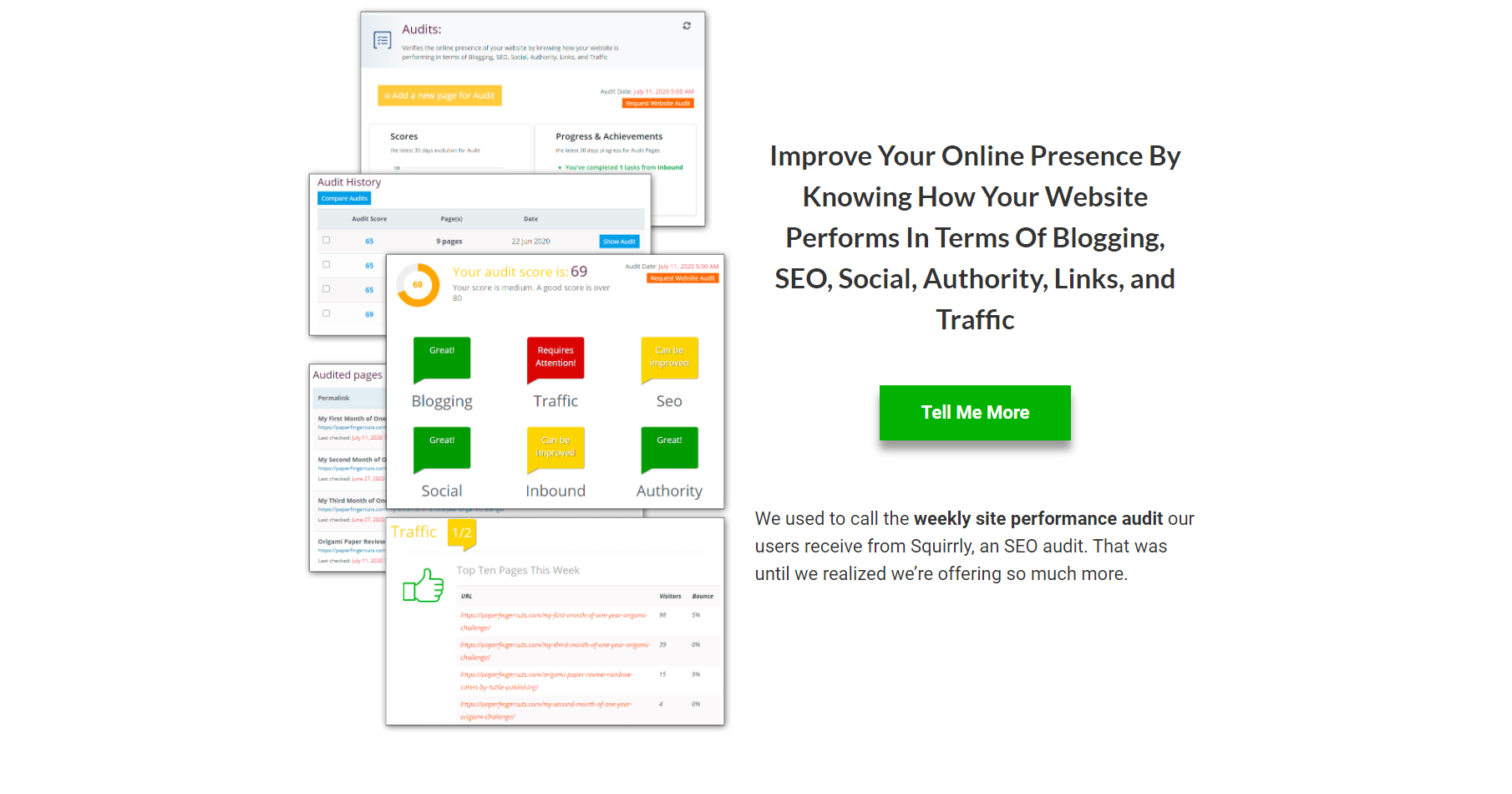 Both Squirrly SEO and Rank Math add page auditing to the list of services that these tools provide. Yoast is falling behind heavily in this category, as they don't provide any auditing services. While Rank Math does provide an auditing feature, it is a bit limited. Squirrly SEO, on the other hand, allows you to add up to 300 pages for audit. If you feel as though not all of your pages need to be audited, you can pick and choose the ones you want the professionals at Squirrly SEO to check out.
When your page gets audited by Squirrly, you will get a full performance breakdown of your website. The number of social media shares, Alexa rank, backlinks, traffic metrics, and many more performance indicators will be shown so that you can better gauge your performance. If even more info is needed, then the advanced Google SERP checker tool will give you an overview of your website's performance over time.
Off-Page Optimization
With everything taken care of on your website, it's time to make sure that you maximized your potential for success by optimizing the links leading to and from your website. Neither Yoast nor Rank Math offers any tools to help you in this regard. Squirrly SEO, on the other hand, shows you the number of internal links, overall backlinks, what domains your links are leading to, social media links, and performance analytics, all in one place.
Rank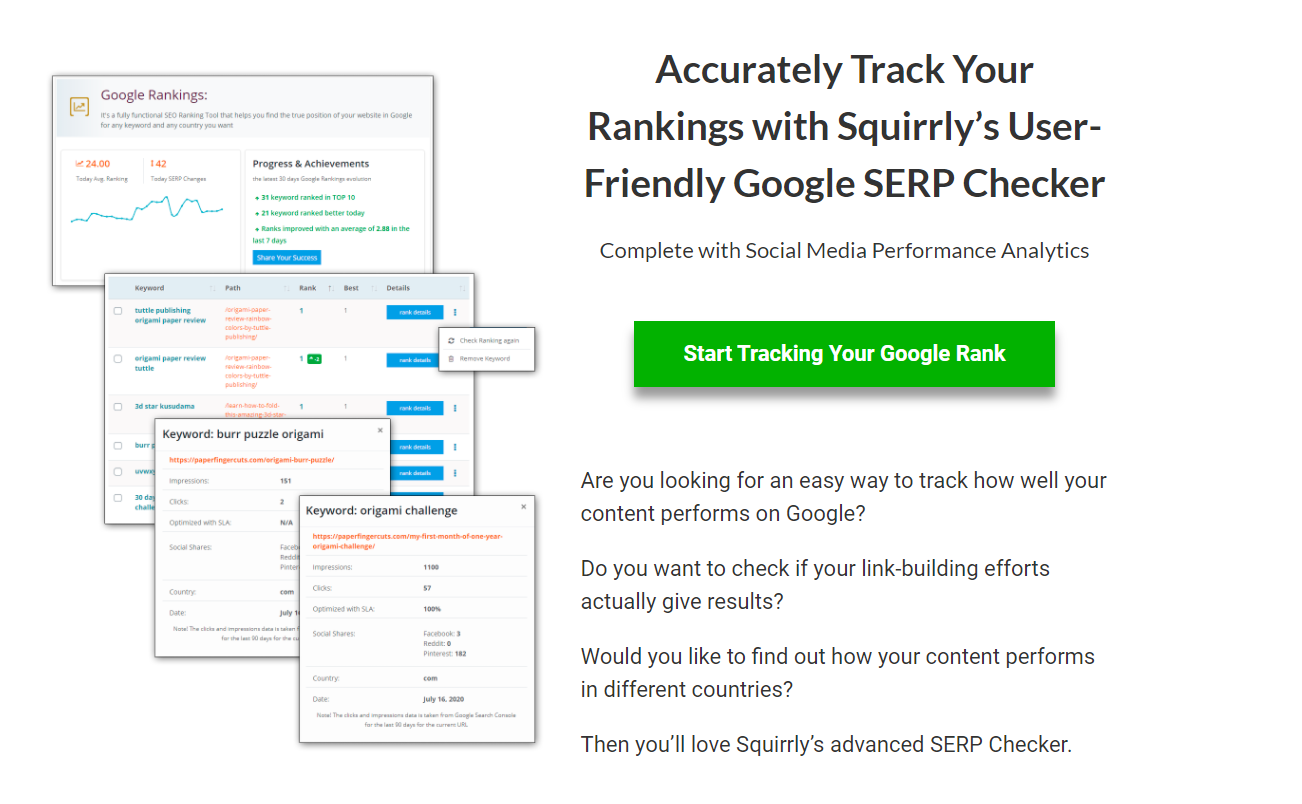 Now it's time to check if the hard work has paid off. While Yoast has no features letting you know how well you are performing, both Squirrly SEO and Rank Math show you how well you are doing compared to the top ten pages on Google. But once again, Squirrly SEO goes above and beyond by letting you visualize this data. By making it clear where your strengths and weaknesses lie, you can quickly take action to improve on them.
Pricing
Pricing is a big concern for many of us running on a shoestring budget. That's why we are often forced to cut corners when choosing our tools. Comparing their prices is quite tricky as they all have different billing plans. Still, here is a quick overview of their business option. Squirrly SEO will run you $71.99 monthly. This option will include all of Squirrly SEO's features and will let you use it on seven websites. This means that yearly Squirrly SEO will come around to about $120 per website.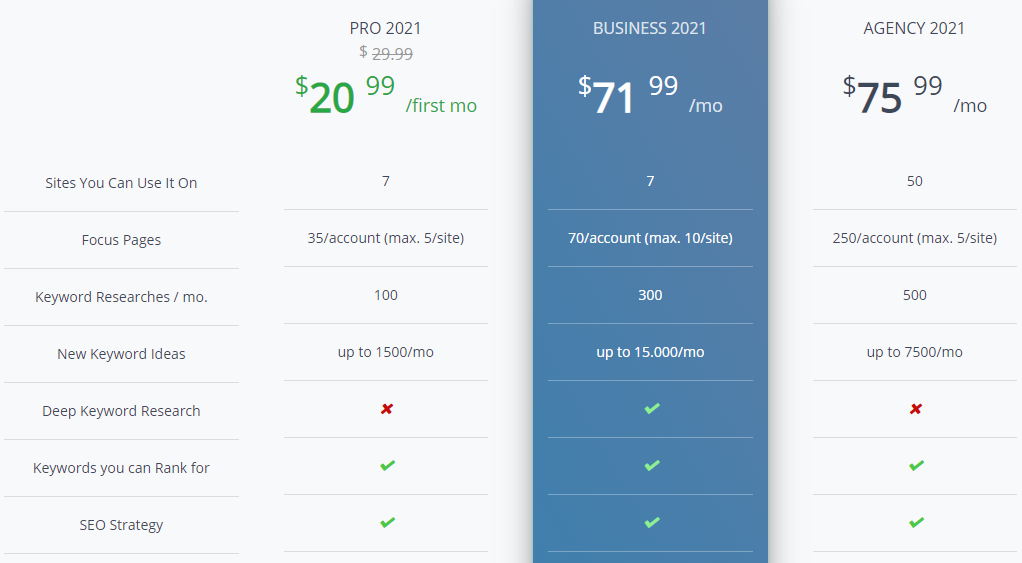 Rank Math has an annual billing plan, starting at $199 + taxes, and you can use it on an unlimited number of websites. And lastly, Yoast charges around $110 yearly for one website, and that is without certain premium addons.
Deciding the Victor
When it comes down to it, Squirrly SEO is more than able to replace both Yoast and Rank Math. Both being a product of their time, they are starting to show signs of outdated design. On the other hand, Squirrly SEO combines powerful features and a user-friendly interface to let even regular folks effectively tackle SEO. And with a bunch of new features on the horizon, Squirrly SEO is quickly becoming the new SEO powerhouse. However, it is worth noting that Squirrly does offer a lot of information and options at once, so it might take a while to get used to it.