At the top of your priorities list should be creating high-quality content that is SEO-optimized and ranks higher than your competitions'. But high-ranking content isn't just content that has a bunch of keywords stuffed into it. What makes content good and of quality is when it provides relevant and engaging information to its audience. Basically, it should achieve its intent, be valuable, answer any questions, and clear up any confusion.
As with many things in life, sometimes less is more, and quality is more important than quality. That is why you should strive towards creating a decent amount of high-quality content rather than a lot of content that is subpar.
Using tools that implement AI and optimization technology, you can achieve this goal and reach that high SERP rank. One such tool is Clearscope. And while Clearscope is great, it can be pretty pricey.
So keep on reading to learn about the top 4 alternatives to Clearscope.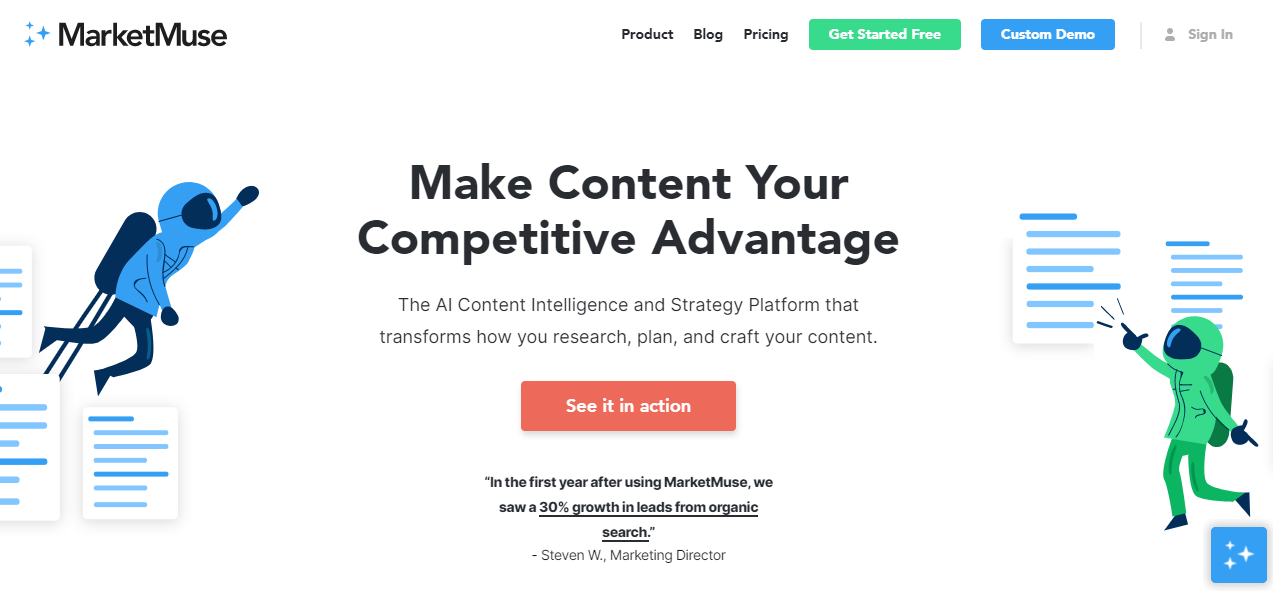 MarketMuse is the ultimate tool to have if your goal is creating carefully researched articles and content that will have the highest rank. It is an AI content planning and optimization software that will help you research, plan, and craft your content. The best part of the tool is that it provides you with a complete workflow, thus allowing you to save time, be efficient, and have the best content.
Normally, it would take you 12 and a half hours to research a topic for an article that is of high quality. You can see how that can be a problem if you have a number of articles to do research for.
When using MarketMuse, it takes 10 minutes for its AI to do this for you. MarketMuse's AI helps you understand buyer needs, search intent, competitive content, and your own content performance. That way, your content ideas will be based on actual data rather than on guesses.
So instead of manually searching the internet, you can run a query, and MarketMuse's topic modeling technology will analyze thousands of pages and identify the most relevant topics.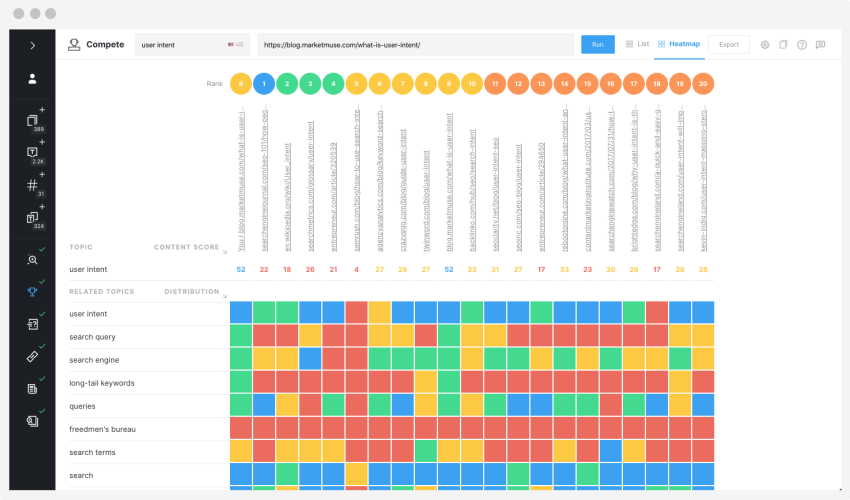 With this tool, you can also look at your website's strengths and weaknesses with personalized metrics that will tell you how well you covered a topic, how you were doing in the past, and how well you are doing currently. Knowing how you are doing can help you improve and achieve a different level of success.
Since SEO is one of the most important things when it comes to having a website, MarketMuse's content briefs will provide you with detailed guidance on creating content that will rank high in search engines. That means you will know all of the steps you have to take to be search-engine friendly such as creating a good structure, identifying your audience, identifying important topics, knowing the best pages to link, and more. 
Before publishing, MarketMuse will help you polish your content, so it resonates with your target audience and achieves the effect you want it to. It will give you information on which topics are the most important, how relevant they are, and how much content you need to create to cover them in the best way.
It's important to know if your posts will be exactly what your audience wants, and MarketMuse tells you if that is the case.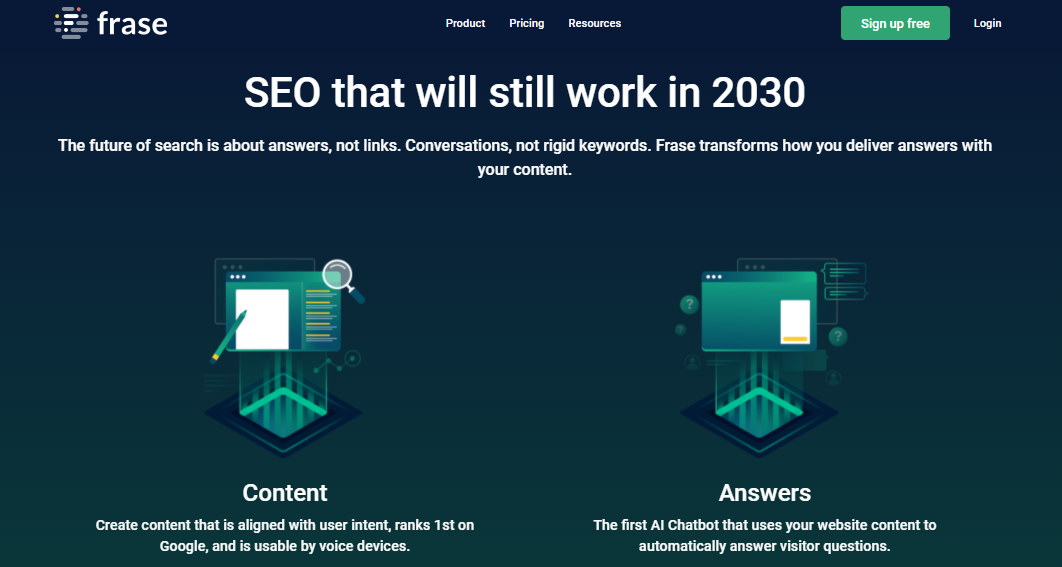 Frase is another amazing tool that will drastically shorten the time you need to research a topic. It will automatically provide an outline for every topic so you will know which information and data are correct and can be used for your article.
You will also get a list of related topics, headers, FAQs, statistics, recent news, and fun facts. And to make things even easier, you will have Frase's guidance while you work, which will ensure you do the best possible research for your target keyword.
The content briefs you get will provide you and your writing team with information on what should be done and how to eliminate the possibility of any misunderstandings when it comes to writing. The content briefs can be automatically created, or you can create your own custom ones. Each one contains detailed instructions on the tone of voice, style, governance, as well as SEO recommendations.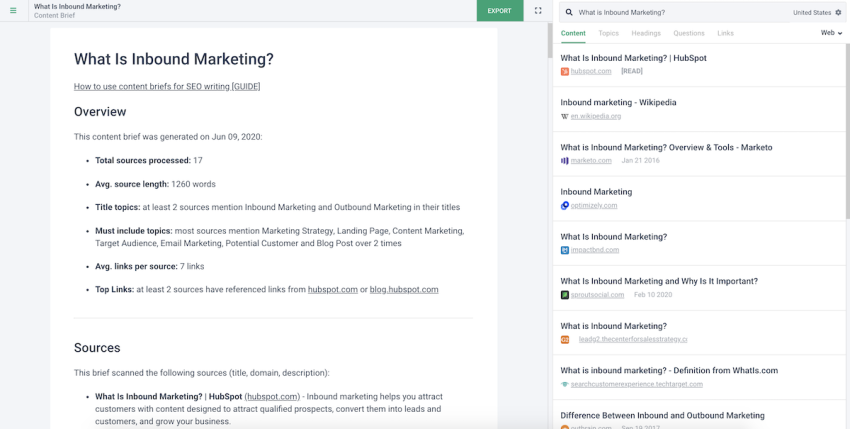 To create your content, you can use the Frase Content Editor or plug Frase into any existing workflows. You can import content directly from a URL and send drafts to WordPress. Plus, Frase documents are public and editable, so you can share them with any external members of your team.
Frase's AI provides you with an optimized article every single time. Its Topic Score shows you how you are doing compared to your competition, thus letting you know if you should change something in your writing strategy.
On top of that, you will be provided with data-driven insights that tell you everything you have to know.
Lastly, Frase Content is made for content teams, SEO teams, and marketing agencies and is the perfect tool to streamline your SEO and content creating process.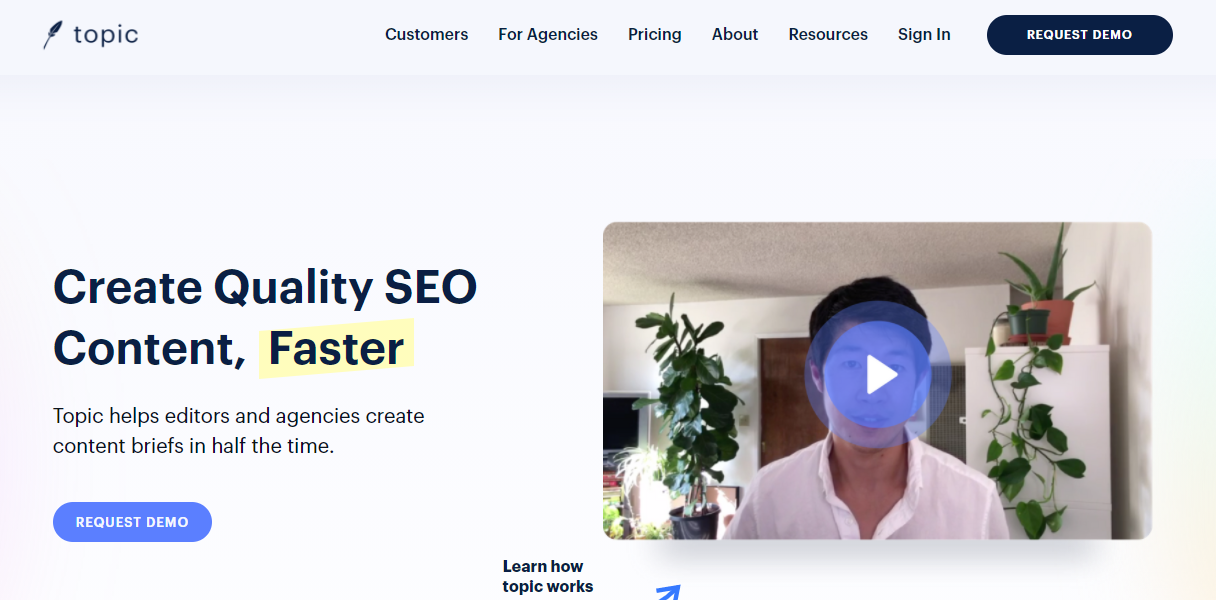 Topic is designed to help you create quality SEO content faster. It's a very good choice for you if you are an editor or an agency looking for a tool that helps create content briefs in half the time it normally takes.
Usually, you have to enter a keyword into a search engine, then open each article in a new tab, study the article, gather information, and do that all over again for each result. With Topic, you can enter a focus keyword, and it will find what headings, questions, and keywords you should include in your own article. It will use the top 30 results on Google, which ensures the information is relevant.
You can use its Outline Builder to put your research information in a comprehensive outline and utilize the help of its AI for getting new and creative ideas.
To optimize content before publishing, its Content Grader will provide you with information on what your draft is missing and what should be added.
All in all, Topic will ensure you save time on research and create more content that will be valuable to your audience and will rank higher.
If you want to have a clear way to measure your content's quality and save time, then you should try out Dashword.
Dashword will provide you with all the important topics and keywords that should be included in your content, as well as the percentage of their importance.
Once you have written your content, you will get instant quality feedback that tells you how your content performs against your competitors', and you will also be provided with tips on how to improve it.
To improve your content's relevance, you can include answers to readers' frequently asked questions. And you can also share your work with external writers and run reports to evaluate competitor content.
Final thoughts
When you have a lot on your plate, you certainly do not want to spend hours upon hours researching topics,  gathering information, and then deciding what is worth including in your content. 
So to help you with researching, creating, and polishing your content, you should pick one or more of the above-mentioned tools. Try them out and save yourself from the hassle of creating content that doesn't resonate with its target audience but takes ages to create.