Today you can hardly succeed if you do not use social media platforms as a way of advertisement. Social media platforms will allow you to advertise yourself, your product, your services. But once you start using social media platforms, it will be hard to keep up with people and their needs.
Furthermore, you will need to plan everything from how many letters your post will have to what you're going to post on holiday coming in two months away.
But no need to panic with the right tools. You can solve all your problems.
Today we have prepared for you a list of social media management tools that will help you
1. Hootsuite
Hootsuite will help you manage all of your social media from one place. Connect your social media platform and get started.
If Twitter is the connected platform, add board Twitter in the main dashboard and organize it by adding a few streams. For example, add hashtags or mention streams to know what your followers want, like, and need.
Features
Manage multiple platforms from one place
Interact with followers by swiftly responding to incoming messages
Stay on top of your game by constantly analyzing and improving your performance
Post even when you're not around with scheduled posts
Optimize your ads
Measure your social ROI
Pricing
Hootsuite provides you with four different pricing plans.
Professional
$19 /mo
One user
Team
$99 /mo
Three users
Business
$599 /mo
Five users
Enterprise
Custom Solutions
Unlimited users
2. Sprout Social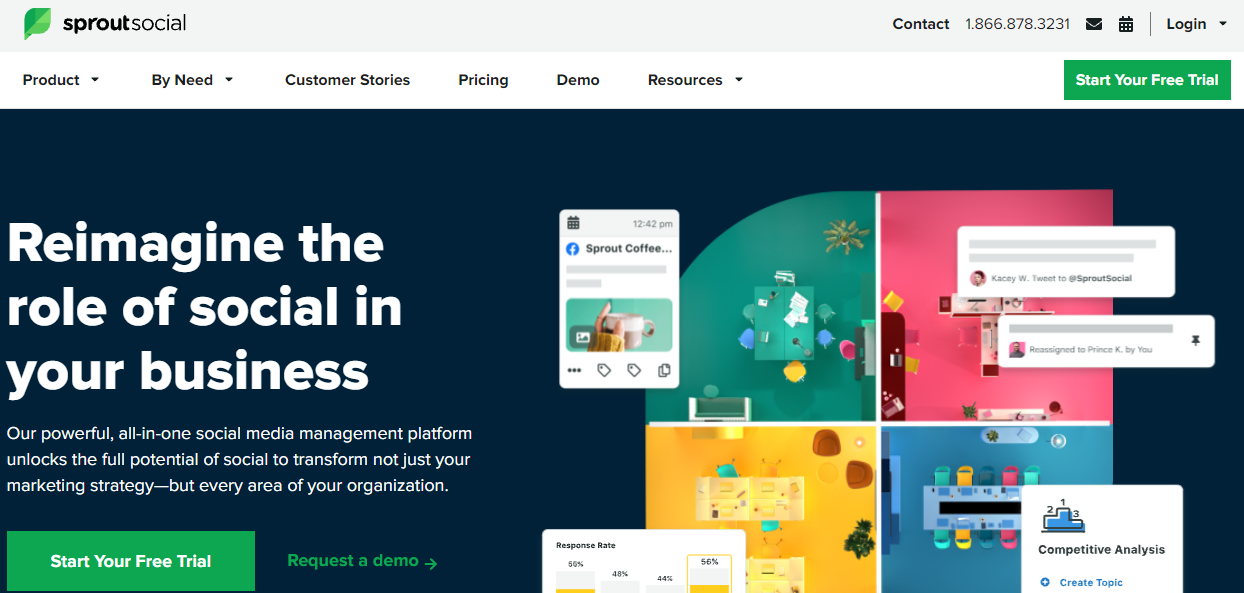 Sprout Social will help you stay organized and up to date with your posts. Also, this tool is easy to use. Once you purchase Sprout Social, you can choose which social platform you want to connect to this tool. Then you'll see a dashboard with different choices that will help you organize your posts. The messages tool is an inbox that will show all the changes from your social media profile. It will even provide you with information such as who started following you, etc. Tasks tool, you'll be able to give and receive tasks here. Depending on which social platform you connect to, you'll be able to see that feed. The publishing tool will show you the calendar of your scheduled posts. Reports tool will show you social media platform overview.
Features
Engagement
Publishing and scheduling
Analytics
Listening
Pricing
Sprout Social comes with three different pricing plans.
Standard
$99 per user/month
Five social profiles
Professional
$169 per user/month
Ten social profiles
It comes with everything that the Standard plan offers and more.
Advanced
$279 per user/month
Ten social profiles
It comes with everything that the Professional plan offers and more.
3. EngageBay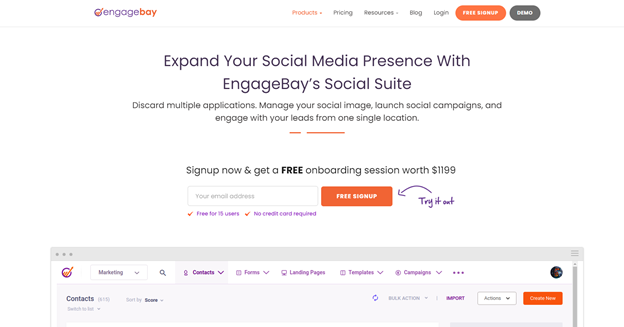 Our favorite all-in-one marketing, sales, and customer support software solution with free integrated CRM is definitely EngageBay. With it, you can utilize several tools that revolve around the customer journey, which are stored in a single, comprehensive package.
It also has social media management features that allow you to manage your Facebook, Instagram, Twitter, and LinkedIn accounts from a single window. This way, you can interact with your audience, answer their queries, resolve issues, launch promotions, keep them engaged – and build your presence.
For those of you who focus a lot on Streams, EngageBay lets you add and manage them. So, tracking Twitter mentions and retweets, Facebook posts and tags, and Instagram posts becomes easy.
Next, its Scheduler feature allows you to smartly time your posts and tweets and, in turn, achieve maximized reach. Scheduling multiple posts across various platforms is also a breeze. Not to mention that you can automate your customer acquisition method by capturing leads and adding them directly to your CRM database.
Using a social listening process, you can even see what your audience is searching for.
In a nutshell, with EngageBay, you will stay on top of your social presence.
4. Sendible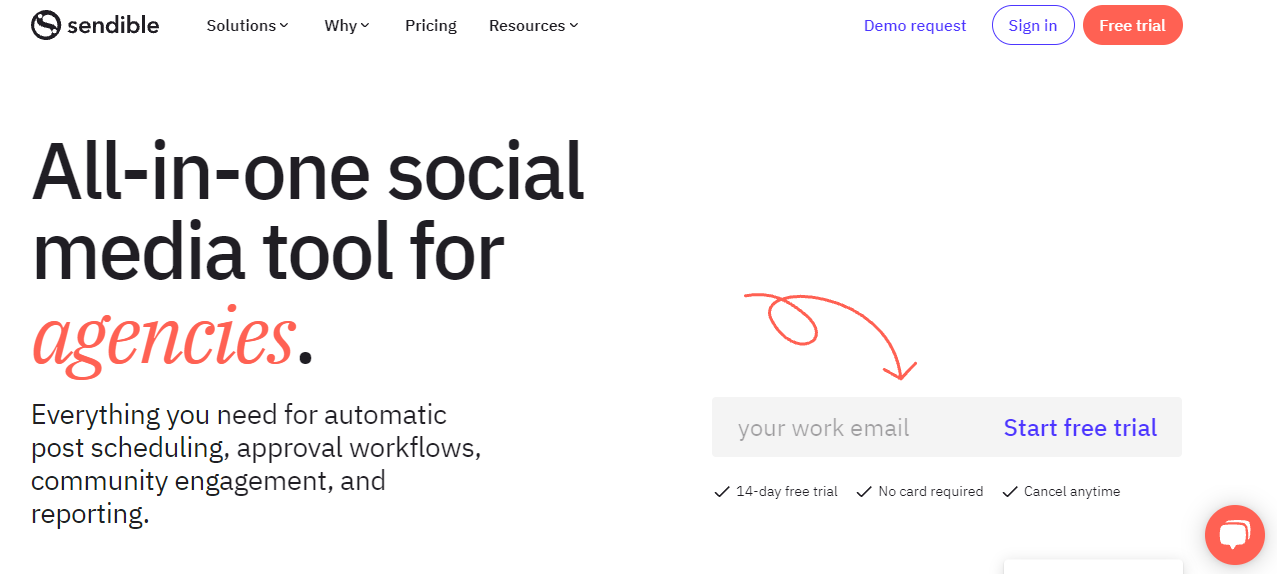 Sendible is another social media management software. It allows you to easily connect your social media profile to Sendible and start managing them. Sendible dashboard is easy to use, and it is one of the super user-friendly tools out there. On top, you'll see tools, and on the left, depending on what tool you click, you'll see its components.
Features
Plan content and schedule its publishing
Work in teams
Get real-time social data analytics
Work from anywhere and on the go from your phone as well
Monitor comments, follows, etc., and respond quickly to track what your customers want
Pricing
Similar to the previous tools, Sendible offers you four incredible plans. Make sure to check them out and pick the one that suits you the best.
Creator
$29/month
One user – six social profiles
Traction
$89/mo
Four users – 24 social profiles
Scale
$199/mo
Seven users – six social profiles
Expansion
$399/mo
For large teams & agencies – 15 users
5. CoSchedule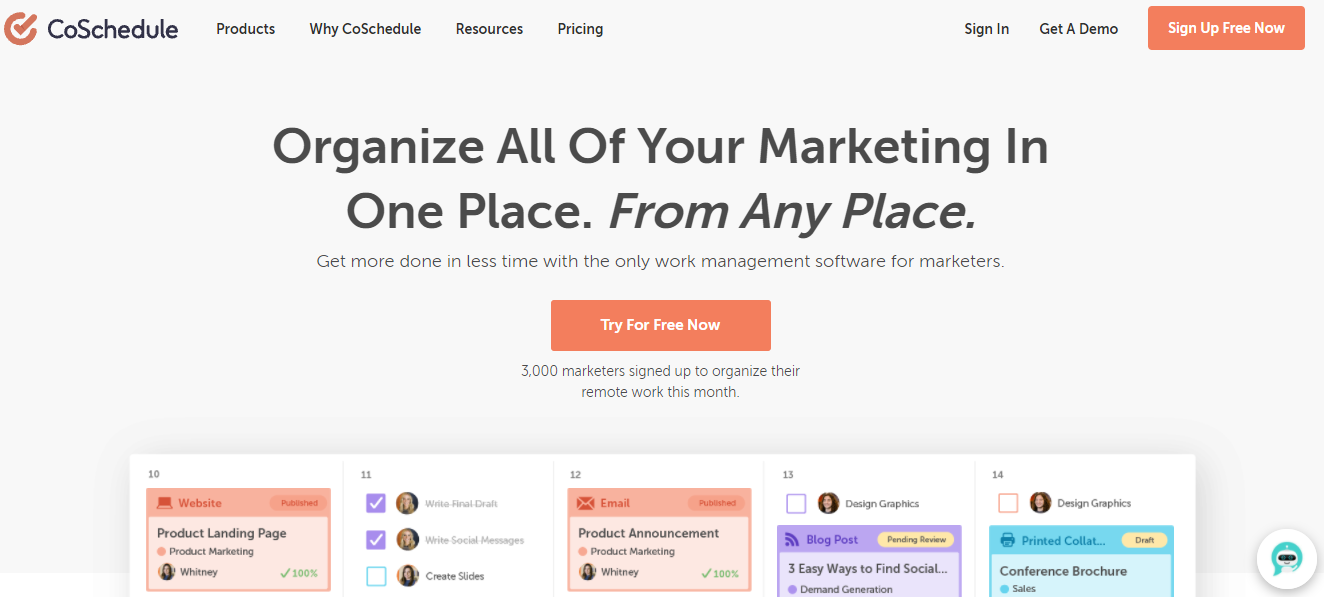 CoSchedule is a task management tool. Managing social media isn't easy, and it's hard to keep up all the tasks organized. Assign tasks, schedule posts, write the most compelling post and emails with CoSchedule.
Features
Drive traffic and shares with the headline analyzer
Optimize every message you post to attract more followers with a social message optimizer
Create emails that will drive more conversions and get more ROI with email subject line tester
Pricing
The most significant difference is that this tool offers only two pricing plans.
It offers a $29 plan per user monthly. And also there is a plan that costs $39 per user monthly.
6. Loomly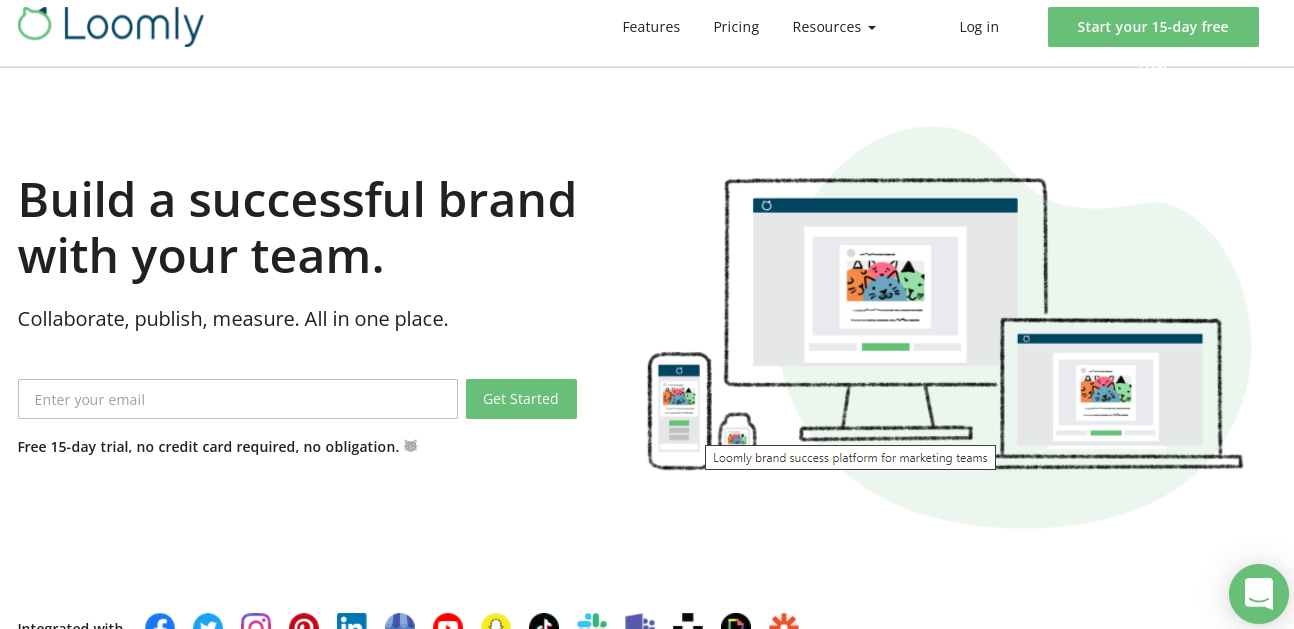 Loomly makes it truly simple to plan content and then edit it for each channel.
Features
Create as many as many calendars as needed
Connect calendar to your social media profile, set a time zone, and invite collaborators
Detailed view of all your posts and overview of your posts for the month
Create content step by step with post builder, etc
Pricing
Loomly provides you with five different pricing plans. There is something for everyone, so we advise you to take a look and choose the one that will suit your needs the best.
Base
$25 /mo
Two users/10 social accounts
Standard
$57 /mo
Six users/20 social accounts
Advanced
$119 /mo
16 users/35 social accounts
Premium
$249 /mo
26 users/50 social accounts
Enterprise
request quote
27+ users/51+ social accounts
Conclusion
Managing social media is not easy. Constant writing, creating, planning, posting are essential for your social media platform to be successful. It sounds impossible for one person to do it all, but it can be manageable with the help of the right tools.