Social media are visual platforms, and they describe them in two words. Pictures, posts, text, and emojis are all great ways of visually, but to captivate your audience's attention, these days there is no better way than video.
With more content in high quality, you would like to have short, light, and sharable video content, so you can show everything you need in one go, so let's see the best tools for it.
1.  Pictory

Pictory is an exclusive AppSumo product for Social network videos. You can create a short video with its AI in a couple of minutes.
If you have long-form content and want to get your audience's attention, transform it with Pictory. It will enable you to make it short and sharable on Social media.
With this tool, you can extract video highlights and add captions, logos, and music that describe your brand. It is excellent for improving visibility and engagement and converting long-form in one summary video.
Getting excellent quality content while doing it is one easy task. You upload your video, and Pictory will edit it with AI. Also, with Pictory AI, you scan a long video and "extract" the crucial moments. Then you select the text you would like to keep since it will transcribe all speech from the original video.
Many videos on social media you can watch with the tone set on mute. So with Pictory, you can automatically add captions or subtitles. Also, you will be able to burn them into video or download them in text, STR, or VTT files. You can make videos in more than 20 languages, and it is exceptional for sharing them all around the world.
2. Biteable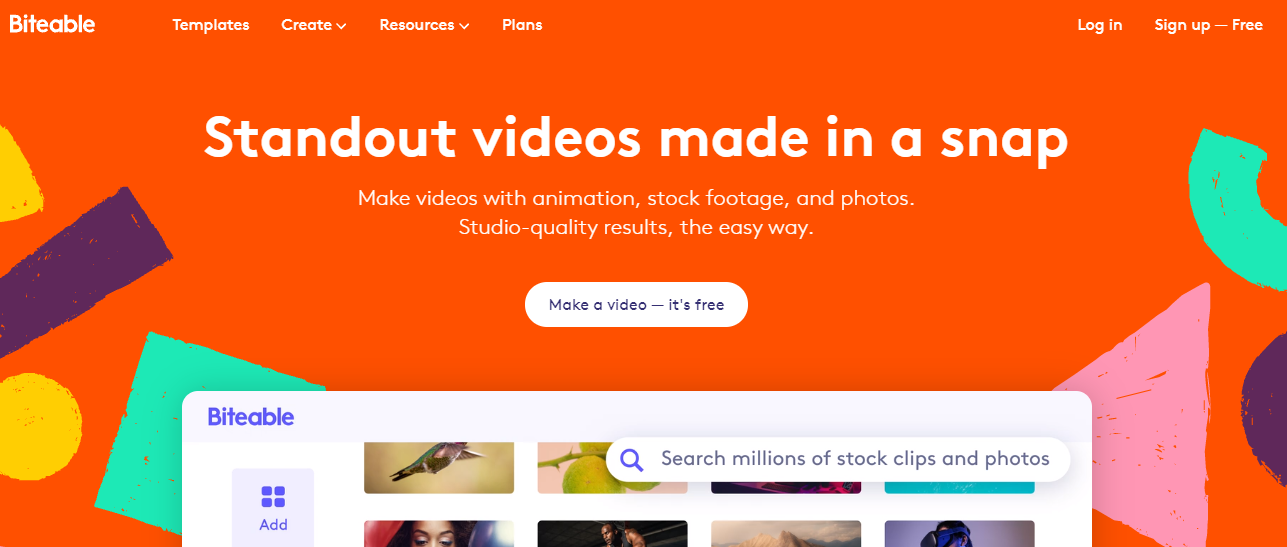 Biteable is a free video maker with templates, and you can easily make a video. It offers stock footage, animation, and photos.
It is one of the basic tools out there, but it works on the principle of "Add-Edit-Export." You can make animation, fun videos with colors that match your site or brand style.
With its templates, which are easy to customize, you don't need any experience making videos. You can create any kind with premade templates for Facebook, Instagram, Marketing, Promo, Trailer, and YouTube. Also, all of those have subcategories on offer.
Even if you customize them to some extent, the only problem is that they template them so that many other people can and will use them.
Since it is a free version, it is ok, and they offer two paid plans, Plus $19/month and a new one Ultimate $49/month.
3. Animoto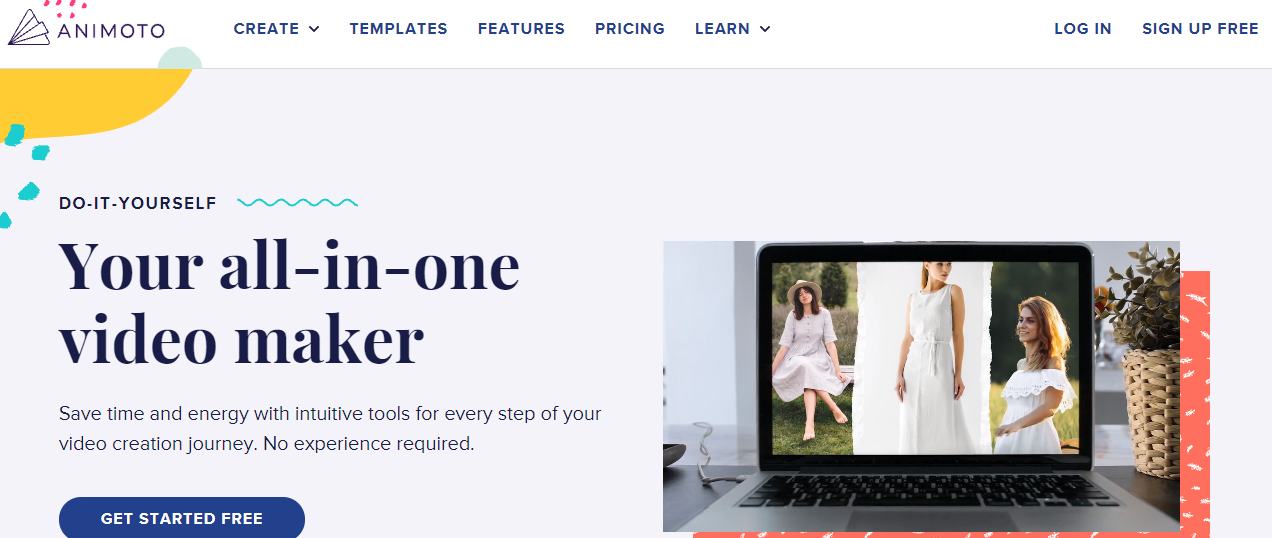 Animoto is also one easy drag-and-drop video maker so that you can create videos without any experience.
You can add photos and videos with this tool. But also, with Animoto, you can make a new one in just a couple of easy clicks. It has an extensive library of licensed songs that you can choose from.
Suppose you like to make Video ads, Slideshow videos, Promo videos, and videos exclusively for Social media. With this tool, templates come categorized in Recommended for people who are just starting with video making, and you have the category New and Popular to choose from.
Animoto is an Online Video Editor you can start using for free, and then pick between a Professional paid plan and Professional Plus, depending on your wishes.
4. Typito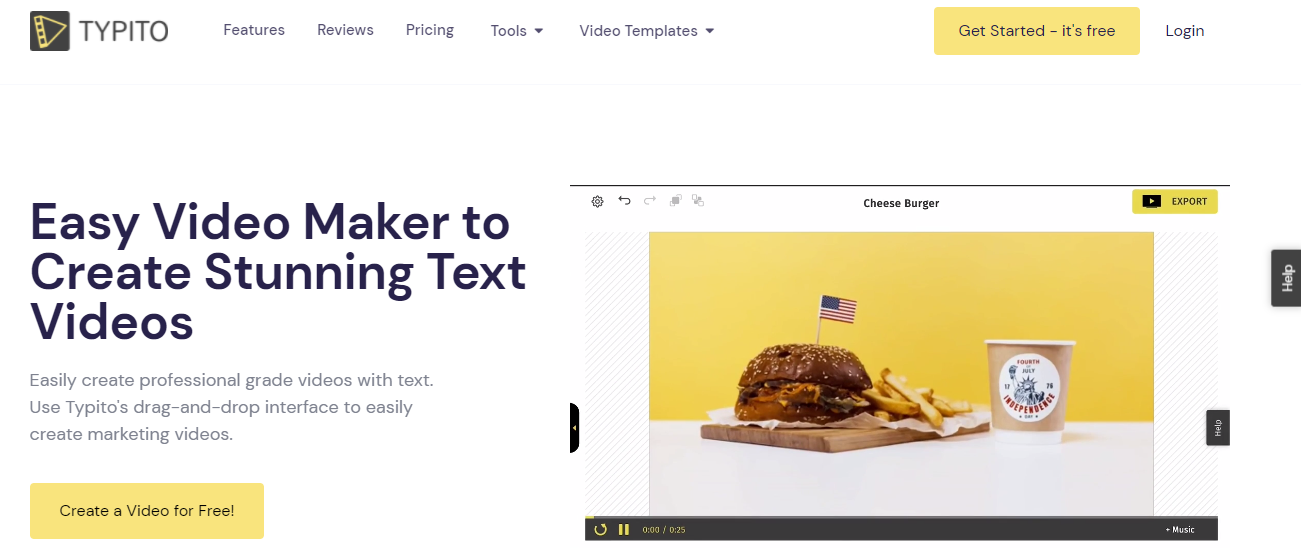 Typito is a Videomaker that you use to create videos with text. It has a drag-and-drop editor, 20+ video forms, 500+ free templates, and it offers a feature called Live Video Preview, meaning that you can see how your video will look in real-time.
However, you will even make videos that will match your brand by using fonts, colors, and logos with customizable templates. Especially if your goal is to present your business on Social media.
Lastly, we have to mention that this tool offers three monthly plans. Starter $29, Professional $66, and Premium $149, you are limited with the number of video projects per month/ per pricing plan.
5. Ripl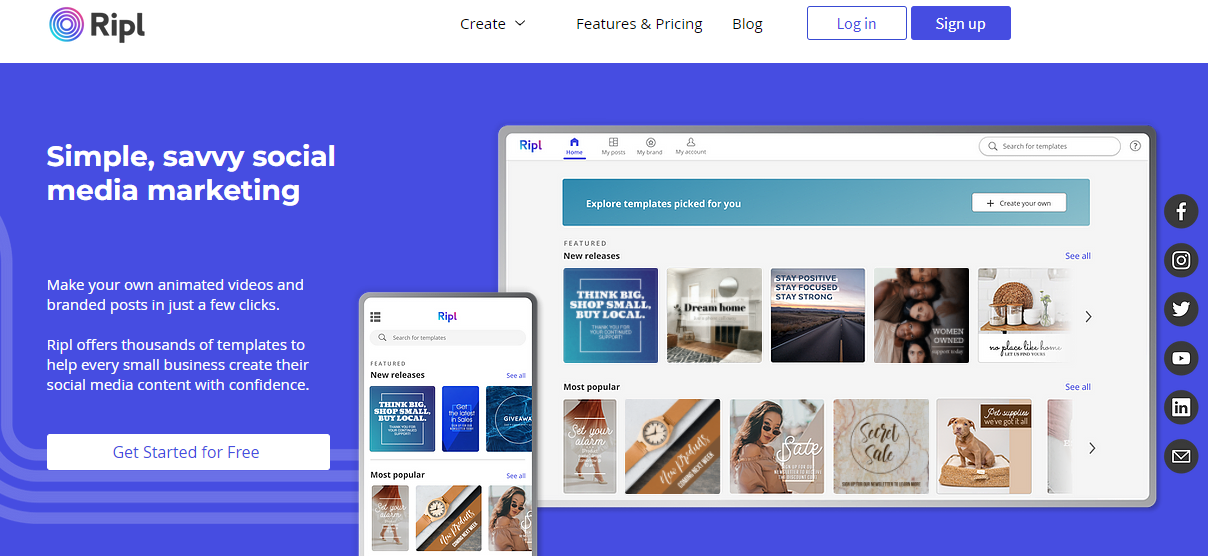 If you would like videos, especially for marketing small businesses on social media, then Ripl is the right tool.
It already has premade templates, around 1000. You can even customize and very quickly make a video or animation. At your disposal is a library of 500K images and videos, and you can use your photos for social media videos if you like.
You start with the free trial for seven days, and their monthly fee is $14,99.
6. Visme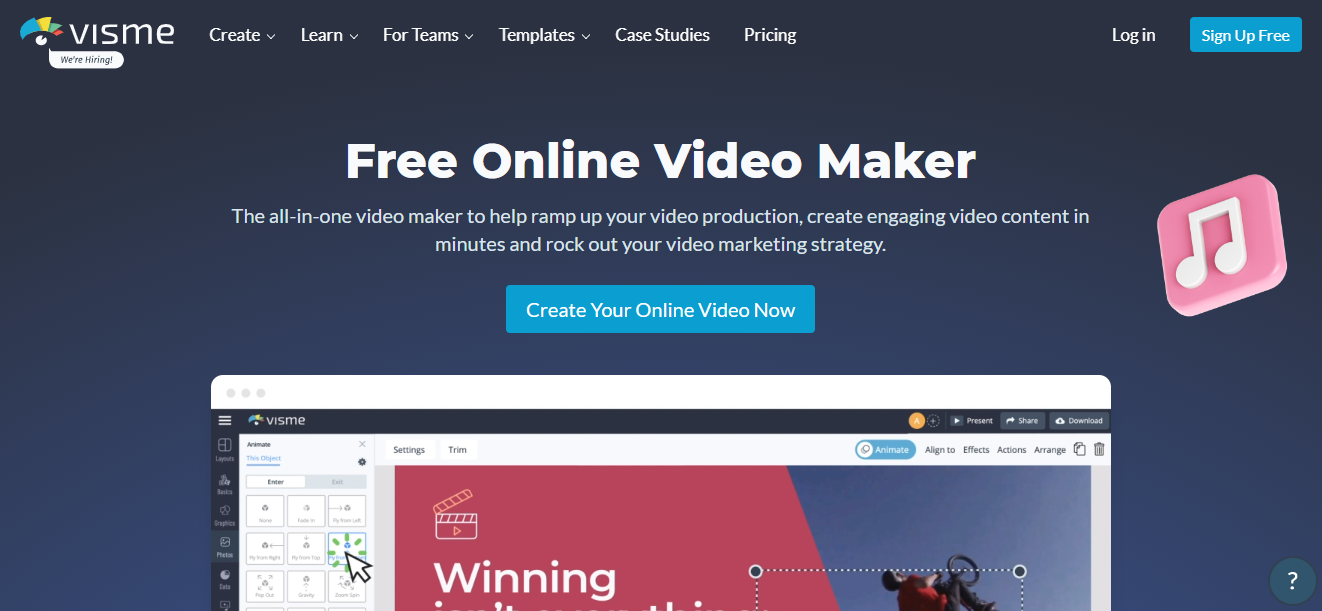 Visme is a design tool useful for creating all types of visuals – social media posts, presentations, infographics, charts, and graphs.
Visme video maker is an online tool for creating professional-looking videos. Simply start by choosing the template and customize colors, design elements, animations, and effects. You are offered a large library of icons, vectors, stock images, and animated graphics. Visme also allows you to add voiceover to your tutorials and explanatory videos, as well as music tracks.
You can save your video online and share it as a link or download it in MP4 or even as a GIF. Templates are available in three different sizes (16:9, 1:1, 9:16), are easy to customize, and incorporate your personal branding.
Visme is available for free, but the paid plans (Standard, Business, and Enterprise) are offering a lot more in terms of download formats, access to a bigger stock library, and special animation effects.
Conclusion
So after describing those tools for you, we will among them recommend Pictory. In our opinion, its AI creates something unique and valuable for a user and video maker, and it offers so many features that you can only gain from in a positive way.
Let's answer to question from a title: the best one is Pictory.