Sidebar Menu is a responsive menu and navigation plugin for WordPress. With this plugin, you can efficiently create beautiful and elegant sidebars with your own unique and perfect design. It's not the easiest thing to shape an attractive and functional sidebar, but with this plugin, it is very simple and also much fun!
The plugin includes over 50+ customizable settings and you can choose your own background image, header image, colors, overlay opacity and much more. The sidebar menu is fully animated and has a minimalistic modern design so your will website looks awesome. Plus you can add any sort of widget to the sidebar, so you can use it as much more than just a menu and navigation plugin.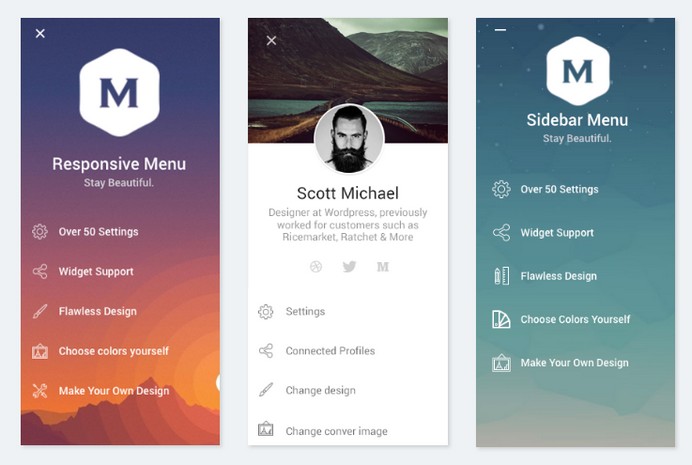 Further advantages of the Sidebar Menu WordPress plugin are multi-level menu hierarchy is fully supported by default.
Main Features
50+ Customizable settings
You can literally choose colors on everything!
Widget support
Custom background image
Center title & tagline
Customer support
Lightweight, does not slow down page speed
You can add a logo or upload an image
Multi-level menu hierarchy
Secondary menu which can be disabled
Addable custom Title & Description
Flawless animated design
Integrated search function which can be disabled
Addable background image or pattern with a custom height
Customize overlay colors and opacity
The menu button can either always follow the screen when you scroll or stay the same place
Retina support
Customize what sizes the menu should be shown on
This is a cool and affordable WordPress plugin sold in Code Canyon and in a new and fresh way, you can easily create attractive sidebars with modern design and beautiful layouts.
Have you used the Sidebar Menu for creating beautiful and elegant sidebars? I would love to hear all about it in the comments below!