Today, we'll take a look at the 3CX Live Chat WordPress plugin and go over all of the features and enhancements that make it stand out.
Whatever type of business you run, you will ultimately understand that one of the most crucial components of the consumer experience is customer service. As a result, customer service has undergone a significant transformation for the better, including the debut of the live chat in order to attend to the website visitors in real-time.
Slowly but steadily, this approach has become the new standard amongst website owners. Now, millions of businesses use plugins to provide the live chat feature on their WordPress sites, fulfilling two primary goals – providing better customer support and strengthening their branding.
Furthermore, the clients became accustomed to chatting with the company instead of the traditional emails or phone calls.
You could wonder why this happened. Live chat is convenient, quick, and efficient. Also, it can be done in real-time while recording the dialogue to assist with the inquiry after the chat session has concluded.
There are many WordPress live chat plugins available out there. Luckily, businesses can choose between various options in terms of budget and functionality, but 3CX Live Chat is the best so far.
What is 3CX Live Chat?

3CX Live Chat is a free WordPress live chat plugin that offers more than just a chat.  It is essentially a compact communication system capable of revolutionizing customer service at its core. The plugin allows customers to convert live chat into live audio or video call – directly from the live chat bubble in just one click. This is made possible thanks to 3CX Live Chat working together with 3CX StartUP to empower the plugin with outstanding features, such as:
Desktop, iOS and Android apps
Easy to use interface that integrates calls, live chats, FB &SMS
Ring groups
Desktop notifications
Missed chats and chat history
Pop-out chat box
Customizable design
No advertising or powered by link
No monthly subscriptions required
Option to add surveys and polls to the chatbox
CRM integration
Different access to the Web Client to manage agent permissions
Customizable chatbox
Add animations
Accept and decline conversations
This blog post will teach you how to install and set up 3CX Live Chat, so that you can get right into chatting with your customers and maximize your business potential.
Setup Your 3CX Account
Before you set up the plugin on your WordPress site, you'll first need to set up your 3CX account in your browser:
Sign up for your free 3CXStartUP account.
Add your agents and manage their permissions to the 3CX Web Client (managers, receptionists, standard users).
Determine if you'll use a SIP Trunk, which is needed for inbound and outbound calls, or if you'll use the system just for internal communication and the Live Chat – in which case just click "Next".
Now you can start setting up your live chat by choosing the option "Yes" and selecting if you have a WordPress website and if you do input the URL and click "Set".
You need to link the Web Client to the plugin, so download and activate the plugin. Copy the 3CX Talk URL and save it for later. The 3CX Talk link is what is used to connect your two platforms – the Web Client and plugin. It enables sharing data regarding chats, calls and video calls. Everything is run through the browser, so there's no need for telephone calls.
With that, you're done. You can now log in using the "Login" button and access your dedicated 3CX Web Client which is the place all your customization options and chat messages are located.
Now that you have access to your Web Client, it's time to configure the Live Chat.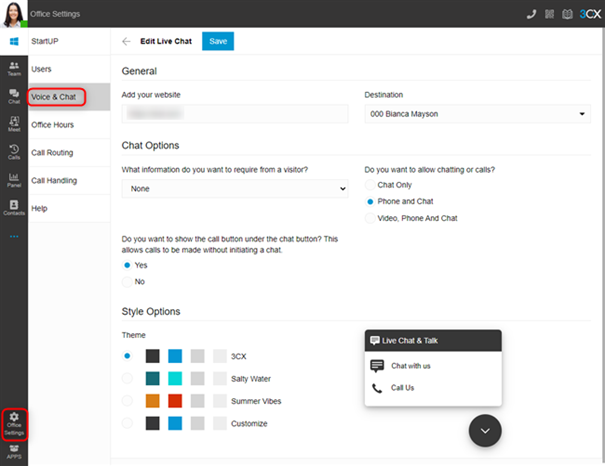 To set up live chat so that calls and messages can be answered from the Web Client, use the "Office Settings > Voice & Chat" and click on the pencil icon.
Your website address will already be populated from the wizard process, but you can change it if you want.
The "Destination" field shows where live chat messages or calls will be sent. To change the "Destination", navigate to "Office Settings > Call Routing" and choose your destination. By default, the live chat will be routed to a ring group, so someone will quickly answer any query.
Under the "Chat Options" section, use the drop-down selection to choose what information visitors need to provide to connect.
Use the radio buttons to choose if you want to allow "Chat Only", "Phone and Chat", or "Video, Phone, and Chat".
If you want the option for "Call Us" to be displayed immediately on the chat bubble, use the radio button to show or hide the option.
Under "Style Options" choose from one of the 3 pre-defined themes or select "Customize" which gives you more creative freedom.
Use the preview of the chat bubble to interact and test the functionality and when you're done click on "Save" to finish up.
Now comes the part that requires you to access the plugin.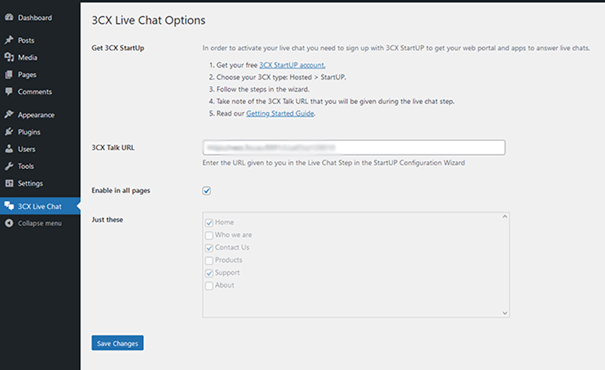 Log in to the admin panel of your WordPress website
Navigate to "Plugins" and click "Add New" at the top of the page
Click on "Upload Plugin" at the top and choose the file you downloaded during the sign-up process. The same can be found through the Web Client in "Office Settings > Voice & Chat" by clicking the 'i' icon next to the pencil icon. Then click "Install Now"
After installation, click on "3CX Live Chat NextGen" in the sidebar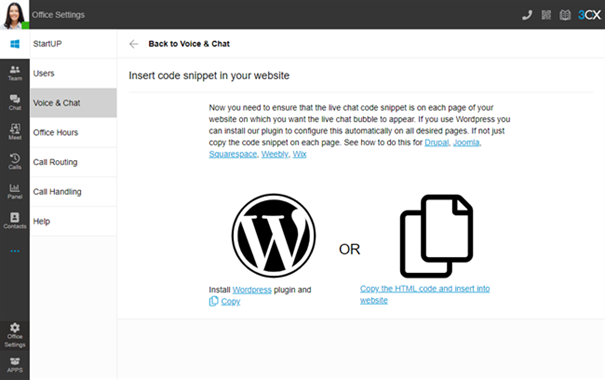 Paste the URL you copied earlier (the 3CX Talk URL). If you haven't copied it, you can find it again in the Web Client in "Office Settings > Voice & Chat" under the "Information" field or within the email you received previously.
Either tick the box to show the chat on all pages or use the tick boxes below to select individual pages. Finally, click "Save Changes" and you're good to go.
Other Settings
After you've completed the setup procedure, you'll be able to access a more specific options section by navigating to Live Chat Settings.
There's a lot of information here, which helps customize the live chat to match your needs. Here is a list of a few of the numerous options available to you:
If a person logs into WordPress, the live chat name and email will automatically fill up.
On mobile devices, disable live chat.
Allowing live chat to be disabled on specific sites or content.
Offline message management.
Choosing the hours when the live chat will be available.
Adding GDPR compliance, as well as a slew of other features.
Choose on which pages you want your chat icon to show up.
Enable Google Analytics events.
Show/hide "Powered by 3CX".
Styling Your Chat
There are two places where you can style your chat: "ChatBox" and "Styling." The first one is "ChatBox." Also, this is a place where you can fully customize your chatbox. From positioning and changing icons to adding some detailed specifics.
Further, we have a "Styling" option. It allows you to change different colors, change chatbox titles, add a welcome message, and so much more.
In its settings, you can find much more options such as:
Defining the behavior of your chat when you are offline
Configure the time when you are available
Enable voice and video calls
Enabling Gutenberg blocks
Now that you are all set up, the chat should appear on your WordPress website customized the way you like it.
Video and Call Option
You must configure 3CX Live Chat settings to enable the transition from a live chat to a voice call or even a video call. We've activated these settings during the step-up plugin procedure if you recall. However, you can quickly enable it at any point if you forgot to do so – all of these settings can be managed directly from the Web Client. All you have to do is navigate to Live Chat > Settings > Advanced Features in your WordPress dashboard.
By enabling this option, when someone wants to chat with you, there will also be an option for them to call you.
What is impressive about this plugin is that you can also access all customer communication via your smartphone without having to sit at your computer all day.
To get started, you'll need first to download the 3CX Mobile app, which is, as we've mentioned, available through the web client for both iOS and Android.
When you have downloaded the app, you can open it. The first thing you will notice is that it will ask you to scan the QR code. You can find it in your welcome email or directly from the 3CX Web Client.
Then to ensure that everything is operating correctly, the program will ask you to perform a test "echo" call.
If you can hear what you're saying in your phonemic, the app is up and running. You're ready to make phone/video calls and participate in live conversations from the app.
3CX Web Client
We've touched upon the web client that comes with the plugin a little bit, but now we'll look a bit more closely at everything you'll be able to do.
Representing a universal tool, the web client will be your all-in-one communications interface that includes CRM, Facebook messages, and SMS integration. It was also recently announced that WhatsApp integration will also be added to the plugin's arsenal.  The channels are traced through the client instead of the WP to minimize the resource strain on your site, keeping it as fast as possible.
A unified interface also means it's much easier to navigate all the various features you'll be taking advantage of with the chat like adding users and contacts, tracking groups, opening new chats, starting calls or video meetings, etc. If you had a couple of different apps for these features navigation would be slow and because of all the switching, chances of making mistakes would rise – this way everything is in one place making for a much more streamlined experience.
Taking all of this into account, probably, the most important thing the web client will do is give you a much more accessible alternative to the WordPress backend. Anyone who's had to work on it on their phone will know that because of the device limitations, actions take longer, making it inefficient to use any way other than through a classic desktop. The web client is "cloud native" and designed to be used within a browser, regardless of the device and screen size. This means you'll be able to access it efficiently any time you want through your phone or tablet.
Pricing
The 3CX LiveChat WordPress plugin is a freemium plugin that includes all of the capabilities listed above. Automatically combined with the web client as part of the 3CX StartUP package, you'll have access to both for free. If you decide to upgrade, however, there are two other, paying, tiers that might interest you:
| | | |
| --- | --- | --- |
| STARTUP FREE | STARTUP PRO 10 | STARTUP PRO 20 |
| Shared Instance | Up to 10 users | Up to 20 users |
| Up to 10 users | Own SIP Trunk | $275 |
| Video conferencing | Multi Level IVR | |
| 1 Ring Group | Call Queues | |
| 1 Auto-attendant | Reporting | |
| 3CX Talk Links | $175 | |
| Live Chat | | |
| Mobile Apps | | |
| $0 | | |
It's worth noting that all the essential features are available within the free version. The paying tiers add the option for more users if you're running with a larger group of employees and a couple of extra features which are great but not crucial for your live chat plugin to function.
Furthermore, if you're looking to expand your 3CX services even further there's the option to get their complete 3CX PBX system which comes with its annual subscription.
Conclusion
Nowadays, the digital world is growing quickly, and keeping up with the pace is critical to thriving. Otherwise, a firm would enter the striving phase, when it continually verges losing everything.
As a result, to keep on track, provide a positive customer experience, and increase engagement, you'll need to employ a clever solution, which in today's scenario (live chat) is 3CX.
Overall, we have found 3CX Live Chat one of the most adaptable WordPress live chat systems. In contrast to SaaS tools, you receive your own hosted instance. You may also host it on your server or in the cloud.
This gives you a lot more control, freedom and sophisticated capabilities like boosting live chat sessions to a phone call.