WordPress today has become the easiest and most user-friendly solution for individuals and even companies to host their blog or website. It is so fantastic that even big companies can host their website on WordPress. Initially, the purpose of WordPress was to help writers to improve their typography but has now become the best blogging tool available in the world. It has millions of users and millions more of viewing websites with built-in WordPress.
WordPress is an open source and this comes with loads of advantages. For one, it is free to use and it is secure; better security is gotten when you are sure that there are no back doors if your code gets reviewed by random people all over the world. It is very astonishing what people can accomplish when they build products for themselves. Being open source software, WordPress has become so big and popular because it grants each user the freedom to do anything on it; all for free.
Several thousands of plugins exist for WordPress that help to add features to your WordPress website, features that are not usually present on the website by default. This would mean that there would several hundred more plugins that would offer exactly similar features but with different functionality.
This article would be addressing two of those products; one WordPress plugin, WPTTAR, and one other time tracking and time management tool called Weekly timelog.
WPTTAR
WPTTAR is a WordPress plugin useful for both businesses and companies who very much like to keep a record of all their projects; past or ongoing. It allows the users (WordPress developers and designers or team members) submission of worked hours along with their comments. This makes time tracking very much easily managed and effective. It is useful for project management, software development time tracking, and activity management.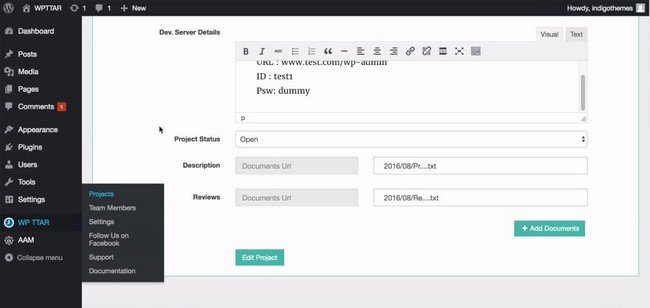 It was developed by Ommune on the 24th of August, 2016 with the last update being on the 2nd of December, 2017. WPTTAR is very compatible with the following browsers; Internet Explorer 11, Safari, Opera, Chrome and Mozilla Firefox.
It is also compatible with Layers WP, WooCommerce 1.3.2.1, bbPress 2.3.x, Easy Digital Downloads, Visual Composer 4.7.x, Visual Composer 4.8.x, WPML Gravity Forms, and Bootstrap 3.x. The files included in WPTTAR, responsible for its running include; PHP, CSS, and JavaScript.
WPTTAR was developed for WordPress software versions 4.5.1 and version 4.5.2. It is very user customizable as the settings can be changed as needed. All you have to do is Go to Dashboard, search and click on WP TTAR and then go to Settings. The following settings can be configured;
Date and time settings – when setting up the WP TTAR plugin for the first time, you can set up the time zone and also set the time format as you like to either the 12 hours clock format or the 24 hours clock format. Using the 'Save' button you save all your settings. It is important to not to tamper with or change the Date and time settings, especially the time zone setting when there are open projects or you would adding extra hours to that project depending on the chosen GMT.
Message settings – success messages can be customized as you require by using the view/edit button.
View User – under this setting, you can view all the WordPress roles and then choose whether to show specific roles of each user or just simply view all the roles that every single user plays. You can then use this info to assign them on different projects.
Role Permissions – under 'Role Permission' you can create a new user role and assign the permissions to users of that role. You can also decide to edit an existing user role and do the same.
WEEKLY TIMELOG
This second software is one of the best known time trackers for designers, developers or even personal use. It is very useful for the collection of time logs, tracking of team progress and ensuring that the team leader stays on budget; as the app has the analytics to do just that.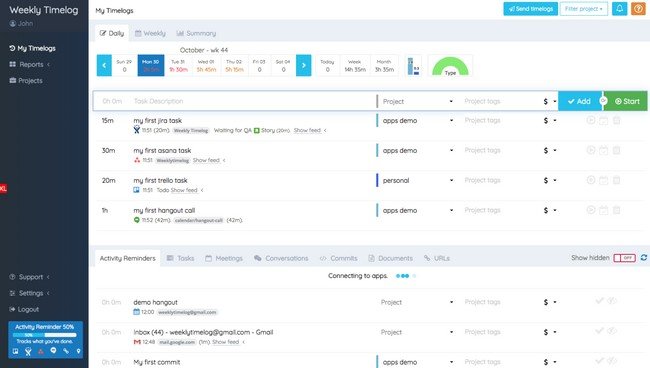 It usually takes just about 1 minute to create a free account and to install a Chrome extension. Weekly timelog would seamlessly track all your work, tasks and projects and enable you to review and to share your time logs in less than two minutes with team members (if you have any) and clients, thereby helping you to save time.
WeeklyTimeLog also features a 'set & forget' feature where you can set a timer just once and leave the software to track the rest. This feature is like a built-in memory space for every one of your online activities. That way, you can always edit and add manual entries later on.
Another important feature of this software is the enhanced activity reporting and analytics aspect it provides; which is the major area of concern in this article. As a manager, WeeklyTimeLog finally helps you to get all the data that you might need at your disposal. The software enables you to set project start and end times, budget as well as deadlines. You could also track all of your daily activity and even review a snapshot of your activities and the time spent doing each one. All of these time logs are very traceable and helps to build your client's trust in you.
One extra feature is the added analytics aspect of the software which can be reviewed in just one click. It is also good to note that this app can be easily integrated into your other favorite apps, for example; Slack, Trello, GitHub, OneDrive, Hangout, Asana, and others.
Summary of Features
Auto tracking of all your daily activity.
Manage all your metrics in one simple view.
View all progress activity by team, project, and contractor.
Settings of project start and end times, deadlines and budgets.
Know precise budgets at the moment and stay on track.
Build a client's trust with your traceable time logs.
Sharing of daily logs with team members and even clients.
Reviewing of cost analysis reports in one click.
Traceability of time logs.
Seamless app integration with

slack tracker app

, Trello, GitHub, Asana, OneDrive, Hangout, and several others.
Price
It is a totally free service.
Author Bio
John has been working as a Content Manager at weekly timelog. His passion and strategies for cracking the tough in online marketing flow through the industry. He has documented hundreds of technical processes and taught growth hacking and technical writing through various blogs, articles, and Community Gathering.