Developers now have the flexibility to tweak the features and capabilities of a webpage in any way they see fit, thanks to the availability of plugins. Most plugins contain settings that users can toggle on and off, and their design can be customized in terms of fonts, colors, and sizes so that it is compatible with the rest of the website. Users may also change the default behavior of the plugin.
Maintenance mode plugins enable you to present visitors to your website with a more user-friendly notification instead of a broken website when your website is usually working. This is accomplished by redirecting users to a separate page. It also enables you to perform any necessary maintenance in an environment free of danger while assuring users that they will still have access to the website even if maintenance is being fulfilled.
It's also possible that the phrase "maintenance page" will come up quite regularly for you. When it is essential to do maintenance, updates, or backups on a mobile app or website, the page will redirect the user to a maintenance page, a temporary page that serves as a placeholder while the necessary work is completed. The message notifies the user that the web page they are attempting to access is unavailable because the team working behind the scenes is currently engaged in some activity.
In this article, we will discuss WP Maintenance, which we consider the most helpful maintenance plugin currently available. Users may obtain a free edition and a paid version (PRO).
Let's plunge in!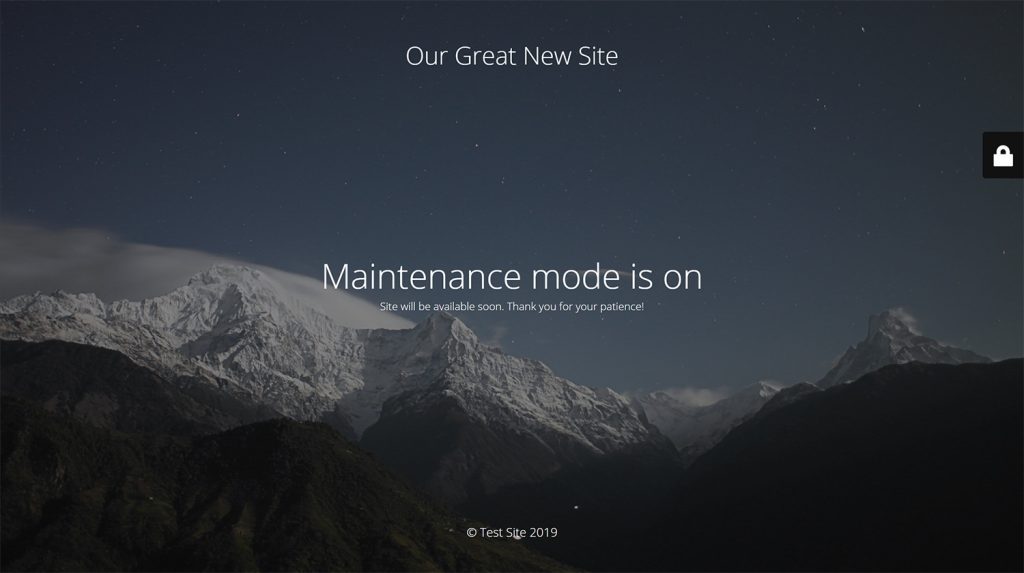 As an administrator, you can set up a temporary page with proper permissions and enable the "503 Service temporarily unavailable" message to disable your WordPress site for maintenance temporarily. The plugin also allows the administrator to create a temporary authorization page. The plugin's configuration settings enable users to alter these features. Easy-to-use customization options that, when combined, create a look that works across all platforms. Add your company's logo and a background image after choosing the background color and adding some text.
Let's check the following list of some of the remarkable features that users have access to when utilizing the software's free version:
An HTML/CSS layout that is suitable for displays that make use of retina technology;

A background that is all-encompassing and covers the entire display (Backstretch);
The ability to submit your company's logo;
A blurring effect that is applied to the background;
A variety of customizable color options for backgrounds, typefaces, and icons.;
Personalization options are available for the heading, content, and title;
Access to the site can be gained by logging in as a Front-end user;
The switch on the admin bar can be used to turn on and off the status 503 error at any time;
Assistance with the implementation of Google Analytics;
It is compatible with all of the most popular caching plugins that are currently available;
Mtnc load maintenance page for this user is a filter that changes how the maintenance page is displayed to the user;
There are certain pages on which the maintenance mode should not be active, and there is an option to turn this feature on and off. In addition to this, there is also a switch for activating and deactivating the feature.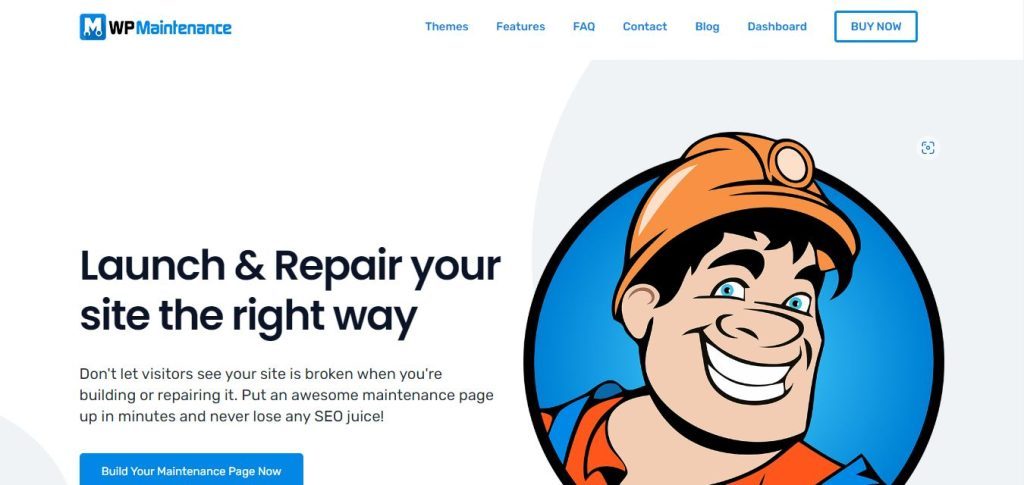 The WP Maintenance plugin is for you if you want to create beautiful maintenance coming soon, landing, or sales page without touching a line of code. Those who run local businesses, bloggers, designers, developers, photographers, and sell goods or services online or conduct webinars are all in the best position to benefit from this change. Webmasters, whether employed by businesses or working independently, who design websites for others will also appreciate it. These individuals stand to gain significantly from its use. People with no coding or design experience and who did not want to spend hours customizing their page were the target audience for the plugin when it was being developed. If your server can run WordPress, you should be able to run WP Maintenance on it without any issues.
A recent version of WordPress is highly recommended by us and should be installed. When developing WP Maintenance, the developers paid close attention to the fine details, ensuring everything runs smoothly and without interruptions. The only requirements are that your WordPress site is self-hosted and runs on WordPress version 4.7 or higher. It's possible to rebrand the program, put it on your clients' websites and charge your clients whatever you want while still owning the software if you purchase an agency license. The plugin itself cannot be sold as a stand-alone product. This is a stipulation imposed on your freedom.
The following are a few of the essential features:
From webinars and landing pages to mom-and-pop shops, there are more than 20 themes.

Configuration of SEO: Before your business opens, begin thinking about search engine optimization! Optimizing the website even when there is only one page or paragraph of content is possible with our extensive SEO toolkit.
Customer-Friendly Navigation – While working on the new website, only your clients and workers should be able to access it. Because of the Secret Access Link, they won't have a problem accomplishing this mission.
There is no additional charge for complete rebranding. A single line of code isn't required to customize the plugin's name, logo, color scheme, or content; you can do it all from the dashboard.
Use the Dashboard to keep track of your purchases, license, brands, and websites in one place: With a single location for all of your customer sites, you'll be able to save time and money.
There is a high percentage of plugin developers on the support team, so you can be confident that you might receive rapid and courteous service.
Despite the lack of a free trial, you don't have to worry because a no-questions-asked money-back guarantee covers you. For any reason whatsoever, within seven days of purchasing the WP Maintenance plugin, the company will gladly refund your entire purchase price. 
The large number of images (over 3 million images) is what made this plugin an extra interesting and tempting choice. Namely, with the enormous premium images library, you will surely find everything you need and are looking for. Also, with Background Blur and Background Image Filter, you can style the images you choose.
Themes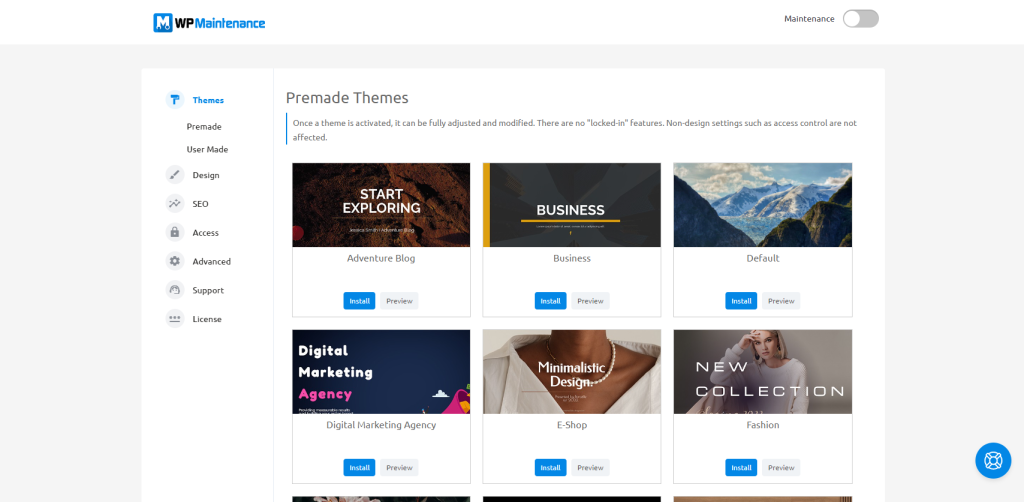 With over 20 ready-made themes, you can create your maintenance page in a few clicks and in minutes. To a large extent, your job will be easier, and you will surely be satisfied with saving time, nerves, and the extraordinary page you got.
Also, installing and using themes is extremely simple – you need to select the theme you want and click the Install option. If the chosen topic fully suits your needs, you are good to go. But still, if you want to make certain modifications to it, don't worry because that action is quite simple. You need to select the Design option on the Dashboard and the Layout subsection. You will get a content box in which you can customize the page to your liking with the Edit module options.
When you're done, save with the Save changes button, and that's it.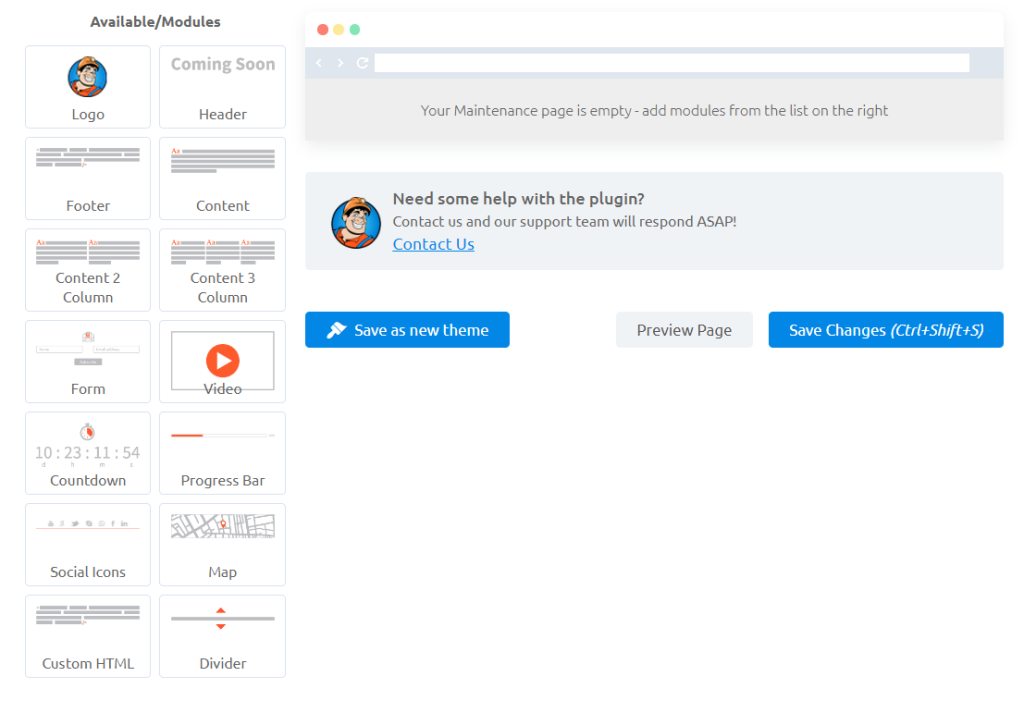 Lightweight design and ease of use are reflected in every part of this plugin. This is no exception with custom-made themes. You can put your theme together from scratch without any hassle. All you need is to select the module you want with the help of Layout (which we previously mentioned).
On the left side of the dashboard, you will find a number of possible solutions and choose them according to your needs. Move the module to the gray area and start creating your own theme. Customize the theme completely to your needs.  Add content, elements, images, and much more.
Pricing
 We provide three different pricing options:
Personal Lifetime Plan:
The license covers only one location

Support and updates are available for the duration of your subscription.
Including all current and planned plugin functions
A total of twenty-six unique sub-topics
A guarantee of five new brand themes each month and a dashboard for monitoring them (with the license manager)
Lifetime's Team:
Lifetime updates and support are included in the five-site license and all current and future plugin features.

More than a dozen different subject areas
Five new brand themes every month
Dashboard (with license management)
White-label mode.
Agency Lifetime:
One hundred site license

Lifetime upgrades and support
All current and future plugin features
Over twenty unique themes
Monthly assurance of five new brand themes
White-label mode
Dashboard (with license manager)
Rebranding
How to install the plugin?
Auto-install
Upon signing up for a WordPress Maintenance subscription, you'll receive an email with all the information you need to get your site up and to run.
The next step is to go to dashboard.wpmaintenancemode.com and follow the instructions to activate your account.
Manual install
If you have been using the free version, you must deactivate and delete it by navigating to Plugins > Installed Plugins. After that, you will have no trouble obtaining and installing the PRO version, as it will be readily available:
Go to dashboard.wpmaintenancemode.com and click "Get Plugin" from the web site's main menu to download the most recent plugin version.
Open the WordPress administration panel and browse Plugins > Add New > Upload Plugin.
Select the most recently downloaded.zip file by clicking the "Choose File" button.
Click the Install button to activate and install the plugin. Click the Install button to download and activate the plugin.
Navigate to Settings > WP Maintenance in your browser's menu bar.
Enable the plugin.
After that, a new license must be created to activate the plugin.
Conclusion
You can display a more user-friendly message to your visitors with maintenance mode plugins. To inform the user, a team is currently working behind the scenes, and the website they are trying to access cannot be accessed.
WP Maintenance is the plugin you need if you want to create a beautiful maintenance page, coming soon page, landing page, or under construction page. Local business owners, bloggers, designers, developers, photographers, and anyone else who sells products or services online or conducts webinars stand to gain significantly from this development.
However, in addition to this, let us mention some of the alternative solutions such as UnderConstructionPage and Coming Soon & Maintenance Mode plugins. These solutions are also good choices, and you can find out about their performance on their official website. These plugins have different editors and themes and will also respond very well to the requirements.
Regardless, if we need to recommend one in particular, then it is definitely WP Maintenance. What do you have your hopes set on? Get your instance up and running right now!