When you start a new business or brand, you have to remember that email marketing campaigns are very important. They will keep your audience up to date on the products that you are releasing, they will notify your audience when you have a promo offer or a discount of some sort, and of course, they can be used for sending thank you emails or holiday cards.
But, to be honest, creating email marketing campaigns on your own is very hard. Sure, you can do it manually, but by the time that you write all the personalized emails, the promo offer, discount, whatever, will already be expired.
The second option is, of course, to pay someone to do it for you. But, the problem with hiring people is always the same; you have to dictate what they need to write, worry if they are going to do it properly, and if they don't, it is your responsibility to make it right.
Thankfully, there is also a third option, and that is, using the email marketing tool called INBOX.
INBOX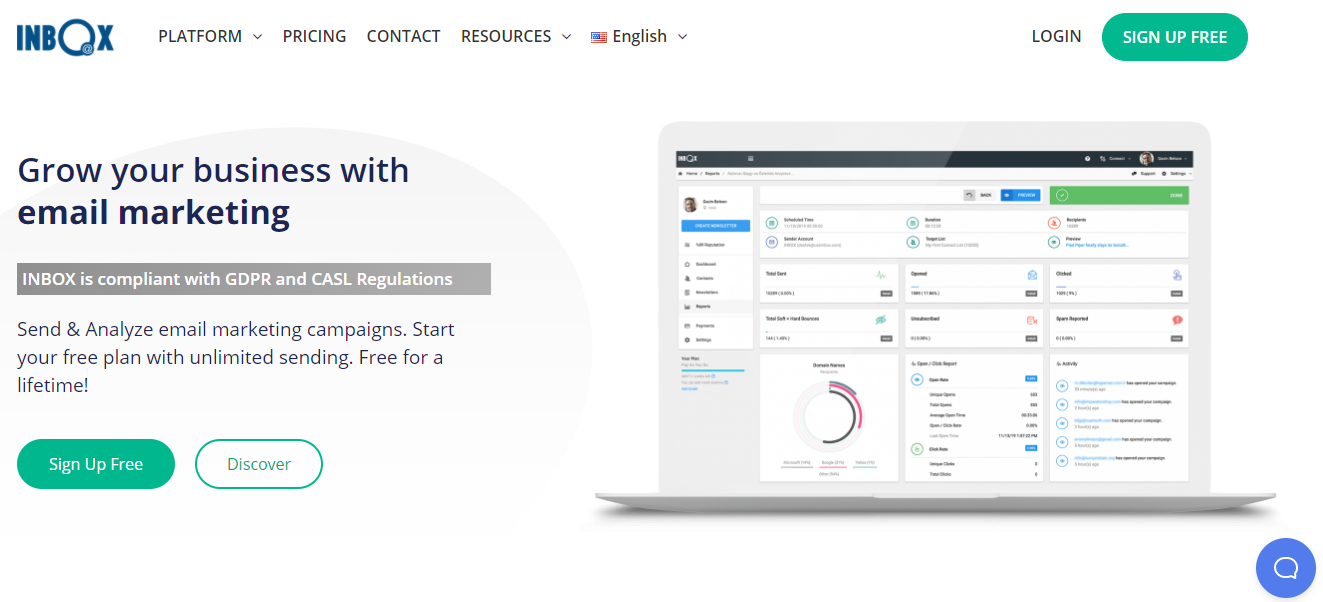 Features
This email marketing tool is very easy to use, thanks to its drag-and-drop editor called INBOXBrush. With this editor, you can take your email marketing campaigns to a whole new level, especially with the options to add logos, signatures, bios, and so on.
The editor interface is very user-friendly, and it does not require coding knowledge, which means that you can create newsletters in a heartbeat. You can also add images, buttons, social media links, menus, and more.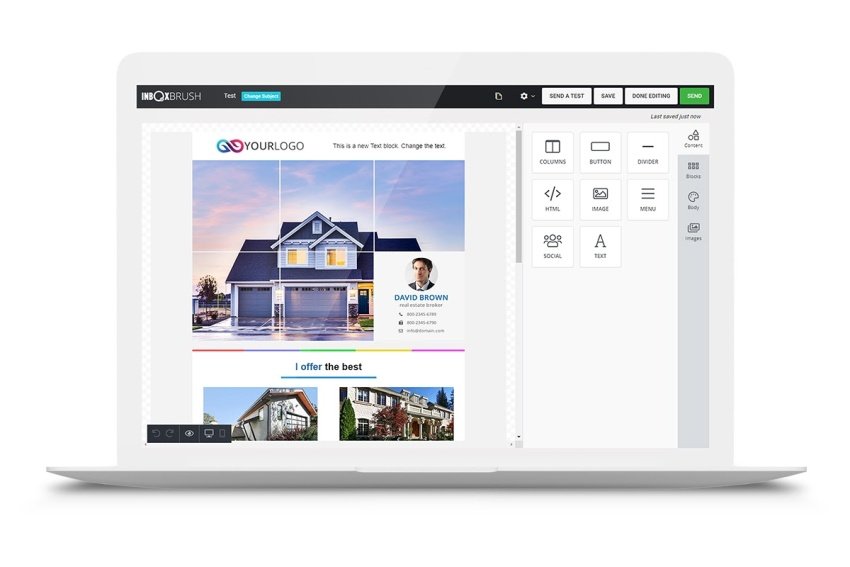 If you work for/have multiple brands, INBOX allows you to manage all of them from a single account. And it does not matter if the brand(s) is under GDPR or CASL; INOBX covers both.
Also, if you need to do some subscriber management, you can do it through one dashboard for every single brand.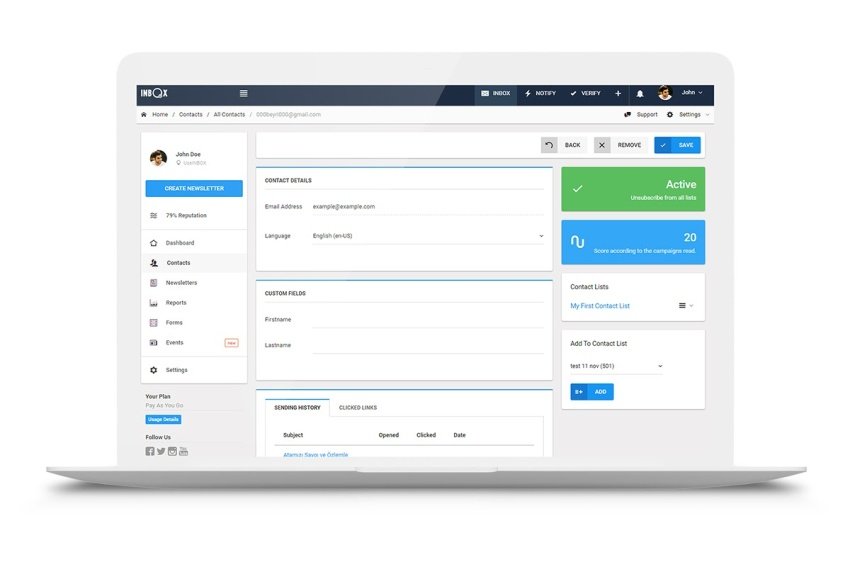 Putting a twist on boring, old signup forms can help your brand attract more customers, and with INBOX, you can customize those forms for use on social media, websites, or even email signatures.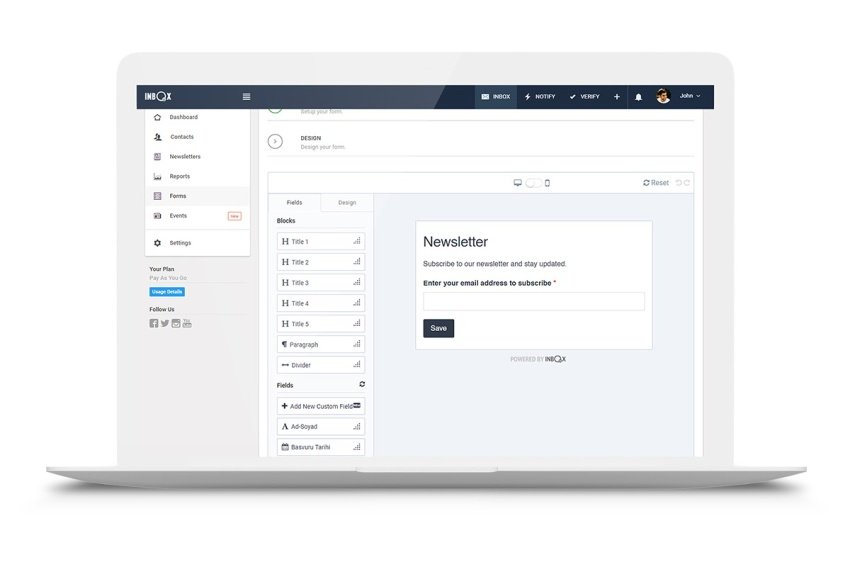 Everyone knows you can't be there personally, all the time, to chat with every new person that is interested in your brand. Still, you can always go the extra mile and give potential and existing customers a good feeling about your brand by sending them personalized emails enhanced with INBOX's smart segments.
We have been talking on and on about what INBOX can do. But, is there a way we can back our statements up? The answer is yes, we can, with INBOX's analytics section.
Through this section, all of your email campaigns can be traced in order to inform you how many emails were opened, read, and marked as spam. The information you receive will be stored, and thanks to it, you will have a better idea of what to improve and what is fine as it is.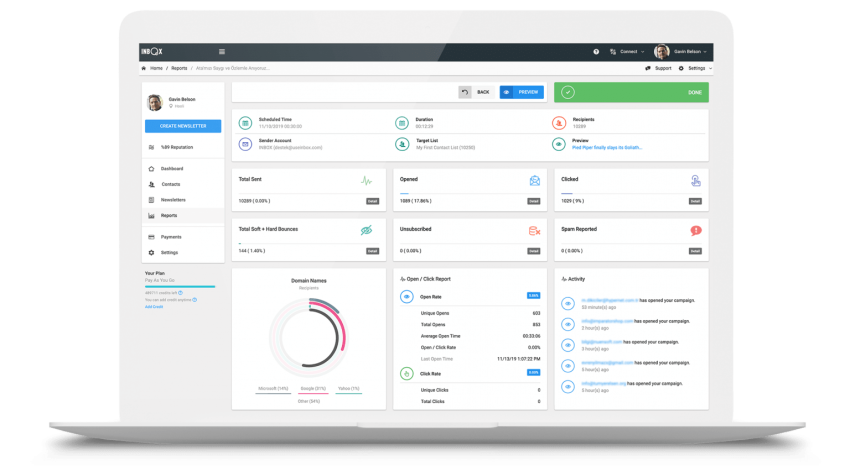 In a nutshell, INBOX takes the email marketing campaigns for all your brands and puts them in the same space, so it would be easier for you to provide and manage quality campaigns for a greater number of people.
If all of this sounds complicated and overwhelming, do not worry, INBOX has a webinar you can attend where they will explain all the features and show you how to use them.
Pricing
When talking about this tool's price, we have to mention that it has a one-time fee, which means there are no subscriptions on a monthly or yearly basis that you have to deal with. Instead, you just pay once and use the tool forever, which is ideal if you run a SaaS Marketing Agency.
However, if you decide that this tool is not for you, INBOX has a 60-day refund policy, which is more than enough time to discover its every feature.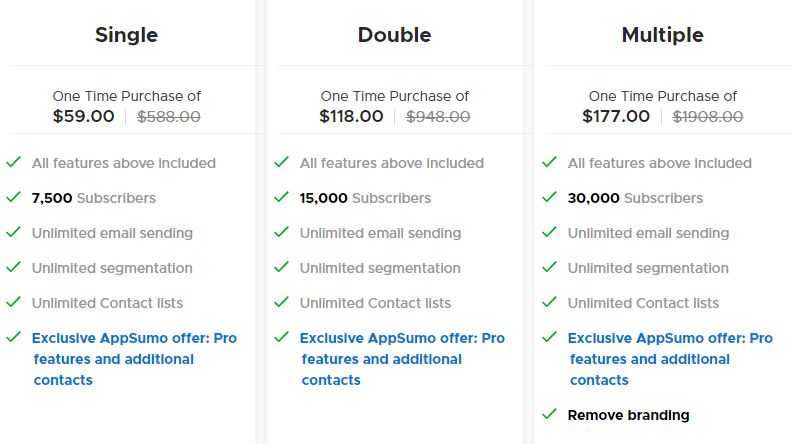 There are three price plans for this tool, but there is no difference in the features you get with each one. So which plan you should choose purely depends on the size of your company.
The cheapest plan is called Single, and it costs 59 dollars for 7.500 subscribers.
The next plan is called Double and costs 118 dollars for 15000 subscribers.
The last plan is called Multiple and costs 177 dollars for 30000 subscribers. This plan is the only one that will allow you to remove branding.
Conclusion
INBOX is a great tool that will help you a lot when it comes to newsletters, promo offers, personalized emails, and so much more. It enables you to customize everything through a user-friendly drag-and-drop interface. It also allows you to manage multiple brands from the same account and view stats on your email marketing campaigns' performance. Some would even list it among the best Mailchimp alternatives.
The tool's sixty-day no questions asked money-back guarantee will allow you to test it out completely and decide for sure if you want to keep it or ask for a refund.
And, of course, the most important thing, the tool has a one-time fee, so you can say goodbye to annoying subscriptions while enjoying lifetime access to INBOX.
What are you waiting for? Get INBOX today and take your email marketing campaign game to the next level.