WordPress, like a CMS platform, combined with the WooCommerce plugin, is one of the most popular eCommerce platforms in the world today. One of the real benefits of the WooCommerce platform is that there is no limit on the number of products, product categories, or merchant size.
Also, WooCommerce is an excellent choice if you do not have in-house developers, and the speed and flexibility it provides are essential to you.
This article will explain how you can independently, without anyone's help, export orders from WooCommerce and have everything up to date.
Choose the Right Plugin
WooCommerce is a WordPress plugin with which you can create your actual virtual stores. In combination with the WooCommerce Order Export PRO plugin works wonders when it comes to the data that you collect through this platform.
Of course, as its name suggests, it has the most comprehensive purpose for the collection, processing, and export of data related to orders through your platform. That is the most important thing to you if you want to have everything under control regarding sales, right?
With the Order Export Pro plugin, you can export orders from WooCommerce quickly into Excel or CSV formats. It has been tested and designed to be extremely simple to use on both Windows and Mac. It will make it simple for you to access the information you require.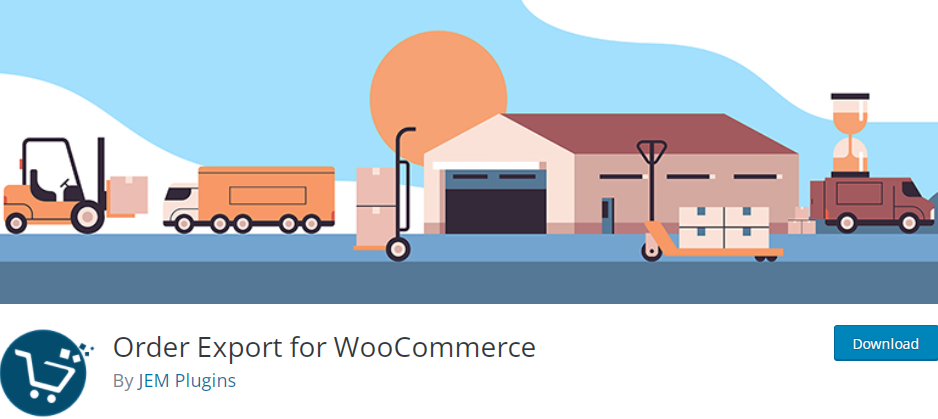 This fantastic plugin comes stuffed with a lot of great features. You can choose to export all the data you want. These automated exports will be delivered to your inbox or FTP'd. Dropshippers love this feature.
Also, you can reorder the columns as you need or set up various automatic exports. All exports can be delivered monthly or daily to your accountant.
Export Orders Pro offers you the opportunity to receive updates and priority support for one year from the date of purchase. If you choose to cancel your license, the WooCommerce plugin will continue to function for another year. Still, you will no longer be able to receive updates or priority support.
Features That Will Help You to Export WooCommerce Orders
There is a lot of WooCommerce export features, and some of the main that can help you to export WooCommerce orders are:
user-friendly setup, installation process, and interface,
data ranges,
fields to export and reports,
filters that can help you to get the orders you need precisely,
export new orders only.
Date Ranges
Date ranges of orders to include in exports is a really awesome feature. You can export WooCommerce orders by selecting a range or by predefined ranges, which could be today's orders, yesterday's orders, this week's orders, monthly orders, and so on.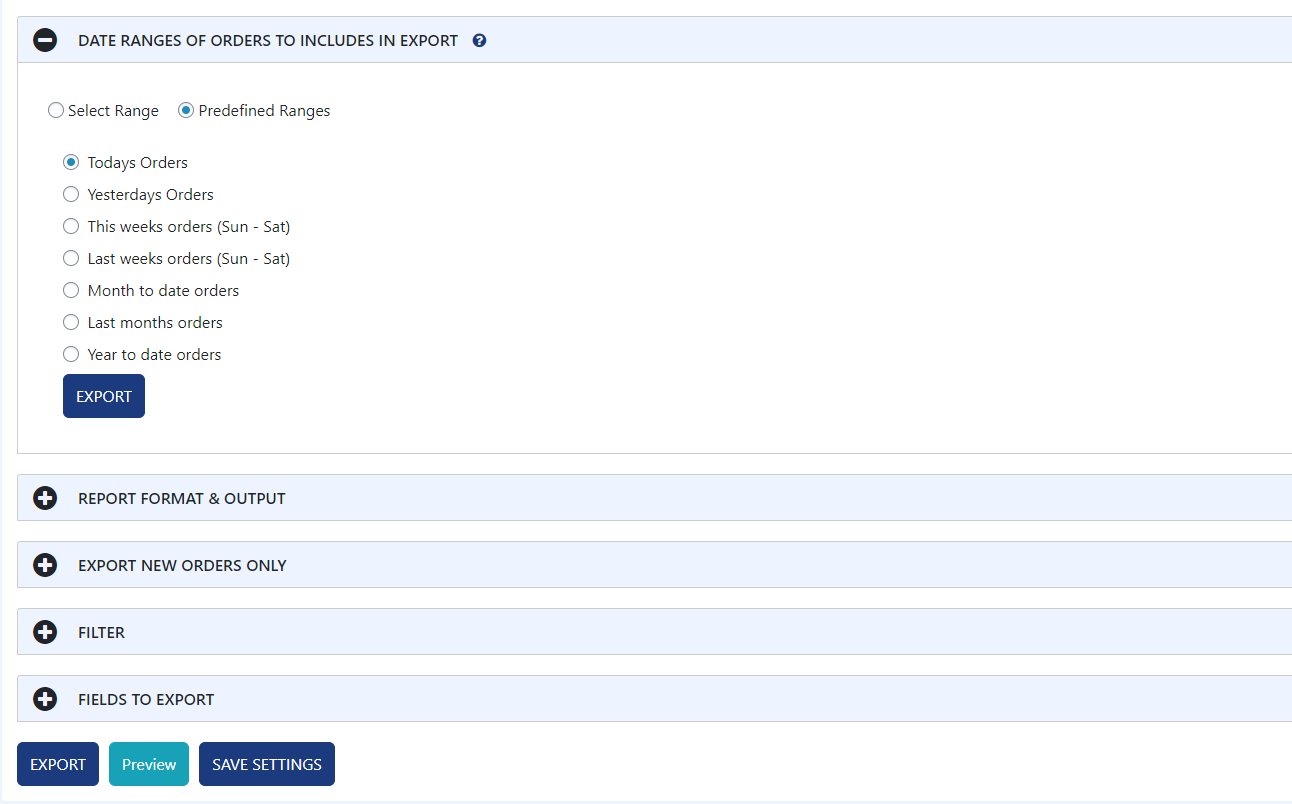 Fields to Export and Reports
Easily, you can drag and drop and sort fields that you want to export. You can choose to export only basic information or more information about checkouts, shipping and billing details, line items, or product and user information. Also, you have access to an extensive metadata database, so creating the custom report you want is effortless.
You can create your custom reports and make your standardization when we are talking about reports. That means you can choose how you would sort reports and which date format will be on them. Also, will the file name be unified for all reports, and how will look output formats of your custom reports.
Export New Orders Only
If you have insight into previous orders and know that you have given it up and want to continue with these steps, this feature will help you. It remembers which orders you have already exported and offers you the option to only export new ones.
Use this plugin to track which orders have been shipped and get the most recent ones. It conserves both time and energy!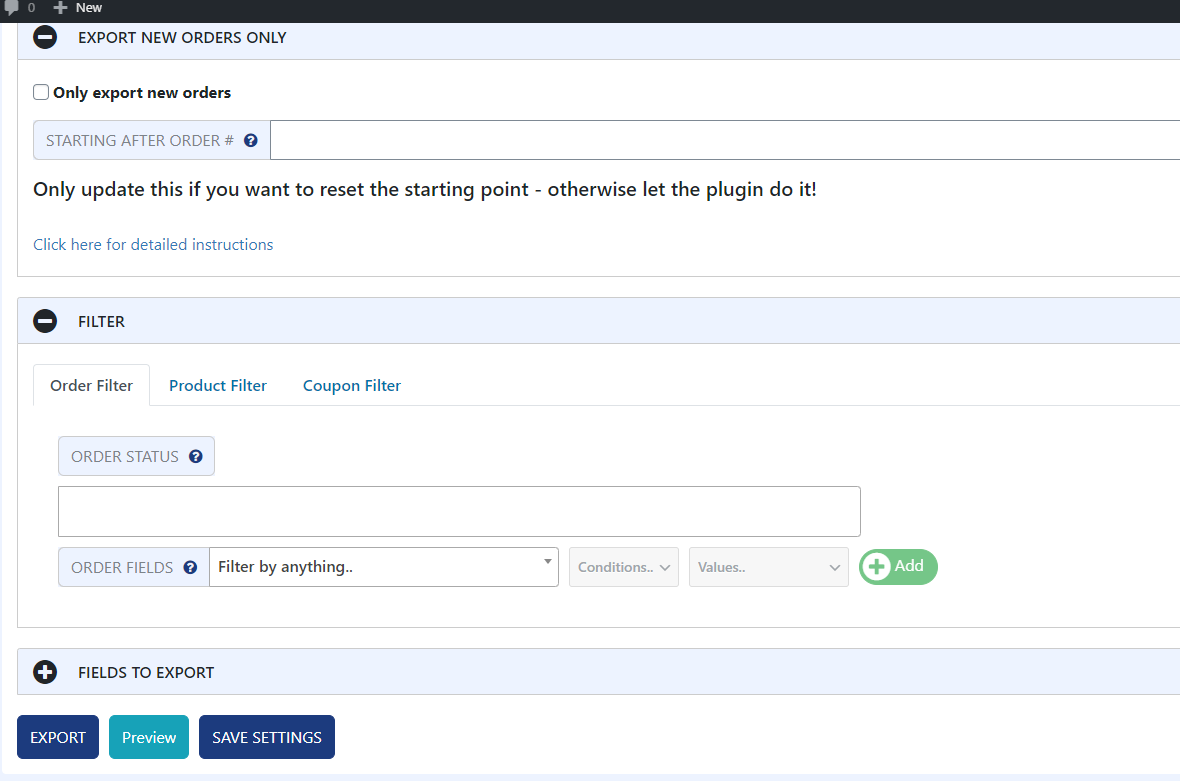 Sophisticated Filters
You can select various filters to make it easier for you to choose the crucial data. All filters are divided into three categories: order filters, product filters, and coupon filters. This feature saves you time and helps you get exactly the data you will have some value.
 A Few More Great Things That You Will Love at First
The Preview button is another incredible thing you will encounter if you decide to use this plugin to export WooCommerce orders. When you click the Preview button, this option will present you with a list of the first 25 records to match with your custom reports before exporting them.
The plugin also offers a Setting page where you can view the recorded logs. Here you can find how many records got executed. If you have a problem exporting WooCommerce orders, it is possible to detect and fix this problem here.

What people like about this plugin are Scheduled reports. You can set up as many of these as you want. Further, you can sort them by title, delivery method (directory, email, FTP), delivery details, frequency (every day, monthly), and last or next run.
You can edit them, delete them or clone your schedule. For example, if you want to see a Packing List and read reports about it every day at 8 a.m. when you arrive at work. This feature will be your best helper for that task.
Once you get acquainted with all the above features and choose the ones you need most to export the WooCommerce data you need, this plugin will become an indispensable part of your business, and you will enjoy using it every day.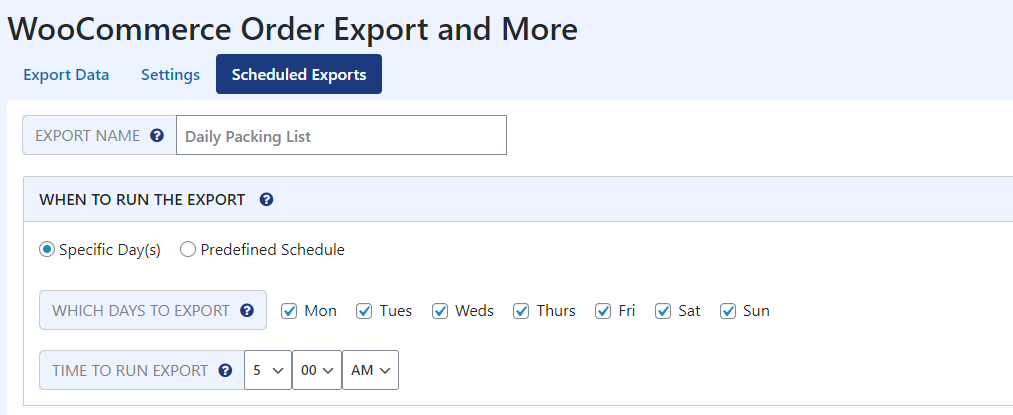 How to Know That You Have Chosen the Right Plugin to Export WooCommerce Orders?
There are a few things that can tell you how good/poor a plugin is, such as:
Does the plugin have a high rating, and how many active installations are there?
A high rating is not the only criterion that shows the quality of the plugin. If the plugin is well rated, it does not mean that it is worth installing. It is much more important to know how many active installations a specific plugin has. This plugin has over 4000 active installations with a rating of 4.1.
How often is the plugin updated, and when was the last update?
One of the most critical items, although at first, it does not seem that way. WordPress updates several times a year. It is necessary that the plugin also has constant updates to be compatible with the current version of WordPress.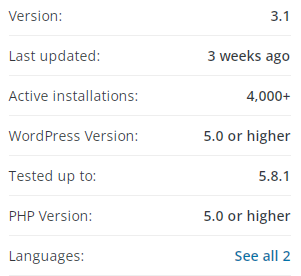 What do plugin users think of it in their reviews?
Some plugins are fantastic in the begging, but it can happen that over time their functionality is not at the same level. You will find out best if you read the reviews and see if the plugin is still as powerful as it was when it hit the market.
How complicated is it to install and use the plugin?
If you need to put in a lot of effort to install your plugin, be aware of it. This plugin is more than easy to use, and you certainly have great support from its creators.
 Do Not Forget the GDPR
When it comes to user privacy, WooCommerce owners can't avoid the ubiquitous GDPR as well. Since version 4.9.6 (Billy Tipton), WordPress has complied with EU regulations in several fields:
Built-in tool for consent to publish user comments,
You can even implement tools for exporting and deleting complete user data and orders in the core system,
The entire module for generating privacy pages and terms of use is built.
But be careful if you are not a programmer and not configure the plugins you use to export WooCommerce orders. You always must pay attention to GDPR policies and manage the database, users, and orders. However, it is a standard procedure for every eCommerce system, not just WordPress/WooCommerce.