Online advertising is a field that is constantly changing and growing, as well as continuously amping up the standards. But when it comes to creating banner ads, HTML5 has pretty much become the standard. This could be a problem for anyone with no coding knowledge or developed design skills, for that matter. If you're good with writing code and know your way around a sketch pad, you'll probably manage. But what if that is not the case?
Well, lucky for you (and me), there's quite an impressive collection of tools you can use to bridge that gap. They'll turn you into a pro ad designer in no time. So, pay attention and pick your favorite.
1. Viewst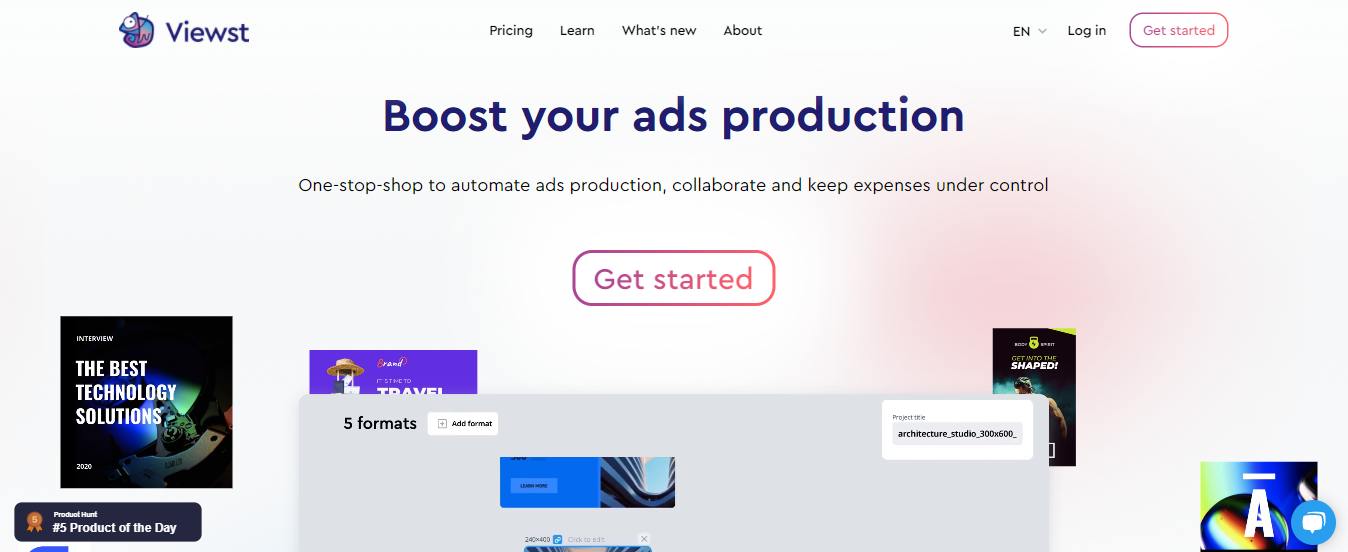 Viewst is the perfect tool for anyone exploding with creative ideas that doesn't have the necessary art skills to make them come to life.
Creating vibrant and captivating banner ads becomes easy with this tool as it automates most of the process. You don't even have to know any code. All there is to do is upload a CSV file with all the required information, and Viewst will generate what you need for the campaign. Plus, it comes with over 100 customizable templates, so you can start with a rough idea and then truly make it your own.
You can create custom-sized ads, as well as gain access to high-quality images and fonts. That way, even the design steps become quick and easy.
There's an option to choose from 14 banner sizes and 23 social media formats. That means that whatever you've created can be used on Google, Instagram, Facebook, LinkedIn, etc.
Once you've tinkered with the ad a bit and are happy with your creation, export it in any format of your liking, including HTML, GIF, PNG, and JPEG. And that's it, get ready to take any platform by storm.
The best thing, this tool won't break the bank either. Viewst is currently priced at $49 on AppSumo, with all future updates included.
2. Creatopy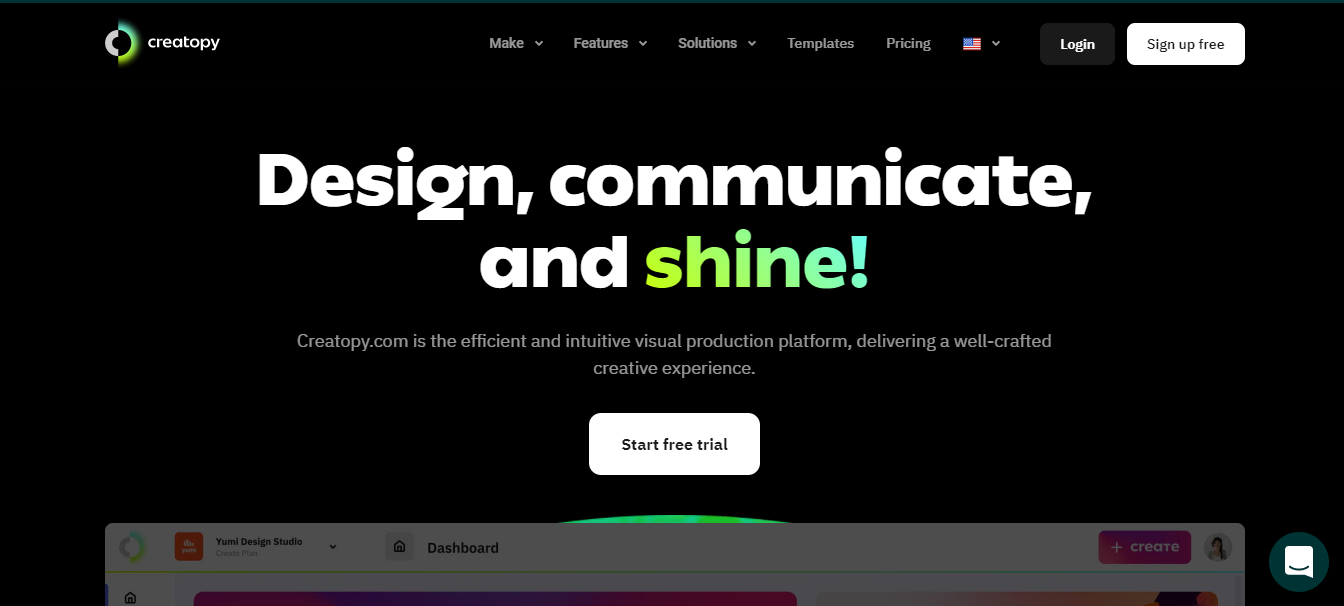 Creatopy, formerly known as Bannersnack, is ideal for those working in larger teams. It makes collaboration so easy with features like setting up team roles, sharing your progress and finished work with colleagues, and allowing multiple people to work on the same project together. So, this tool doesn't only make the creation of banners easier, it also allows for simple and straightforward teamwork.
When it comes to the design aspect itself, Creatopy certainly isn't lacking. It offers a vast array of ready-to-use templates categorized by industry and preferred theme.
One of its standout features is the ability to animate your designs, making them stand out and draw more attention from the get-go.
A single design usually gets published on multiple platforms, but thanks to Creatopy, they never have to be exactly the same. The scaling tool is going to make sure the proportions are correct and fit the platform format, while the smart converter allows the same design to be downloaded in various formats (HTML, JPEG, etc.)
There are three different pricing plans for this tool, and the prices range from $17/mo per editor to a custom price for enterprises. Each subscription plan has better features that build upon the previous plan.
3. Bannerflow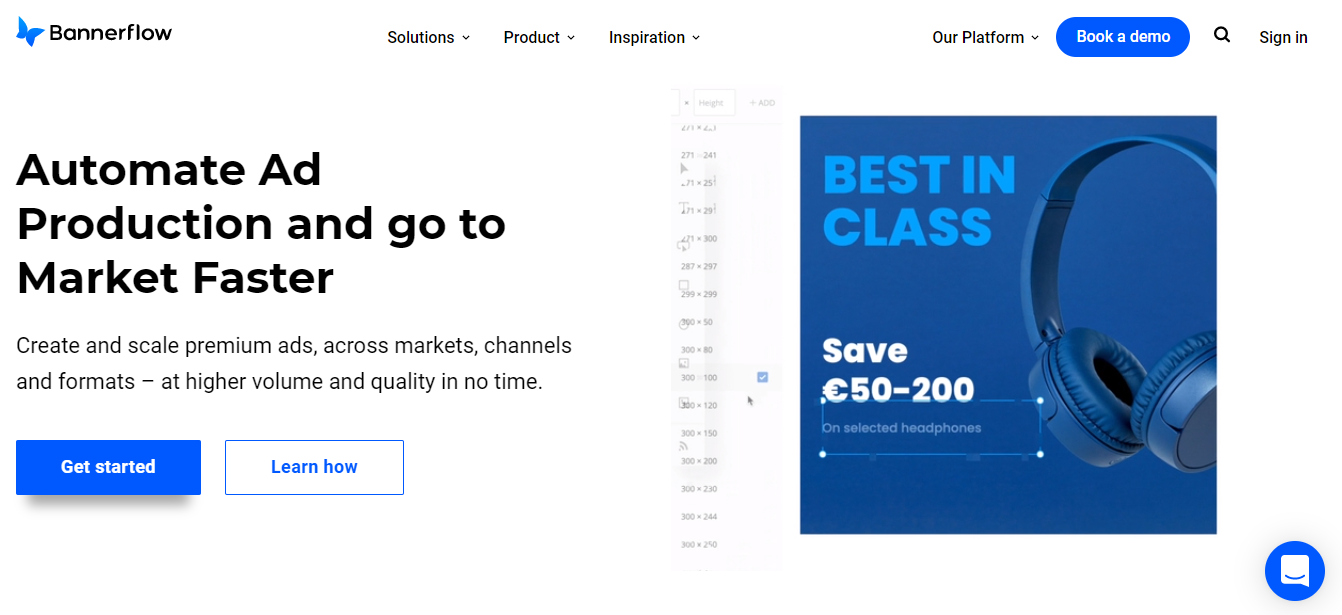 If what you're looking for is to get your ad out there ASAP, Bannerflow is what you need. Their creative studio ad creator can speed up your design process by 80%.
The process itself requires absolutely no coding and the tool offers a fantastic feature for those in a hurry – creative automation. This feature allows for quick reproduction of your design while maintaining maximum quality thanks to an advanced image optimization tool.
All of the necessary brand assets like logos and such can be stored on the cloud for easy access.
Also, there's an option to add automatic and live data feeds quickly.
Just like our previous entry, this tool also features both smart scaling and easy animation. The builder itself is drag-and-drop, the simplest of the simple. And the best part of it all is that you can choose to live preview whatever is being made to make sure the design is top-notch every step of the way.
In order to find out the price of Bannerflow, you'll have to book a demo, as there are no prices listed on their official website.
4. Bannerwise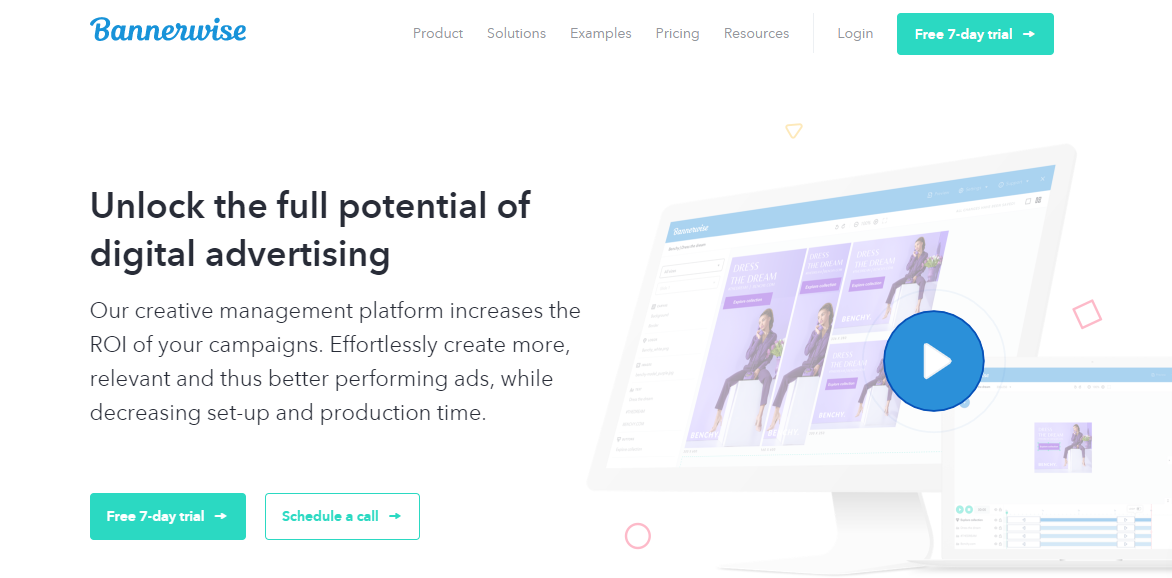 Bannerwise is pretty similar to our other entries. The ad builder allows the user to combine direction, style, and effects to ensure every ad is finished fast and ends up looking great.
What stands out about this builder is its ability to add a video with a single click. So, you might want to take advantage of that because videos tend to be way more engaging than text and images.
The ads you'll build with this tool will also be data-driven, or in other words, catered to your brand and target audience for maximum efficiency.
The design process is templated-based, and one really neat feature this tool provides is editing things like color or text in batches on all of your designs at once.
When it comes to publishing, if you choose to opt for Bannerwise, you can do it directly from the platform. Bannerwise has integration with all of the most common DPSs; plus, if they don't have integration with your choice, they're more than willing to build you a custom integration system.
The reason why we put this tool in the last spot is its pricing. The cheapest subscription plan costs 275€/ mo, and that's just the version that doesn't include premium DPSs or dynamic display and dynamic social ads. The most affordable plan you could get, which includes those features, costs 459€/mo.
Final Thoughts
All of the tools listed today do their job quite well, so no matter which one you happen to choose, we think it'll serve you well. However, our final recommendation would be Viewst. It has plenty of useful features, and the team collaboration feature is soon to come. Plus, it is the only tool on this list you can get as a one-time purchase, with no subscription fees involved.