PE Recent Posts is a very simple and popular, free WordPress plugin purposed to display image slides including a slide title, description, and a read more button that can be linked to posts from a specified category. The category can be selected by the plugin's user, or it can display items in all categories as well.
There is no limit to the number of slides, but there is a possibility to specify how many slides will be visible in a column. What's more, the title and the description of each slide appear with a slide-in animation effect.
What about the image sizes? There is a select list available where you can choose defined sizes determined by Media Settings for WordPress. You need to know that the plugin does not need to scale images by itself. This is a useful solution from the point of site optimization view.
This WordPress plugin is WCAG 2.0 / Section 508 compliant. It means it follows WCAG requirements and offers keyboard navigation support.
PE Recent Posts responsive plugin is compatible with the latest 4.9 version of WordPress. It supports mobile devices.
Installation
Upload the 'pe-recent-posts' folder to the '/wp-content/plugins/' directory
Activate the plugin through the 'Plugins' menu in WordPress
Navigate to the 'Widgets' page found under the 'Appearance' menu item
Drag 'PE Recent Posts' to the target widget area and choose your options
PE Recent Posts Layout Examples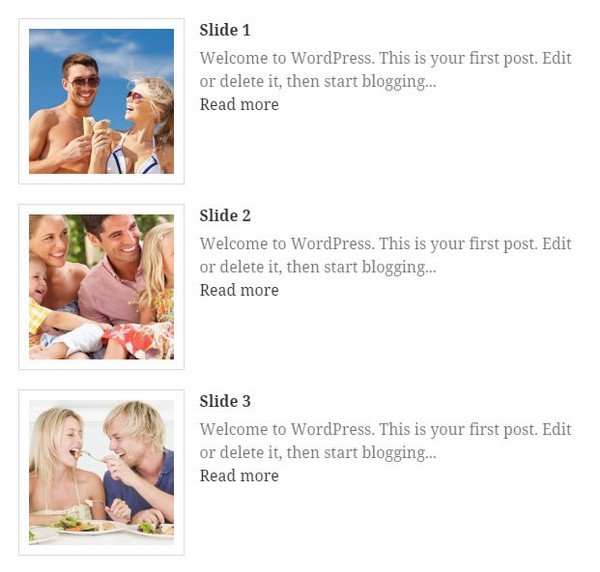 3 thumbnails in column aligned left.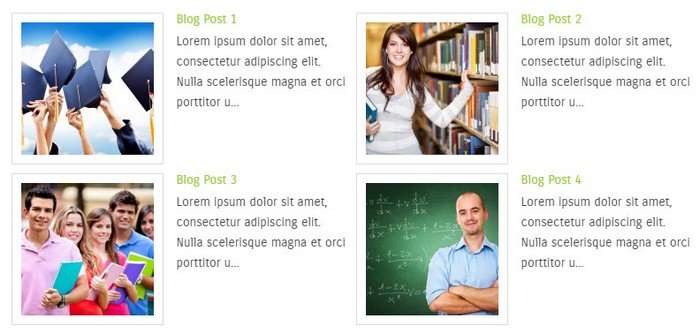 2 images per row, image aligned left.
PE Recent Posts Settings
There are a lot of settings that you can define from the backend, let's see them:
Title
Post type
Post type taxonomy – select the category to display items. You can choose between specified category or display items from all available categories. Empty categories will be not displayed.
Taxonomy
Items in a row
Number of rows
Number of all items – total number of slides.
Creation date
Readmore – show/hide read more link.
Order direction (ascending, descending).
Ordering (date, title, most commented, most read).
Navigation (bullets, none)
Description Limit – enter number of chars for each slide description.
Image Alignment (left, right, top, bottom)
Show thumbnail
Image size ( thumbnail, medium, large)
Grid spacing (px)
Wrapping Up
PE Recent Posts is an easy-to-use WordPress plugin to display recent posts from your website. In an elegant way, you can show your visitor's image slides with title and description. It is also a great way to attract your audience and reduce bounce rate. So take advantage of all the benefits of the free PE Recent Posts WordPress plugin and give the plugin a try!
PixelEmu – Best responsive and mobile friendly WordPress themes and WordPress plugins. Discover the best solutions for your site. Easy to customize and support!