We use email for almost everything these days – from creating profiles on different social media to checking our bank accounts. That is why it is very important to protect our email as much as we can since all our information is there.
You all know the classic scam emails that you've received in the past, which go along the lines of "Mark found out you are his only living cousin", or something similar. Nowadays, it is hard to know which emails are a scam and which ones are not since scam emails have become far less obvious, and the scammers much smarter!
As a business owner, you must always protect your customers. Plus, it is not a good look when your email shows up along with a warning or in the spam folder. This will only make them see you as "fishy", and nobody wants that.
Specific email security solutions will help you not to become a victim of fraud, phishing, spoofing, and so on. Using them, you will protect not only you and your business but your customers as well!
So let's check some out, shall we?
1. KDMARC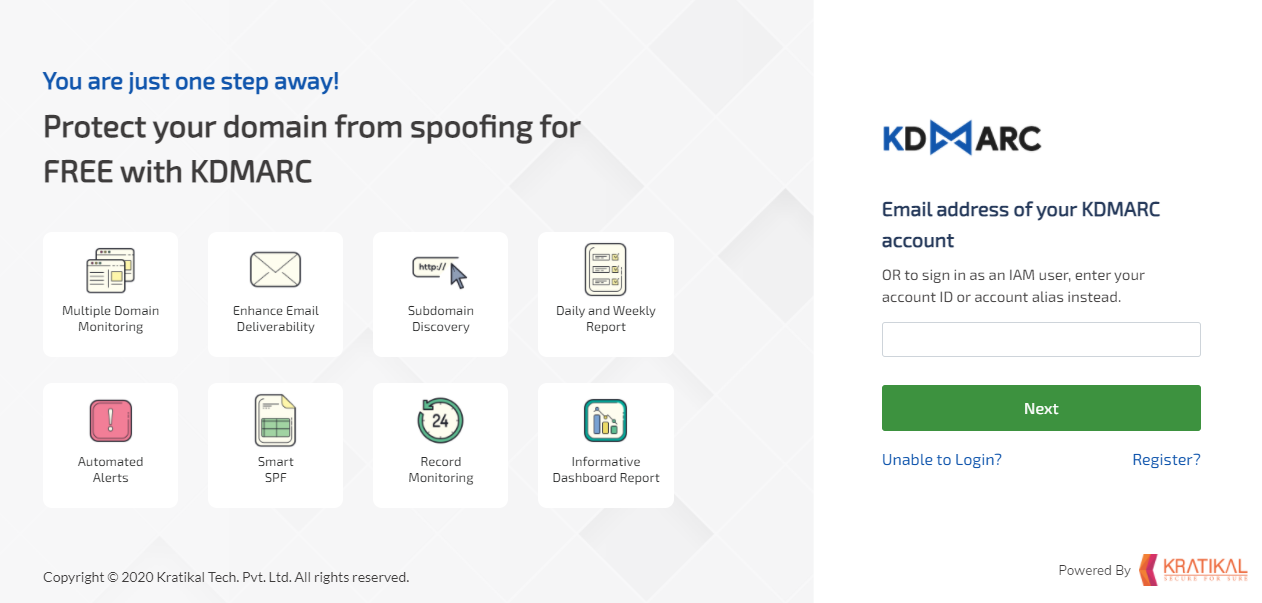 The first spot on our list goes to KDMARC. This handsome devil will help you detect any email spoofing and defend yourself against it.
What most people don't know is that their outgoing emails can be infected with malicious data as well. That's why KDMARC is a great tool. It will protect your outgoing emails against malicious activities, domain forgery, email spoofing, and other phishing attacks.
With this tool, you will protect your company, brand, domain reputation, and of course, your customers. Plus, your bounce rate will drastically decrease.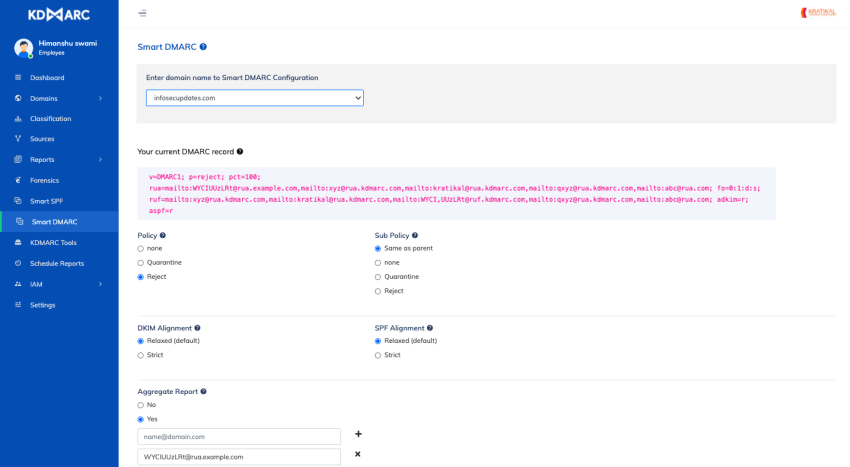 This tool's Smart SPF feature allows you to alter email sources and IPs in the SPF record without the need to visit the DNS.
With it, you can also monitor DMARC compliance for any and every email that you sent using your domain. Getting real-time insight into which of your emails fail or pass the authentication check is a big plus!
But what if someone out there is impersonating your business? You can find that out with this tool and identify any unauthorized sources that are pretending to be you!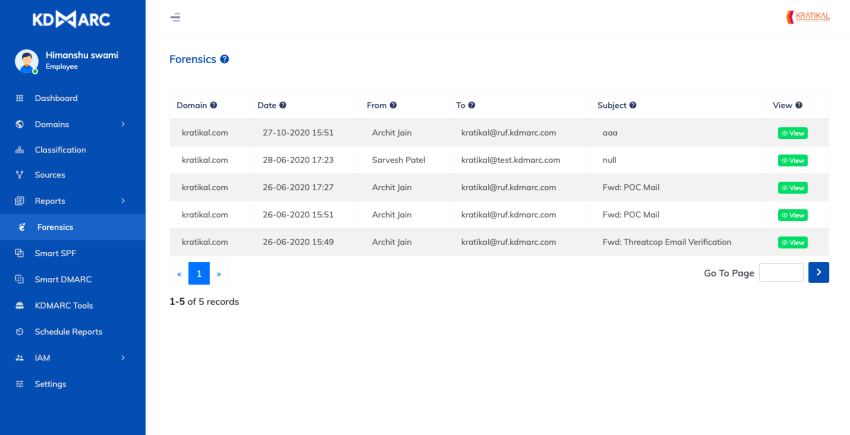 KDMARC is not only a tool that shows you what's happening. Instead, it also offers clear action steps that tell you how to deal with threats.
The email defender it provides you with will automatically send an alert and a report full of details via email to you. You can also request a forensic report and see all the message-specific data.
2. Barracuda Essentials
The next spot on our list goes to the one and only Barracuda Essentials. This tool will help you protect your data, emails, and users in no time. It will stop advanced threats, spear-phishing, spam, and malware like a pro!
Using it, you can protect all your data and files from corruption and recover them since this tool offers cloud backups. So if you ever experience unwanted deletion or something similar, your data will be brought back.
This tool is also equipped with inbound filters that detect and sanitize every email before it hits your customer's inbox. This and much more is achieved using multi-layered analytic engines that detect any unknown threats.
Also, in case you ever suffer connectivity loss or server outrage, Barracuda Essentials has an emergency mailbox just for you. That way, you don't have to worry about missing any important emails.
3. Mimecast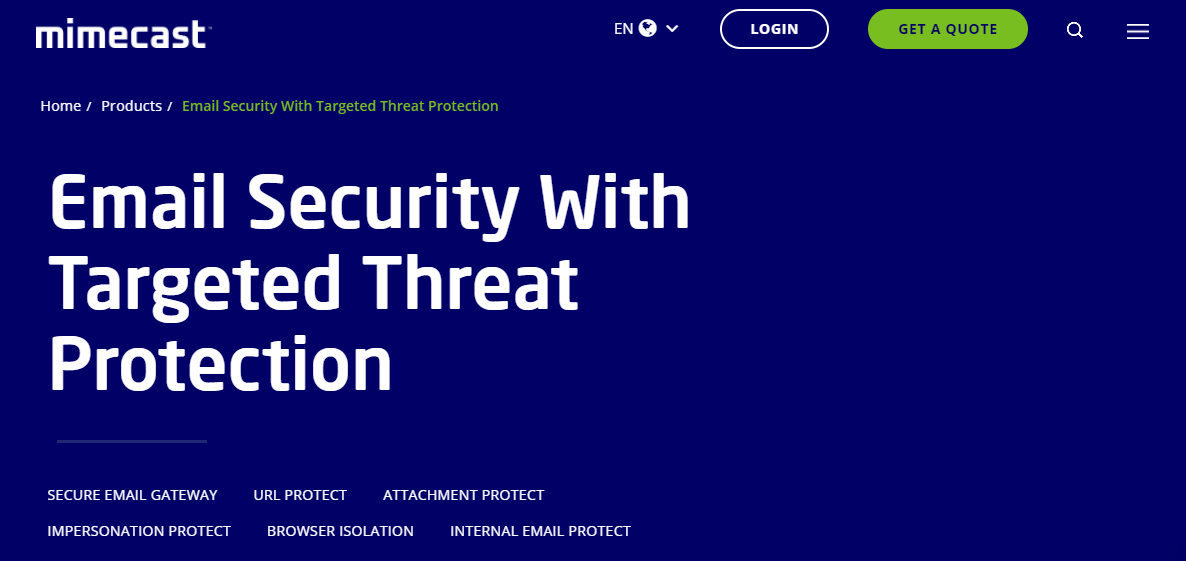 In third place comes Mimecast, a cloud-based security system that will protect your customers, company, and employees. Mimecast will defend you against spam, malware, spear-phishing campaigns, and more.
Innovative technologies, applications, and policies that identify threats are something that this hero brings to the table. It really will identify threats and block them before they reach your email inbox.
Besides that, this tool has policy-based security that can be integrated with Secure Email Gateway. It also comes with content control, end-to-end encryption, and DLP.
This software will detect all the attachments used in various techniques like sandboxing. That way, it will block any possible threats that may be present. Plus, it protects you against any impersonator emails.
Its robust security will control your outbound emails and provide 360-degree email protection.
And lastly, we have to mention that Mimecast uses the DMARC Analyzer to protect your company from domain spoofing.
4. INKY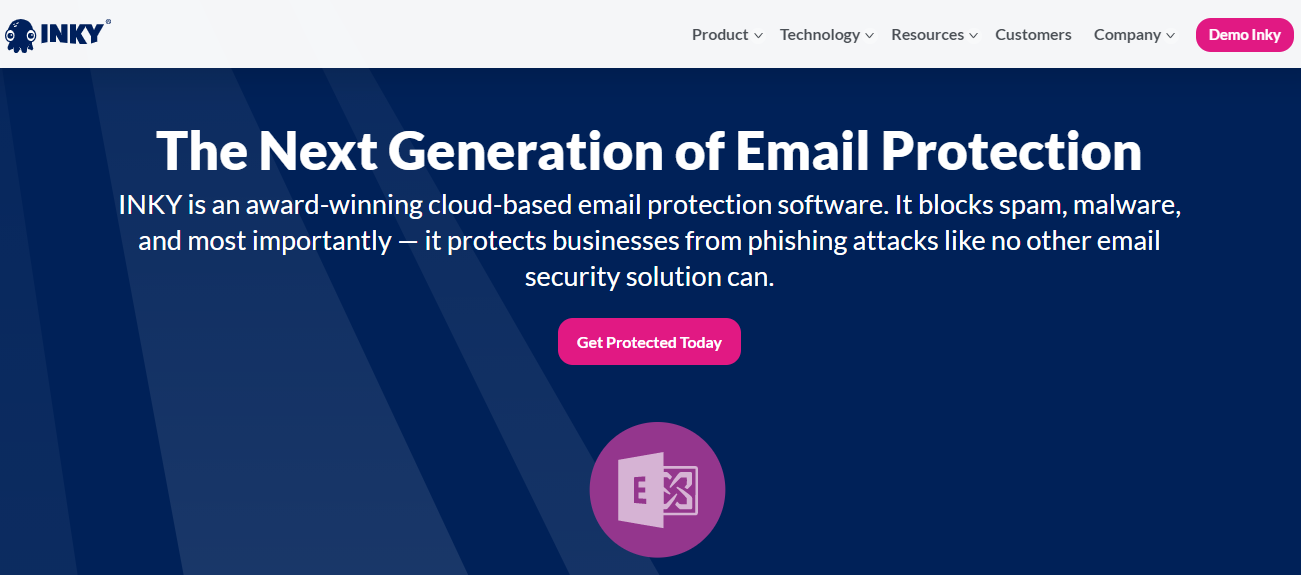 In final place, we have – INKY. This tool will protect your business from any kind of phishing attack.
It utilizes domain-specific computer vision as well as machine learning to detect any phishing emails. When it detects them, it will block and stop them from getting through email programs.
It will raise warning banners as soon as it detects any suspicious email. That way, you will know how those emails look, and you will be ready for them in the future.
Those warnings will be shown on your computer as user-friendly messages.
The software itself is easy to use, and administrating activities can be done right from the dashboard. You can also track how many phishing emails you got, and you can report any suspicious email with just one click.
Conclusion
In the end, we can all agree that having email security is a must! It is important to keep yourself safe as well as your customers.
You never know which email is a threat to your business. That is why it is better to prevent something than deal with it later.
So use one of the above-mentioned tools and keep your company, employees, and customers safe at all times! Do not let somebody ruin your reputation and your brand!