If you worry about your WordPress-based website security, rest assured you're not the only one! Everybody admires WordPress for being the largest content management system with 60% of market share, but most webmasters are also afraid because over 70% of installations are vulnerable to hacker attacks.
Luckily enough, there are dozens of plugins that can help you keep your website safe and sound. The most difficult task is actually to choose the best option and find a tool that suits your preferences. We decided to give you a hand here and narrow down the options.
In this post, we will present you one of the most efficient WordPress plugins called Security Ninja.
Let's check it out!
Security Ninja: General Information
Security Ninja was developed in 2011 with one goal in mind – to ensure easy and seamless website protection. It already serves more than 20 thousand WordPress sites using more or less complex safety procedures.
Jake Alison, a WordPress specialist at Best Dissertation, says it's important that you don't need to invest a lot of time or effort to operate Security Ninja: "It runs most of the operations automatically, while your only job is to occasionally click the 'Scan Now' button. Security Ninja does not affect website speed. On the contrary, it completes all tests quickly and you won't ever notice that your site operates slower than usual".
As soon as the scan is over, you'll get a visualized overview of results with suggestions on how to fix potential problems. This tool works with all themes and all plugins except security-related ones. Its user interface is very friendly and you will see no unnecessary buttons, options, or settings.
How Does It Work?
Now we've come to the crucial moment of this post since security tests are the core of Security Ninja. The tool runs 50 different procedures and gives a comprehensive overview of everything you need to know about your WordPress site.
Here are some of the most important features of Security Ninja: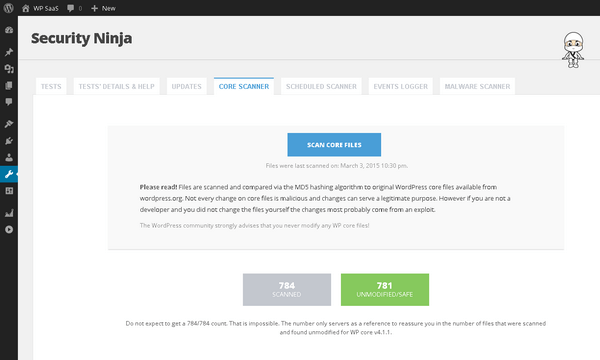 Check your WordPress site for security vulnerabilities and holes.
Take preventive measures against attacks.
Prevent 0-day exploit attacks.
Use included code snippets for quick fixes.
A brute-force attack on user accounts to test password strength.
Debug and auto-update modes tests.
Run database configuration tests.
Conduct Apache and PHP related tests.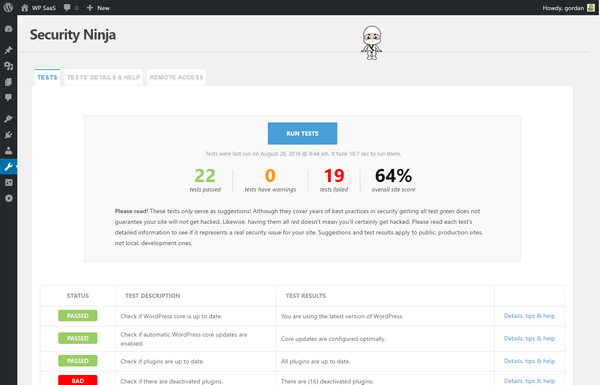 Besides that, there are dozens of other operations you can perform with Security Ninja. For instance, you can check if WordPress core is up to date and discover possible vulnerabilities, thus improving the overall safety condition of your website.
You can also check if plugins are up to date. This is one of the most important and easiest ways to keep your WordPress site secure, so having the latest version will ensure you're not prone to attacks based on known vulnerabilities.
The same goes for WordPress themes. Since most of them are free and therefore their code is available to anyone, having the latest theme version will make the site more malware-resistant.
Older PHP formats make sites slower and less efficient, which increases the risk of hacker attacks. Security Ninja will also test the PHP module and use only newer versions to protect your website.
Password strength is another important safety feature. This plugin will check the user's password strength with a brute-force attack. Using a dictionary that contains 600 most commonly used passwords, Security Ninja can detect vulnerable accounts with weak passwords such as "12345", "qwerty" or "god" which anyone can guess within minutes.
WordPress database password is just as important. Although most servers are configured so that the database can't be accessed from other hosts – or from outside of the local network – that doesn't mean your database password should be "12345". Security Ninja will check it out and suggest you choose a proper password, at least 8 characters long with a combination of letters, numbers and special characters.
Security Ninja PRO
A free format of Security Ninja is highly comprehensive, but it can't compete with Security Ninja PRO version. This tool comes with additional features such as core and malware scanner, auto fixer, cloud firewall, events logger, and database optimizer.
These functions allow you to monitor core files, analyze WordPress themes and plugins. Create backups, edit files, detect suspicious content, reduce data waste, and do many other things that keep your WordPress site safer and properly optimized.
Pricing Plans
The best thing about Security Ninja is that it offers a cost-free version that includes a majority of safety features. However, free features are never as good as premium solutions and we strongly suggest you make a small investment to keep your website 100% safe.
A single site pricing plan costs $29. It includes complete WordPress site protection and diagnosis as well as one year of updates. Multisite version for up to 99 websites costs $79, while the Agency Lifetime package serves the unlimited number of websites forever for $199.
If you are still not convinced, you can test Security Ninja for free. It doesn't require leaving personal information, credit card details, or even email registration.
Conclusion
WordPress security is a serious issue since the system contains more than 2 thousand functional vulnerabilities. In such circumstances, it is crucial to protect your website and find a plugin that can keep it running smoothly.
In this post, we showed you what makes Security Ninja Plugin one of the best WordPress safety tools. Additionally, WP Login Lockdown is also a great plugin to consider for securing your WordPress website. Feel free to check out its numerous features and don't hesitate to tell us your opinion in comments – we will be glad to discuss it with you!