There is some truth to the claim that an image is worth a thousand words, but I prefer to think that every type of information has an ideal form. Often words are the perfect way to communicate an idea, sometimes it's an image. But charts and data visualizations can often communicate concepts and data more effectively than words and images combined.
With the exception of a few data-focused blogs, I don't come across many articles that make effective use of charts and tables to communicate. That's a shame for two reasons: first, readers often understand visually presented data more easily than long blocks of text that attempt to express the same ideas; and second, WordPress has an abundance of excellent data visualization tools.
In this article, I'd like to highlight some of my favorite charting and data visualization tools.
wpDataTables

wpDataTables is one of the best WordPress table plugins that provides a powerful and convenient interface for inserting tables and a diverse selection of charts into WordPress posts and pages. It supports direct data entry, importing from files and URLs, and even MySQL queries.
wpDataTables is probably overkill for many WordPress users. But for large datasets, there are no better options — it can support data with millions of rows. The plugin produces responsive charts with a huge range of customization options.
I used to use WordPress Charts for most of my data visualization, but it hasn't been updated for so long that I'm reluctant to use it today. wpDataTables, while more expensive, is an excellent replacement.
DrawIt

The DrawIt plugin can be used to insert diagrams and images from the Draw.io web application, a useful tool that can be used to quickly put together flowcharts, process charts, and many other types of diagram.
SnowBall

In contrast to the other plugins we're looking at today, SnowBall isn't a charting library, but a block-based page builder focused on empowering journalists to build rich stories that include charts, tables, media, and typographical features like pull quotes.
If you are looking for a way to create attractive information-rich news articles and blog posts. SnowBall is definitely worth checking out.
Responsive Charts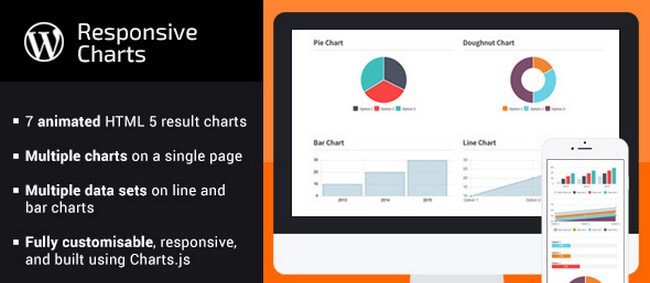 The first of two premium plugins we're looking at, Responsive Charts is a full-featured charting tool based on the Charts.js library. Responsive Charts can be used to create seven different types of animated responsive charts. Including pie charts, bar charts, line charts, and polar charts.
If you don't mind paying for your plugins, Responsive Charts is an excellent alternative to WordPress Charts.
Visual Table Formatting

Charts are the best way to visually communicate the shape and implications of a data set. But you will often want to include the data itself in your post for readers to examine.
Visual Table Formatting is a powerful tool for building custom tables. It requires no coding knowledge to build elegant and highly customizable tables that can include text, images, and links. With 15 predefined table-types, you won't have to build your own tables. But there are plenty of options to tweak if the predefined selection doesn't meet your needs.
Wrapping Up
If you've been reluctant to embed charts and tables in your WordPress posts because it looks too technical and time-consuming. Give some of the free options I've highlighted here a try. You might be surprised just how easy it is to create professional looking charts to enhance your content.
Author Bio: About Graeme Caldwell — Graeme works as an inbound marketer for Nexcess, a leading provider of Magento and WordPress hosting. Follow Nexcess on Twitter at @nexcess, Like them on Facebook and check out their tech/hosting blog, https://blog.nexcess.net/.