Want to make your WordPress website more inviting, modern, and overall easier to use? One of the ways to do that is by implementing a sticky menu. A sticky menu helps the user get to where they want to go without constantly scrolling up and down a page. It's particularly useful on one-page websites, where the page might be quite long; thus a sticky navigation menu is necessary.
On longer posts/pages, it is crucial to have a sticky menu because visitors will quickly lose interest if they constantly have to scroll up to access a certain feature on a navigation bar.
A sticky menu is there to offer all the features a navigation bar has that one might need while scrolling through a post. This way, visitors can scroll through longer posts and use the sticky menu at any point.
So basically, a sticky menu is a menu that stays on top of the page, even when a user is scrolling down. Plus, it's not only handy, but it also looks cool on a website.
With that said, we will now present you with the 10 best WordPress plugins for creating a sticky menu!
1. Sticky Menu, Sticky Header (or anything!) on Scroll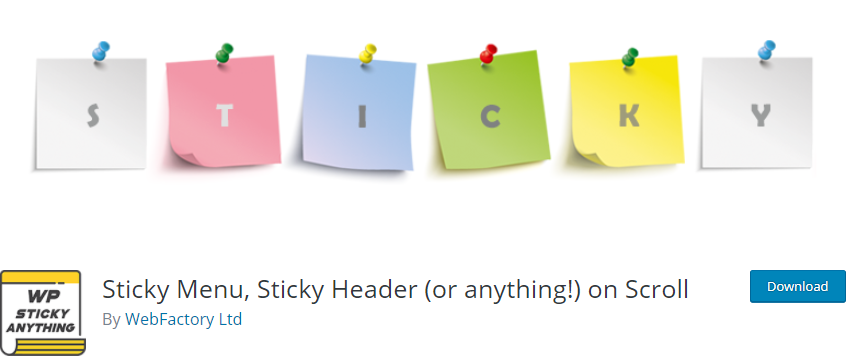 With Sticky Menu, Sticky Header (or anything!) on Scroll, any element on your WordPress site can become sticky, whether that is a header, menu, navigation, or widget. The plugin is simple, easy, and a pure joy to use.
This plugin has a great set of features; those features being the following: any element can stick, positioning from the top, enable for certain screen sizes only, enable only on some pages, push-up element, admin bar aware, z-index, legacy mode, dynamic mode and debug mode.
To make an element sticky, you just need to know how to pick the right selector for the element.
But, if you don't like to mess with code, we have a solution for that – the visual element picker in the Sticky Menu, Sticky Header (or anything!) on Scroll PRO version, better known as WP Sticky.
With WP Sticky, you can handpick which element you would like to make sticky on your page. Plus, you can choose as many elements as you need.
With a little help from the fade-in and slide-down effects offered by this plugin, you can leave your visitors in awe.
WP Sticky gives you the option to select posts, pages, categories, tags, and CPTs where you don't want the element to be sticky.
The plugin is compatible with all themes, page builders, and plugins, Elementor included. Meaning that an Elementor sticky menu has never been easier to create than with WP Sticky.
With WP Sticky, you get customer support from the people who actually built the plugin. So, no more long waiting for third parties to solve your problem. The only limit with WP Sticky is your imagination.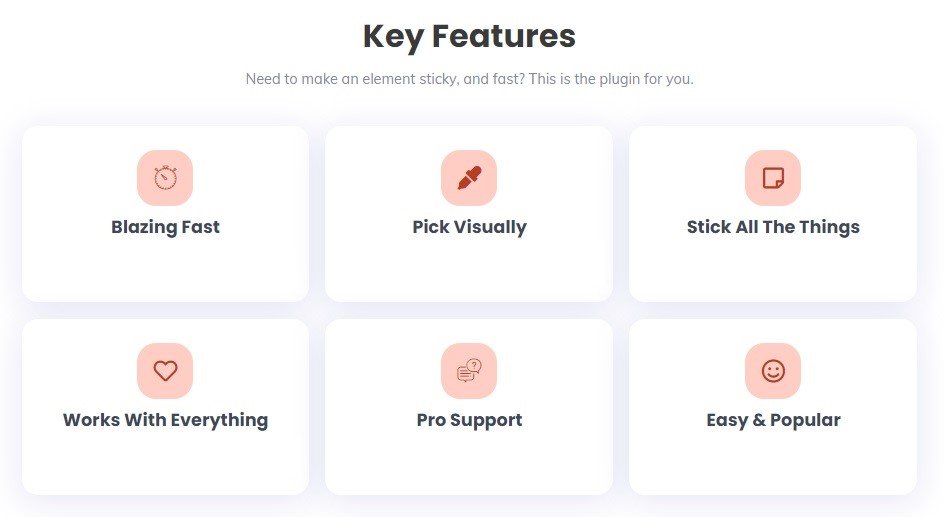 But we are getting ahead of ourselves; this amazing journey only starts when you click that Install button. Once you have installed the Sticky Menu, Sticky Header (or anything!) on Scroll plugin (Free or PRO version), you can get right to business.
You'll notice instantly how fast you can make any element sticky and how easy it is to use the plugin.
To help you better understand how this plugin works, here are some examples of how to create the following:
All in all, Sticky Menu, Sticky Header (or anything!) on Scroll will be an installation you certainly won't regret!
2. Sticky Header Effects for Elementor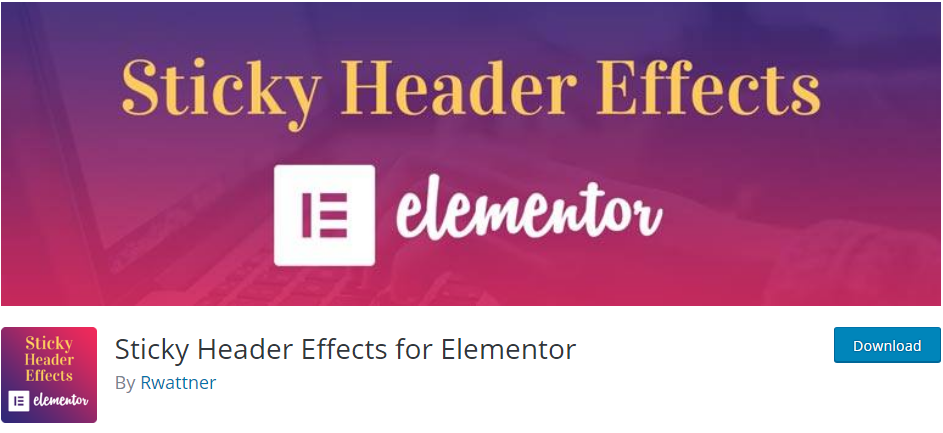 Sticky Header Effects for Elementor is a plugin that provides you with a bunch of useful options that are missing in the sticky header feature of Elementor 2.0.
With it, you can change the header background color, logo size, height, and bottom border.
Sticky Header Effects for Elementor offers the following features: options panel built-in to Elementor Pro's advanced section options (the options are arranged so that your workspace is not in a muddle), apply options on scrolling (the scrolling distance is adjustable), transparent header (makes the primary background color transparent and puts the header across the top page section), header background color (ability to change background color once you start to scroll down the page), bottom border (once you start to scroll the border thickness and color can be switched), shrink header (changes section min-height to maximize space and achieve a slim style), shrink logo (after scrolling, you can adjust the height of the logo).
This plugin can only be used with Elementor.
3. myStickymenu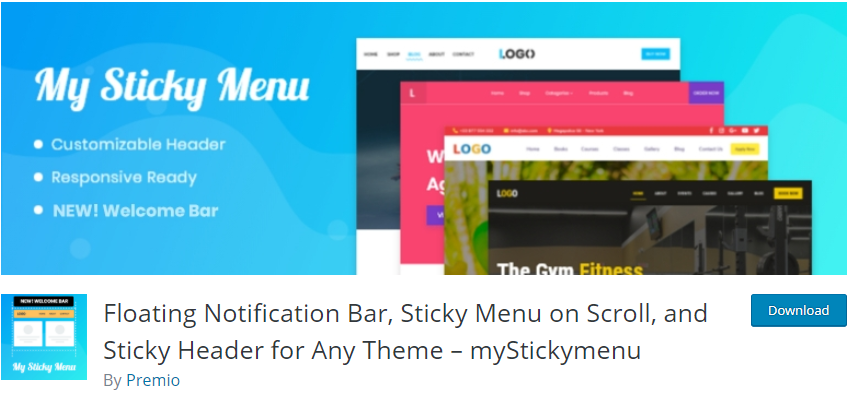 myStickymenu is a WordPress plugin that sticks a menu to the top of the page while a user is scrolling through the page.
Some of its features are: show the sticky header on scroll down/up, choose when to make the header visible on a scroll, change the background color, change the opacity, change the sticky transition time, define the z-index of the sticky header, change the CSS style.
4. Responsive Menu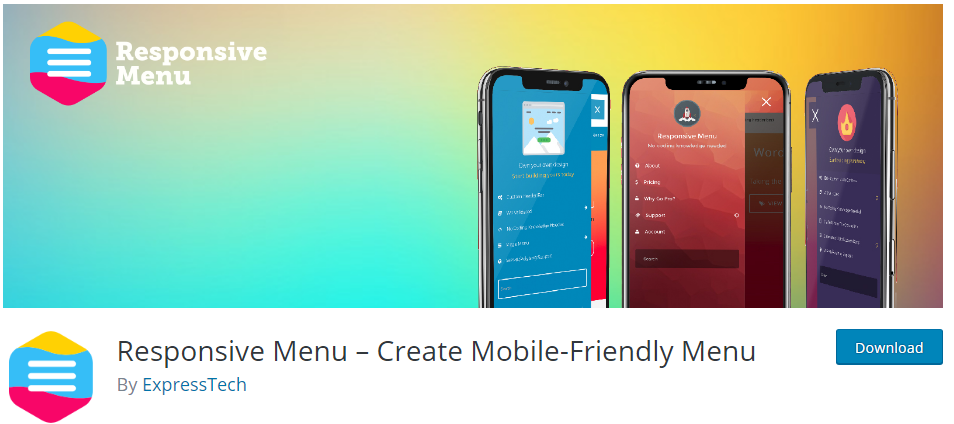 The Responsive Menu plugin allows you to preserve a part of your website and put it to better use. Once you have installed it, you can remove the original menu as well as the default menu option and replace it with a responsive menu.
You will see a square-shaped icon with three small lines in it; that is your responsive menu. You can change the color of the icon to match the theme on your website, as well as the color of the menu buttons and their background.
The responsive menu can come from the top, bottom, left, or right once a user has clicked on it. You can also enhance it with a push, slide, or fade animation.
5. WP Floating Menu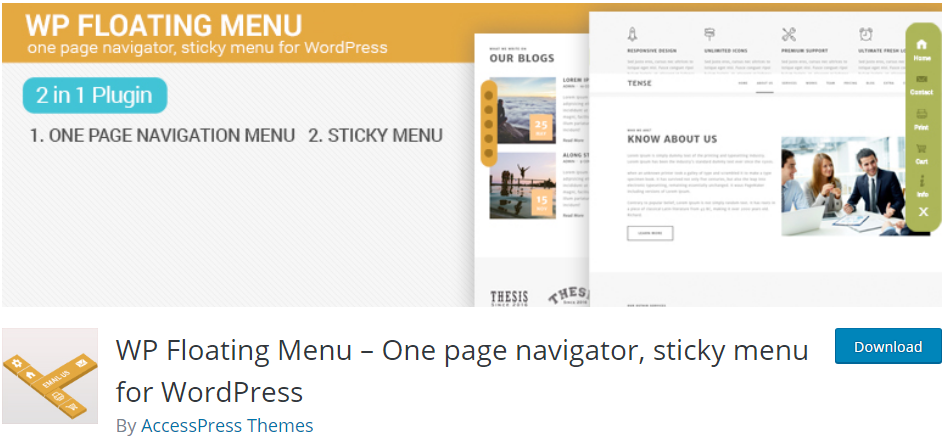 With this plugin, there is no need to change the theme of your website to make it look like a one-page website.
The plugin comes in a free and premium version.
Some of the free features are: easy sortable menu (simple ordering of the menu features), placement options (select right or left menu positions), inbuilt menu icon sets (three icon sets to choose from), custom template option (make a custom template that suits your site), mobile configurable (enable or disable whether to show the menu on mobile devices), menu settings (show the menu on all pages or the homepage only), translation-ready, and free updates.
Some of the premium features are: 20 different template layouts, unlimited custom templates, additional menu bar positions (7 different positions), and an unlimited number of menus on the site.
6. Side Menu Lite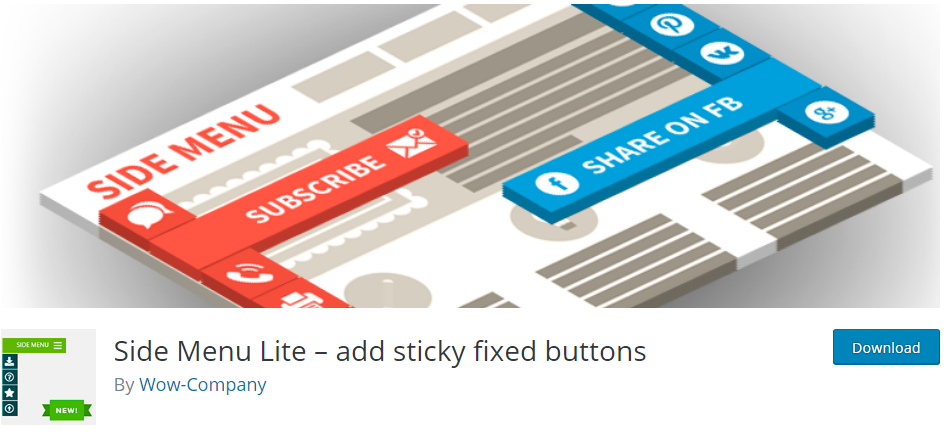 Side Menu Lite is a WordPress plugin that comes in handy for creating a desirable floating sidebar for navigation on your website. This sidebar can be placed on the left or the right side of your website.
With this plugin, you'll also be able to choose the size of the icons, the size of the menu items, and the size of the fonts that will be included in that sidebar.
The main features of the plugin are: an unlimited amount of menus, 2 positions (left and right), insert any links, open links in a new window, menu item size control, icon and font size control, display control on devices, adding custom IDs and classes to menu items, and 1480 Font Awesome 5 icons.
7. Float Menu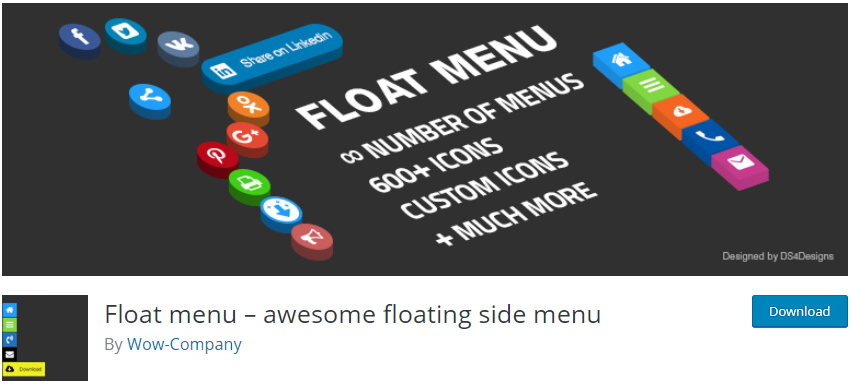 Float Menu is a plugin using which you can create a floating side menu. This plugin allows visitors to use a menu, which can be placed on the left or the right side of the website, and enjoy their experience browsing the website without a menu bar holding them back.
Its main features are: create an unlimited menu, 2 positions for displaying the panel (left or right on the page), add and customize button labels, edit indents between the menu items, square-shaped buttons, 1400+ Font Awesome 5 icons, select the color for each icon, insert any links, open links in a new window, and set the background color for the button.
8. WPB Floating Menu or Categories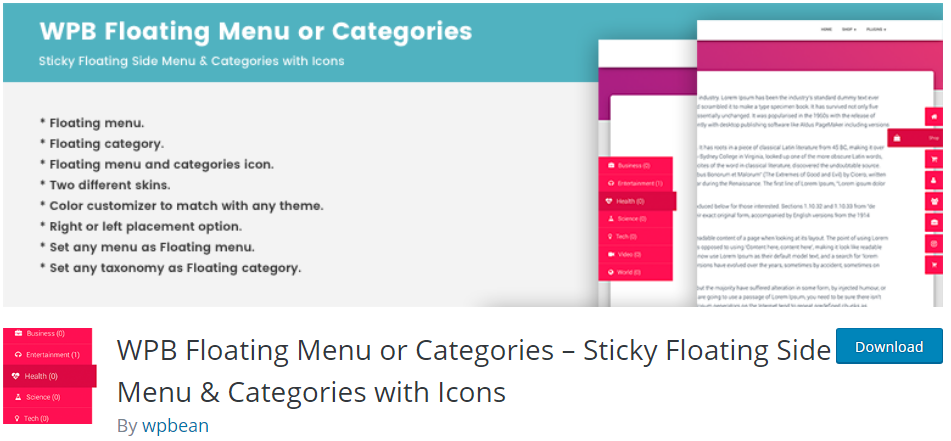 WPB Floating Menu or Categories is a free WordPress plugin for creating and assigning a floating menu or categories with icons on your website.
This plugin has many features such as: floating menu, floating category for any custom taxonomy, floating menu and categories icon, two different skins, color customizer to match with any theme, right or left placement option, any menu or any custom taxonomy can use a floating menu or category, enabling or disabling the floating menu or category on phones, material design, mobile responsive and modern, clean design, easy ShortCode system, advance settings panel for customization, all modern browser support, translation & RTL language ready, very lightweight, and so on.
9. Simple Sticky Header on Scroll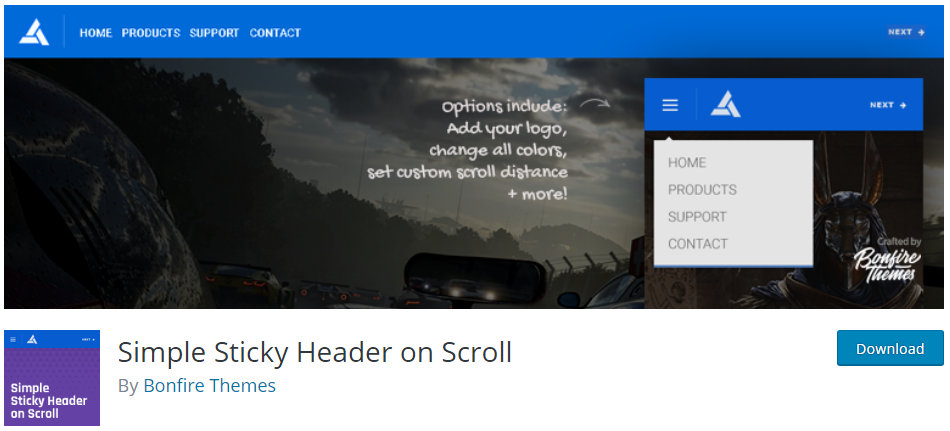 Simple Sticky Header on Scroll is a plugin for creating a slide-down floating header that you can add to any WordPress theme. You can customize the header's color and logo to match the color scheme of your website's theme.
To ensure visitors are having an enjoyable browsing experience while using smaller screens, this plugin makes the horizontal menu switch to a dropdown menu.
Simple Sticky Header on Scroll's main features are: quick and simple setup, add your logo and menu, set custom scroll distance for sticky header's appearance, color customize every element, and setup/customization can be done quickly and in real-time via the WordPress Live Customizer.
10. Fixed And Sticky Header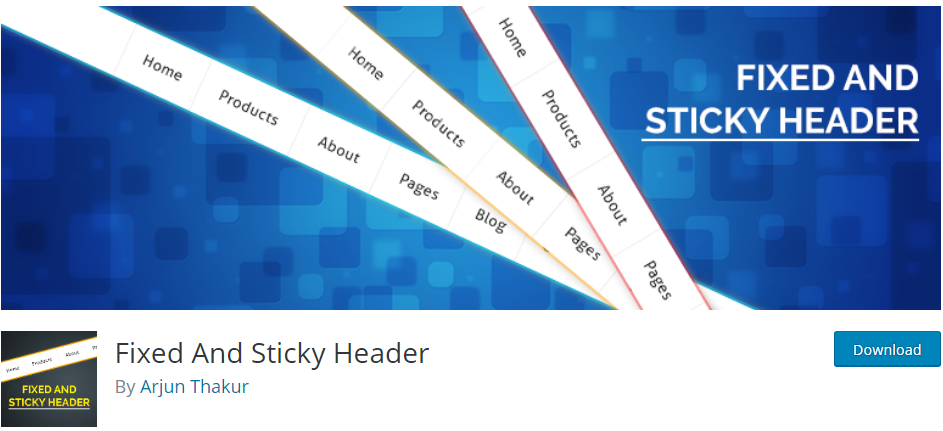 Fixed And Sticky Header enables visitors of your page to use a header that is visible all the time.
This header makes the page easy to navigate and allows visitors to have no worries about having to constantly return to the top of the page just to use an option from the header.
The plugin also gives you an option to choose the fixed header's text color and background color.
Conclusion
Good plugins are hard to find, but since over 100.000 people use the Sticky Menu, Sticky Header (or anything!) on Scroll plugin, it tells you that this plugin is number one on this list for a good reason.
Features like push-up element, any element can stick, admin bar aware, enable for certain screen sizes only and only on some pages, z-index, and multiple sticky elements are just a part of this plugin's offer. We can only imagine what other great features await the users of this plugin in the future.
All in all, we hope this article was helpful and that it will ease the process of picking a WordPress sticky menu plugin.