PE Panels is a simple, easy to style, well optimized, free tabs & accordion WordPress plugin created for displaying widget with blog posts and pages content in tabbed or collapsed (accordion) views.
It comes with a bunch of useful, simple to manage options like a show or hide, post thumbnail, read more link and publish date. It also allows to control the unlimited number of panels and order them.
The size of thumbnails size can be adjusted – this makes the widget very friendly and flexible for WordPress users.
This is a great WordPress plugin for displaying posts in tabs or accordion is WCAG 2.0 / ADA / Section 508 compliant (accessibility-ready). Meaning it follows WCAG requirements and offers keyboard navigation support.
PE Panels, the responsive plugin is compatible with the latest 4.9 version of WordPress. It supports mobile devices!
You should check the example of using this plugin on the School WordPress theme.
There are many settings that you can easily define from the backend, let's see them below.
Installation
Upload the 'pe-recent-posts' folder to the '/wp-content/plugins/' directory.
Activate the plugin through the 'Plugins' menu in WordPress.
Go to the 'Widgets' page found under the 'Appearance' menu item.
Drag 'PE Panels' to the target widget area and choose your options.
PE Panels Example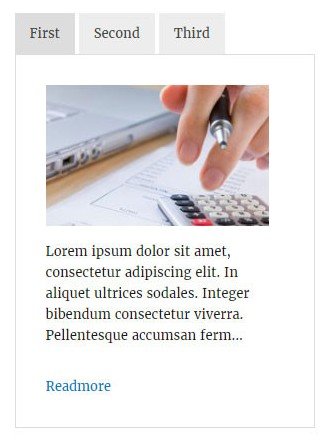 Settings for Tabs / Accordion: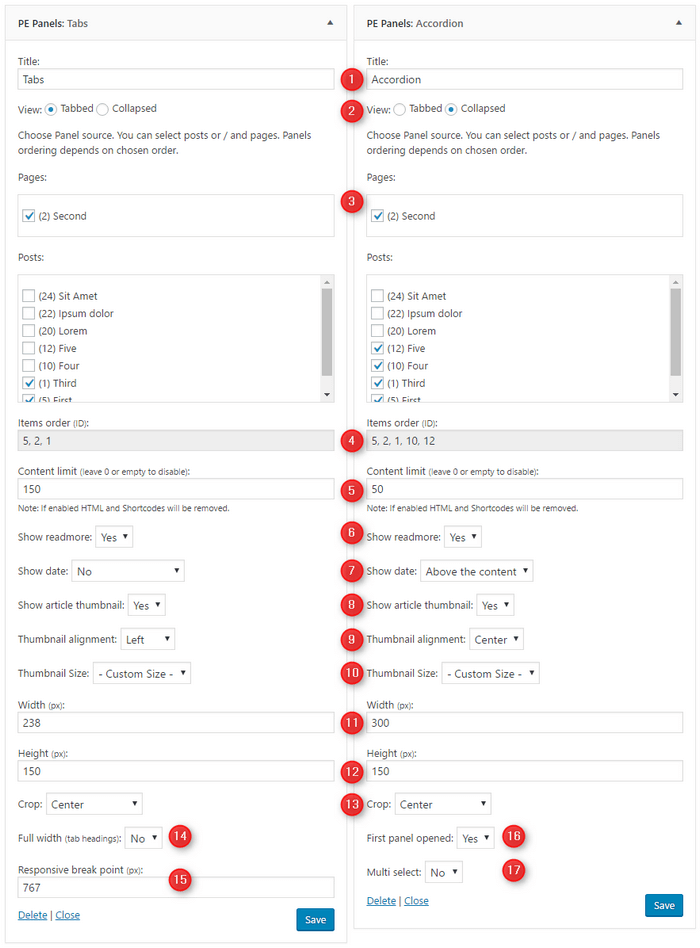 Widget title.
Type of view ( chose between 2 available views – tabbed and collapsed).
Posts and Pages to show as panels.
Items ordering (depends on items chosen ordering).
Content length limit.
Option to show 'readmore' link below content.
Show creation date in certain positions.
Show post thumbnail above content.
Thumbnail alignment (to the left, to right or center).
Thumbnail size (you can choose from all theme sizes or set custom size – thumbnail will be generated automatically).
Image width in pixels.
Image height in pixels.
Option to crop thumbnails (you can choose crop area).
(Tabbed view) Option to resize panel headings to fill available space (each heading will have fixed width).
(Tabbed view) Responsive breakpoint (widget will switch desktop mobile layout in this resolution).
(Collapsed view) Show or Hide first-panel content.
(Collapsed view) Allow open more than one panel.
Wrapping Up
With this free WordPress plugin from PixelEmu, you can easily display widgets containing blog posts and pages content in tabbed or collapsed (accordion) views. The PE Panels plugin include a lot of options to show or hide, post thumbnail, read more link, publish date etc. It is WCAG 2.0 / Section 508 compliant and also an accessibility-ready tabs and accordion WordPress plugin.
PE Panels is a free WordPress plugin you can download from the WordPress Plugin Repository. This plugin makes really it easy to use content in tabbed or collapsed (accordion) views. Give it a try!
More plugin from PixelEmu we have reviewed – PE Recent Posts – A Free Recent Posts WordPress Plugin.