WordPress is the unquestionably the best and most preferred website development platform across the world. Millions of our most favorite websites are built with WordPress.
When it comes to addressing the latest norm of mobile technology, the platform exclusively allows the developers to go above and beyond the imagination by making the most out of its extended capabilities.
Either you want to go for a low budget or a high-end professional website development. The open source development environment allows developers and designers to work in a more autonomous and efficient way while bringing the best in class web experience for the end users.
Top Free WordPress Themes 2018
Let us find out the top free WordPress themes 2018 that might interest you in developing and designing a low budget responsive website.
Hestia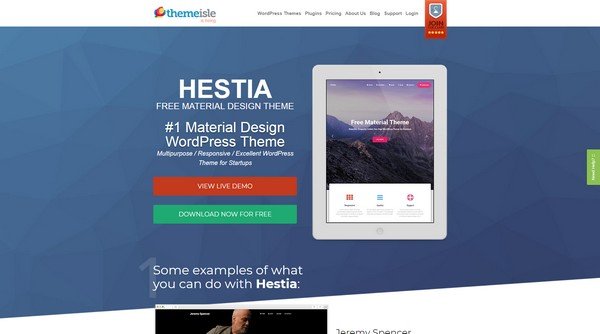 Hestia is a WordPress theme created by ThemeIsle. It is ranked on top of the list when it comes to top free WordPress themes. It offers a clean and beautiful look and feels that followed by the latest design trends of Material UI Kit. The theme features a one-page web design layout with value-added smooth scrolling and a high-end artistic look. Let us have a look at few of the Hestia's top highlighted features.
Features
The theme is fully responsive.
Backed by Material UI Kit.
Multiple widgets footer.
Fully compatible with WooCommerce and other page builders.
Completely SEO friendly.
Integrated SendinBlue (for newsletter forms).
A dedicated live customizer.
» More Details & Download | Demo
Sydney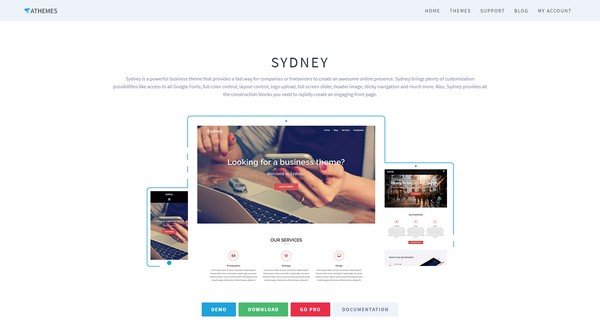 Sydney is a clean and high-end free WordPress theme from aThemes that suits the best to almost all sorts of business-centric websites. The theme offers a wide range of exclusive features that encompasses full-screen slider, stunning animations, and smooth scrolling.
Sydney is one of the few themes that are not only available for free but in addition to that it features an interactive look and feels with a fully widgetized footer and a highly responsive design layout. It also has a modern and beautiful interface and comes with colorful sections.
Features
Features absolute responsiveness.
Unique interface and colorful sections.
Supports translation.
Unique parallax backgrounds.
Dedicated slider and static image header options.
Support social sharing.
Unique set of fonts.
» More Details & Download | Demo
Anariel Lite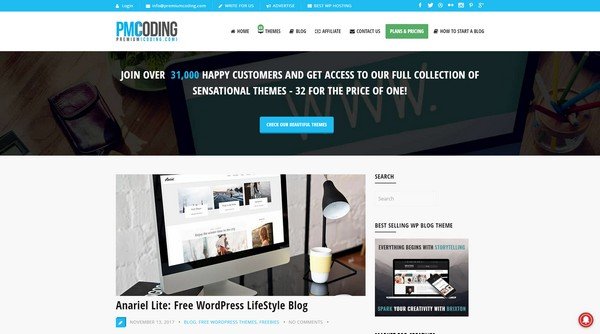 Anariel Lite is a high-end free WordPress theme from Premiumcoding that offers a unique set of today's most wanted web design layout features and options. The theme is highly stylish and comes up to the mark for almost all sorts of lifestyle and fashion magazines and blogs. Anariel Lit is completely based on the minimalist design theory and features an elegant set of typography, brilliant colors specifically sidebar options and elements.
Features
Features up to 7 blog post layouts.
Exclusively focuses on the content.
Incredible photo gallery templates.
Completely responsive and a high-end Retina ready theme.Fully optimized for strong SEO.
Interactive buttons and social media icons.
» More Details & Download | Demo
Orfeo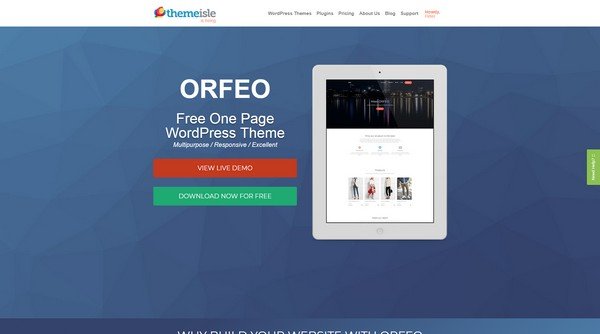 Orfeo is another top ranking free WordPress theme from ThemeIsle for 2018. The theme is considered to be one of the best fits for small businesses, startups, and low budget website developers. Orfeo offers a smooth one-page design layout accompanied by the latest look and feels demands of today's mobile-first design theory.
Features
The best fit for promotional campaign projects.
A comprehensive multipurpose design layout.
Dedicated pricing tables with extensive customizations.
Completely responsive.
Support Elementor page builder.
100% WooCommerce ready.
True parallax scrolling.
» More Details & Download | Demo
Zerif Lite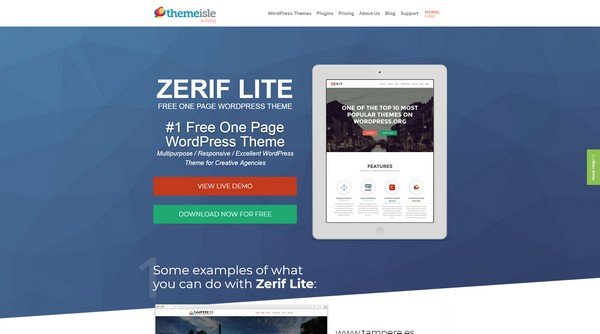 Zerif Lite is undoubtedly one of the most interactive free WordPress themes that deliver the best with its single-page design layout. The theme from ThemeIsle features a dedicated full-width image in the background. That makes it easier for many to customize and yield their choice of look and feel of the website. Zerif Lite features a stunning combination of colors, fonts, and animations. That all together play's an important role in designing a high-end website for any purpose.
Features
Features Parallax effect and complete WooCommerce integration.
Cleaner and validated code.
A comprehensive set of options for the control panel.
Supports localization.
One of the best responsive design layout.
» More Details & Download | Demo
ShopIsle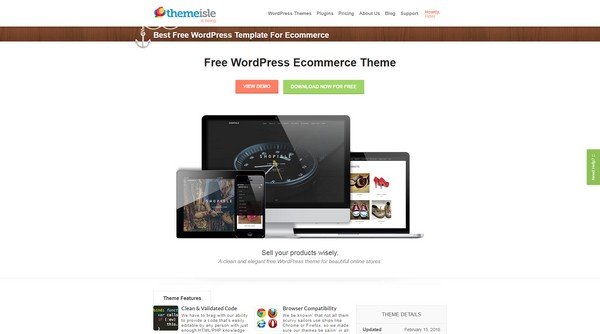 ShopIsle is one of the most preferred and an elegant free WordPress theme. According to most of the developers, it is one of the top highlighted themes that fits the best with most of the e-commerce projects.
Moreover, the theme features a full-screen slider. The theme appears to be the best option for any sort of online shops or retailers that give a whole new look to the content. ShopIsle has a video ribbon, a smooth scrolling, and a classy layout, which will put your products in the spotlight.
Features
Features a video ribbon.
Responsive and WooCommerce Compatible.
Multi-widget footer.
Supports complete localization.
» More Details & Download | Demo
ColorMag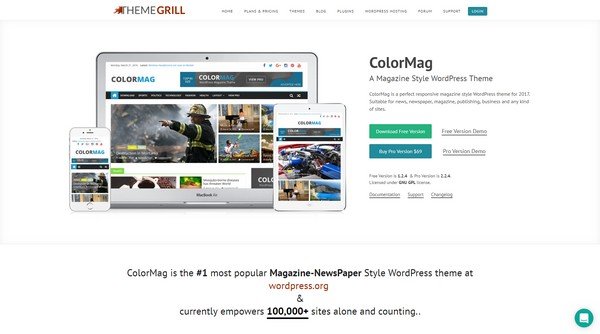 ColorMag is a cleaner and advanced free WordPress theme from ThemeGrill. It fits the best with news, magazines, and many other forms of content publishing projects. ColorMag is one of the few top ranked elegant and interactive themes that features a stunning look and feel backed a unique set of colorful buttons and typography.
Features
Responsive design layout with a dedicated slider.
A complete multipurpose WordPress theme.
Unique set of boxed and wide layout options.
Highly intuitive content structure.
WooCommerce compatibility.
More than 15 widget areas with complete customization.
» More Details & Download | Demo
Allegiant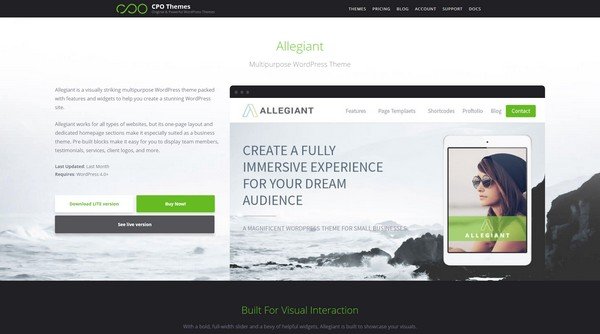 Allegiant is an interactive free WordPress theme from CPOThemes. The theme features an exclusive minimalist layout and appears to be one of the best options for business websites.
The theme is a complete multipurpose and flexible options for startups, portfolios, agencies, and many other similar sorts of business-centric projects. The classy set of parallax sections and a full-width animated slider with extensive customization options adds another level of exclusivity.
Features
The theme is completely responsive and features custom shortcodes.
Unique color theory and typography.
Complete layout control with parallax scrolling.
WooCommerce and localization support.
» More Details & Download | Demo
AccessPress Parallax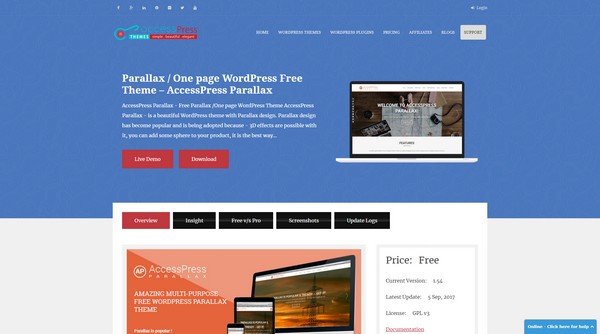 AccessPress Parallax from AccessPress Themes is one of the few awesome free themes for WordPress development. It features smooth and elegant parallax scrolling with a one-page theme layout. In addition, the theme addresses most of the modern day web development benchmarks and fits the best with any business-centric web development idea such as online stores.
Features
The theme offers a completely responsive design.
The best set of multiple header layouts.
Advanced post settings and color customization.
Stunning CSS3 animations and parallax scrolling.
Dedicated slider.
Works best with WooCommerce.
» More Details & Download | Demo
OnePage Lite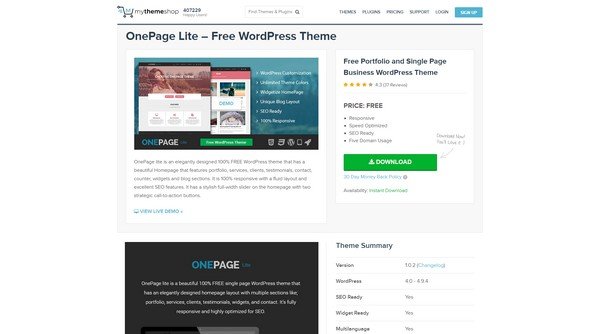 OnePage Lite from MyThemeShop. Is last but not the least when it comes to mentioning the top recommended free WordPress themes. Perfect for low budget web design and development projects. The theme features a well-defined structuring of the various sections that brings up a consistent and concise look and feel of the website. Developers can make the most out of the bottom to display the latest posts or any other sort of promotional content.
Features
Comes up to the mark when it is about responsiveness.
Discrete parallax elements for the homepage.
Extensive range of color schemes and typography.
100% SEO ready.
Tailored content sections for the homepage.
» More Details & Download | Demo
Author Bio: Gregory is a well-experienced and qualified WordPress developer engaged with one of the best web design company. He continued adapting the latest trends and shared his valued opinions on the famous blogs within his chosen industry.