The popularity of digital currencies such as Bitcoin, Bitcoin Cash, Ether, Ripple, and others requires a good WordPress theme. Suppose you want to research and write about this topic or educate those interested in it. You will have to own a good cryptocurrency blog.
Moreover, if you want to create professional content, your website design should be outstanding. However, your website will follow the latest trends, be responsive, and offer a great user experience.
So, before you start dealing with the world of cryptocurrency, check out these professional WordPress themes that'll help you launch in no time.
Cryption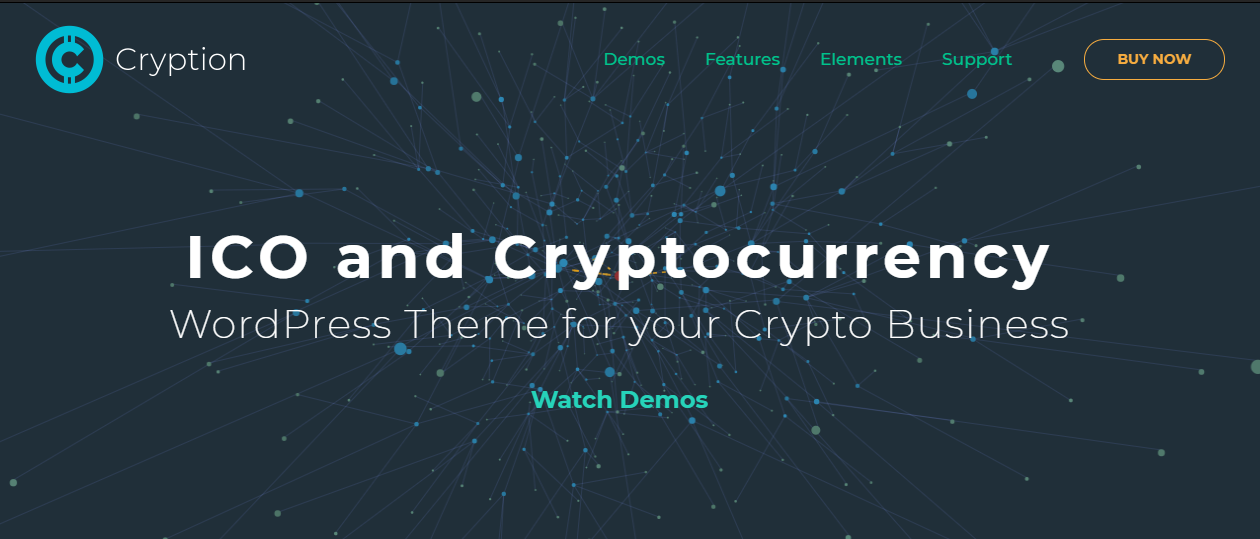 Cryption is a WordPress theme specially optimized for the cryptocurrency industry. In other words, this means that it's perfect for building websites for both consultants and cryptocurrency agencies.
Also, this theme offers various range of different homepage layouts. And further, lots of features with every individual design. However, if you want to create more personalized content, you can customize pre-built elements to match your needs better. Cryption will also offer you a complete set of blog templates that you can customize as well.
This theme is suitable for creating a cryptocurrency blog and adding a blog to another type of website. Since this theme includes a premium page builder, there is no limitation just to a standard WordPress editor. Instead, you're free to use this embedded editor and design custom elements and layouts.
There are also pretty detailed options in the control panel which enable you to change the appearance of your website. Adjusting fonts, changing colors, changing the header layout, and moving elements are just some of the options that come with this cryptocurrency theme.
When you start building a site, you can choose whether your website will be in a one-page or multipage design. A widget-ready footer area also gives you various options to display elements and widgets in this website area.
Pricing
Lastly, we have to mention that the Cryption theme has several website demos that you can check out before purchasing. The price of this theme is as low as $39 (one-time payment). Also, if you want to extend support to 12 months, you can do so by paying an extra $10.13.
Crypton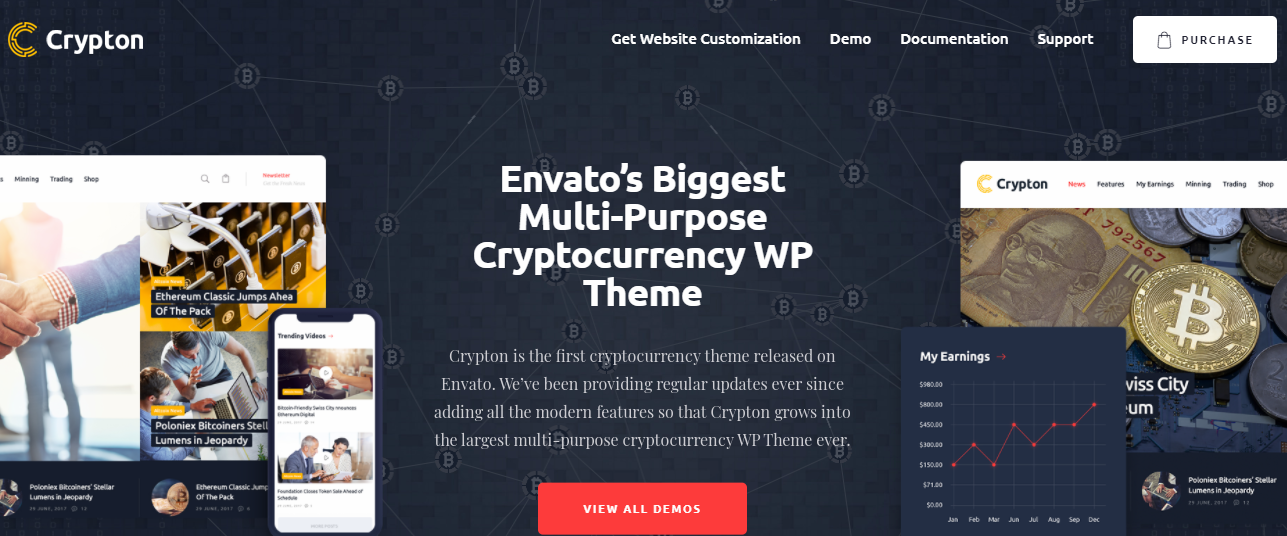 Crypton is a multi-purpose cryptocurrency WordPress theme that offers several different website versions, as you can guess from the name. Since there are multiple demos and layouts you can choose from, you can easily create a cryptocurrency blog. You can even build an online magazine or even a cryptocurrency store and services.
Also, the Crypton theme delivers the best website design, responsiveness, and lots of pre-built features. Depending on which demo you choose to use, you'll be able to set up and create a professional website in no time.
Moreover, if you choose to go with a blog demo, the design and available widgets will make it easy to write and publish all the articles. However, we have to say that the magazine demo is also an excellent choice for posting content with multiple authors at a high frequency.
Besides the blog and magazine demos, the Crypton theme will also offer you a coaching demo for courses and training. It comes with great options, such as adding a membership area to your website. And even an option for booking a coaching call, and much more.
Also, if you want to start a website for selling cryptocurrency products, then the e-commerce demo is the right choice for you. It even has an option to accept payments in Bitcoin and other cryptocurrencies of your choice. The price of this theme is fixed and costs $59.
Blockchain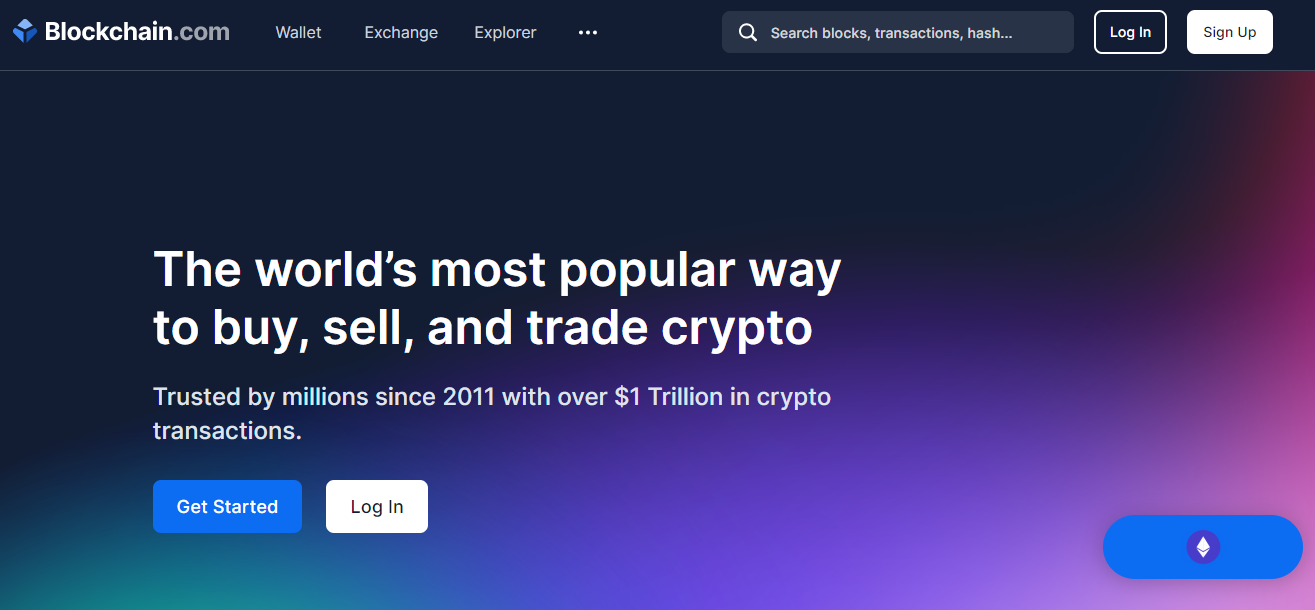 Blockchain is the best choice for ICO and cryptocurrency-related blogs and websites. First, this theme delivers a high-quality design and user experience, making it an excellent choice for starting a business website. Moreover, the main layout of the Blockchain demo gives you tons of cryptocurrency features.
Also, there is plenty of options so that way you won't miss a thing about it. We have to be aware that today one of the most powerful tools is the cryptocurrency exchange rate.
Furthermore, it gives you an easy way to display the latest exchange rates in a table view on your website. These table views can be modified and displayed however you want. So it gives your visitors an easy way to see the most up-to-date rates.
Besides that, the Blockchain theme comes with custom widgets that you can use in your website's header, footer, sidebars, and other areas. Thanks to this, the visitors will have a quick view of all relevant information and exchange rates.
Also, it is effortless to set up all of the features and use them. Some of them are also fully customizable. To ensure you have complete control of every single element in this theme. Blockchain is created around the Elementor page builder tool, so you can easily customize the entire demo or design it in your way.
Pricing
This theme offers four paid plans – Blockchain (priced at $34.30), the Standard Club (priced at $48.30), the Developer Club (priced at $62.30), and the Lifetime Club (priced at $174.30). So, if you need a professional cryptocurrency website with a highly professional design, this theme is definitely for you.
Crypto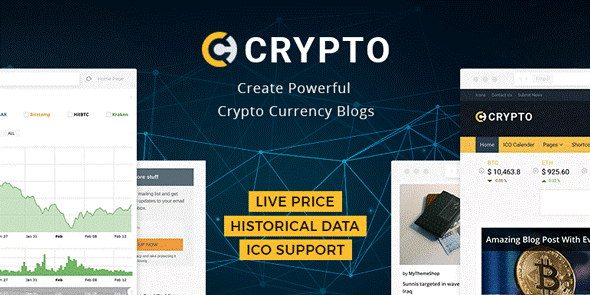 Crypto is a primarily Bitcoin and cryptocurrency WordPress theme. It will meet your need when it comes to cryptocurrency topics.
The vital fact is that this theme includes four different demos. Demos include cryptocurrency news websites, blogs, and eCommerce selling crypto products. And regardless of the cryptocurrency type your site will focus on, any of these demos can be a good choice.
However, this theme comes with many cryptocurrency-focused options and tools. They will offer your visitors the latest information and up-to-date exchange rates. Besides this, there's also an option to create coin dedicated pages for the currencies that generate the most news articles.
Moreover, we have to mention that the Crypto theme also delivers lots of blogging-focused functionalities. This theme gives you an unlimited number of personalization tools, where you can change font family, colors, types of elements, parallax scroll, and much more. Also, it offers you many blog templates you can choose from. You're also able to use the features posts slider to promote your key content. It also supports adverts on your website (AdSense included). If you need to insert additional functional elements, you can use the library of shortcodes pre-built along with this theme.
Pricing
However, if you decide on this theme, there's a limited-time sale right now. You can get this theme as a Single Product for $59 (up to three sites) or get a Membership for $197 (up to three sites).
DigiBit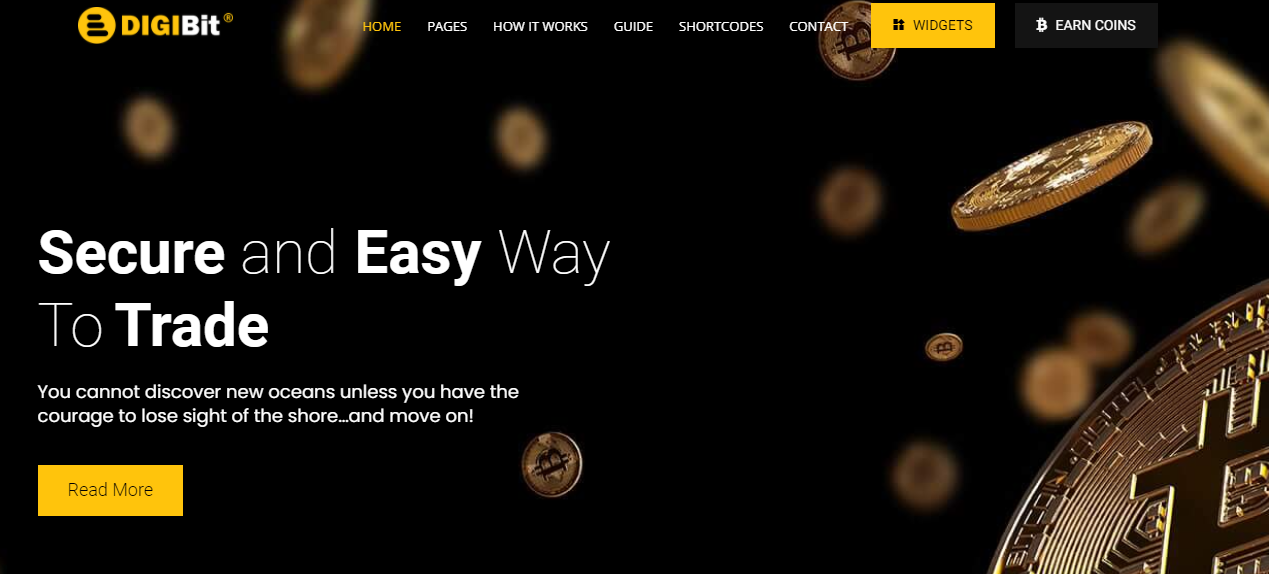 DigiBit is another WordPress theme for cryptocurrency that has various eye-catching demos and layouts you can choose from. Since the apparel of this theme for all types of cryptocurrencies, its developers say that it has a significant focus on Bitcoin-related services and products.
However, it doesn't matter if you're starting a cryptocurrency blog or other cryptocurrency-related project. This theme will most probably be suitable for you. DigiBit comes with over 85 handcrafted elements along with 11 custom-built cryptocurrency widgets.
Besides the fact that you can choose from different types of demos, you can also select which header layout you want. If you have full edit access to this theme, a premium page builder will make this process as easy as possible.
Moreover, this theme also gives you some powerful tools and templates to sell physical products, digital items, and fully editable blogging templates.
Pricing
The DigiBit is suitable for both individuals and businesses, and if you decide to go with it, the price is fixed and costs $59 (one-time payment).
Conclusion
In conclusion, we have to mention few crucial facts. It's not easy to choose a suitable theme for your cryptocurrency website or a blog. However, we hope that some of the themes stated above will meet all your needs and help you create the most stunning cryptocurrency website.