Have you found the perfect WordPress theme? There are so many things that must feel good and above all look good and it is often very difficult to find a theme that meets your specifications. But in today's article, we hope we can help you a bit on the way in the world of WordPress themes.
After many years of experience in testing WordPress themes, there is often some features that do "not fit" in how you want your online presence to look like! It can be anything from the layout, header, footer that does not look as you want. No knowledge of how you can change the theme! I guess you remove that theme quite fast, right?
It's never easy to find a perfect theme. We know. But fortunately, there are great themes. Features you can make use of to change almost everything with no knowledge of coding. There are themes built for speed, including page generator, landing page templates, customizable and conversion elements. Let us introduce WordPress themes from Thrive Themes.
Thrive Themes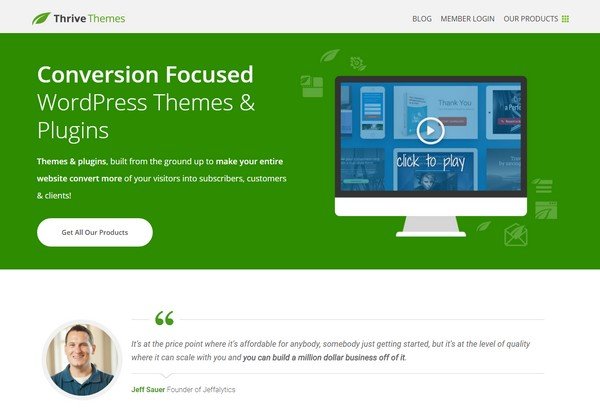 Thrive Themes started in 2013 by Shane Melaugh and Paul McCarthy. They created the first WYSIWYG editor for WordPress. With this visual editor, Thrive Themes was born. Later their first conversion-focused WordPress theme was released. After that, Thrive Themes team began growing rapidly. Now they have a number of awesome WordPress themes built for conversion optimization and speed.
Other well-known products from Thrive Themes are:
You can choose to buy a single site license for their products or choose the advantageous Thrive Themes Membership option. Which means you will have access to all Thrive Themes plugins & themes on 25 of your own websites.
In today's article, we'll look at their selection of WordPress themes.
WordPress Themes by Thrive Themes
The WordPress themes from Thrive Themes are all optimized for speed which is an important ranking factor today. They also come with smart conversion elements so you can add targeted focus areas. Meaning the most relevant offers are shown to your visitors. More clicks and more sales.
Thrive Themes are designed with great readability in mind. The themes also feature an easy page generator so you can create sales, legal and opt-in pages. Every Thrive Theme also including a "Landing Page" template.
As you can see, WordPress themes from Thrive Themes are packed with great features, perfect to power up your WordPress website.
Let's take a look at some WordPress themes from Thrive Themes, shall we?
Rise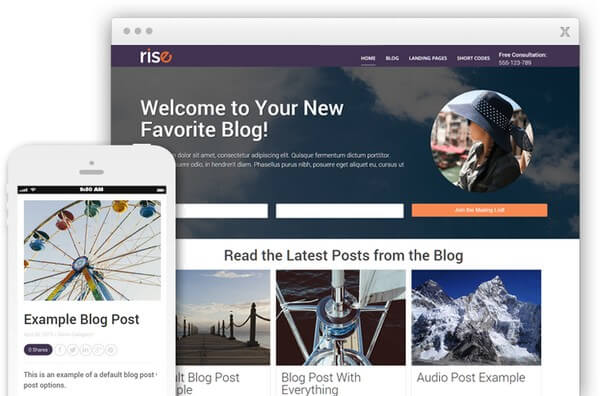 Rise is a WordPress theme that is perfect for all kind of affiliate marketing, business, and corporate websites. This is a feature-rich theme which focuses on affiliate marketing, perfect if you want to make money online. Features: Responsive design, extensive admin options, search engine optimized, visual theme customizer. Customizable header. Features to grow your mailing list and built for speed.
» View Details | Demo
Storied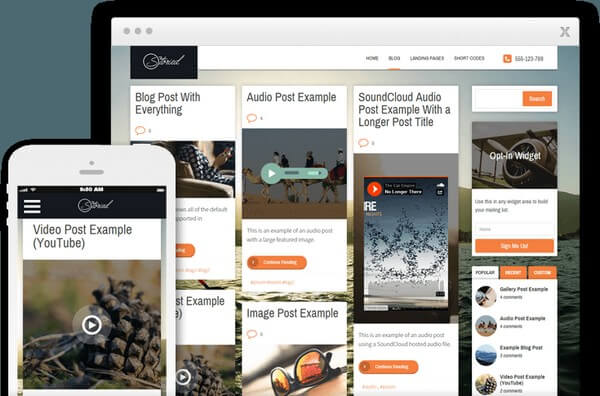 Storied is a theme in Pinterest style created for any blogging WordPress website. Display multi-media posts such videos, audio, images in an elegant way. Add call to action buttons, conversion elements to grow your mailing list. Features included in Storied. Optimized for speed. Extensive admin options, theme customizer, pre-built pages, different header layouts. Responsive design, SEO optimized and much more.
» View Details | Demo
Pressive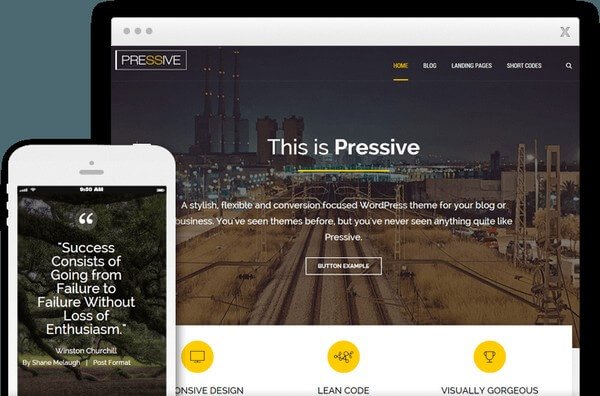 Pressive is an attractive WordPress theme for all kind of business websites. This is an elegant theme that focuses on your content, your offers, and your conversion elements. Features included in Pressive. Theme options, page generator, responsive design. SEO optimized. Different header layouts, custom background colors. Built-in features allow you to display targeted opt-in forms. Automatic image optimization.
» View Details | Demo
Wrapping Up
If looking for a new WordPress theme, or simply want to change your current, then I recommend Thrive Themes. Amazing themes, with all imaginable online business requirements, speed, and conversion optimization.
Choose between single site license or the advantageous Thrive membership with access to all WordPress plugins & themes on 25 of your own websites. Take a closer look at all WordPress theme and demos from Thrive Themes here.
Do you use WordPress themes or plugin from Thrive Themes? What is your opinion? Please leave a comment below.