Most people consider content marketing and PPC two different kinds of campaigns. Content marketing is an organic strategy that draws audiences to a website. PPC is a paid strategy where ads are placed in front of a prospective customer.
One would think that these two components of digital marketing don't go hand in hand together, but that's not accurate. Many publications have successfully combined content marketing and PPC to draw audiences.
You just need to employ the right strategy to get the best results. This article highlights some of the best ways content and PPC campaigns can support each other.

1. PPC Keywords Data Can Help with Content Marketing
Paid campaigns and content marketing use keywords to catch audience attention. PPC campaigns and tools provide a lot of insight into the keywords. It is easy to determine which phrases attract attention and drive traffic.
It is important to add well-researched keywords into your content because the last thing you want is to draw the wrong audience. Here's a look at how you can use PPC keywords data to help your content marketing campaign:
Find keywords

that generate the highest amount of traffic or revenue. You can use the Keyword Planner from Google, SEMRUSH, Longtail Pro,

Ahrefs

, or similar sophisticated tool to get the best results.
You can explore your

Google Analytics

data from every campaign to understand which keywords are more successful for you. Sometimes keywords that work well for you might not be the most popular keyword according to keyword planning tools.
You can use commercial intent words to drive conversions through content. Most keywords in content marketing are research-based. They catch the attention of people who wish to gain more information on a particular product. Commercial-intent keywords are more focused on encouraging people to buy.
You can study the data from your most successful ad copies and apply that information to content marketing. That can lead to much better numbers on content marketing.
Keywords are an important aspect of both content marketing and PPC. It makes sense to use the information gained through one campaign to bolster the other.
2. PPC Ads to Gain Traffic
One of the biggest disadvantages of organic marketing is that it takes time. You won't start seeing traffic or engagement immediately after the article is published. Sometimes the delay invisibility can have an impact on the overall performance of your campaign.
There are millions of blog posts published every day. It can be challenging to get the attention you need on this platform. PPC ads are a great way to get immediate visibility for your content.
You don't need to do much, just place an ad that connects to your content. Target the right research-intent and commercial-intent keywords for the best results. Paid ads will bring immediate clicks, especially if the ad copy provides a great description of the content.
This increases brand awareness and can be a great way to supplement your organic content marketing campaign. The idea is to approach your prospective customers from two different directions.
PPC ads appear at the top of the search engine results page. This is considered prime marketing real estate and provides brands with a lot of visibility.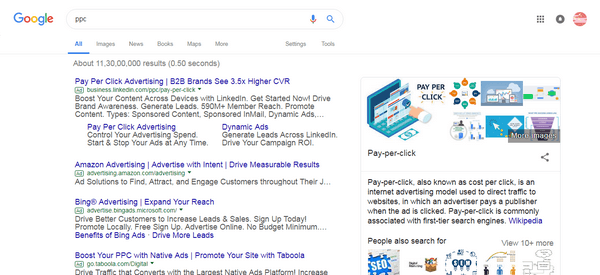 These ads are the first thing your prospective customers will see when they search a keyword. That's why it is a good idea to include ads in your content marketing strategy.
3. Dominate the First Page

Many people believe that paid ads have a negative impact on organic clicks but that's simply not accurate. According to research conducted by Google, pausing search engine ads didn't increase organic clicks.
This means your organic content marketing strategy isn't negatively affected by search ads. However, having PPC ads and organic results on the same page can have a positive impact on your traffic.
When you have both paid ads and several organic links on the first page, you're essentially dominating it. This means your brand will be more visible, which means it will stand apart from other results.
You'll also see better CTR from repeated visitors because multiple links on the first page give an impression of authority. This is one of the many instances in which PPC campaigns and content marketing work beautifully together.
The goal is to intensify your brand's presence on the search engine results page. Combining these two strategies is a great way to do that.
4. Content Marketing Applied to Landing Pages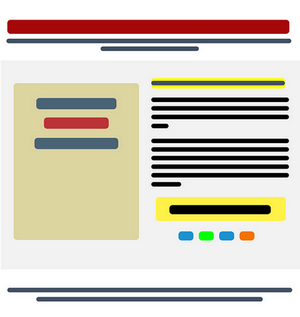 PPC ads lead to landing pages, and these landing pages must deliver a good experience to convince visitors. Most website designers know how to create a pretty page, but don't know how to create appealing content that will lead to a better conversion rate.
This is where content marketers can help. They know how to create convincing content for PPC ad campaigns to help gain the best results. Studies have shown both long and short content can provide results. However, the content should provide the answers prospective customers seek.
For example, short content ideal for products and services that don't need much explaining. However, if you have something obscure or something that requires more industry-specific knowledge, you need to provide long-form content to explain it.
Good content on landing pages will lead to higher conversion rates. If users find all the information they need on your website. They might not be inclined to research on third-party platforms.
Also Read, The Ultimate Guide to Content Marketing in WordPress
5. Creating Bias Through Familiarity
When prospective customers see a brand name multiple times, it creates a strong bias towards the brand. PPC can help create that bias, especially if it is working in conjunction with content marketing.
High-authority content linked to PPC ads will also make your ads seem more trustworthy and legitimate. Such ads will appear more legitimate instead of just appearing to be a sales tactic.
Building authority will help all aspects of your marketing campaign, including SEO, content marketing, social media marketing, etc.
These points show that content marketing and PPC can go hand in hand. With the right planning and proper execution, it is possible to create an effective campaign in both categories.