An easy way to turn visitors into customers is to use the Catchers Helpdesk WordPress Plugin. This plugin specializes in enabling website administrators and support team to provide help for customers through interaction in real time.
In this way, after problems are detected and reported, they will immediately be notified to the support team, who then diagnoses and comes to the customer's rescue at once!
Catchers Helpdesk WordPress Plugin
Let's check out some of the features in the plugin, shall we?
Ticket Tracking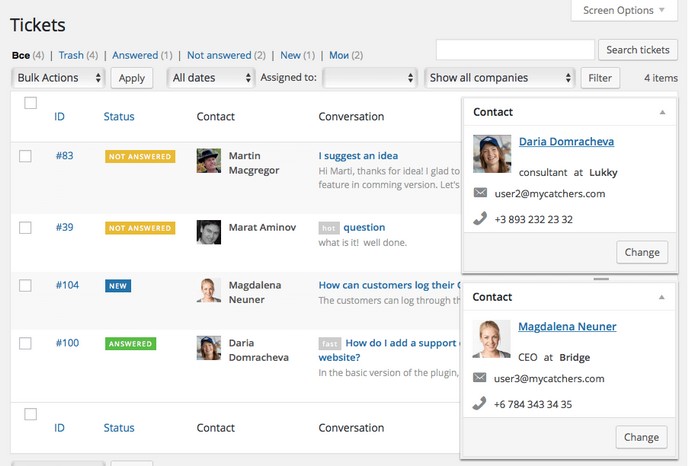 Every request sent to your support email becomes a ticket in your helpdesk. You can easily categorize and prioritize tickets and assign them to the right people in your team.
And you don't have to worry about multiple agents responding to the same ticket anymore because everyone on your team can see who is working on each ticket, as well as its status.
Customer Cards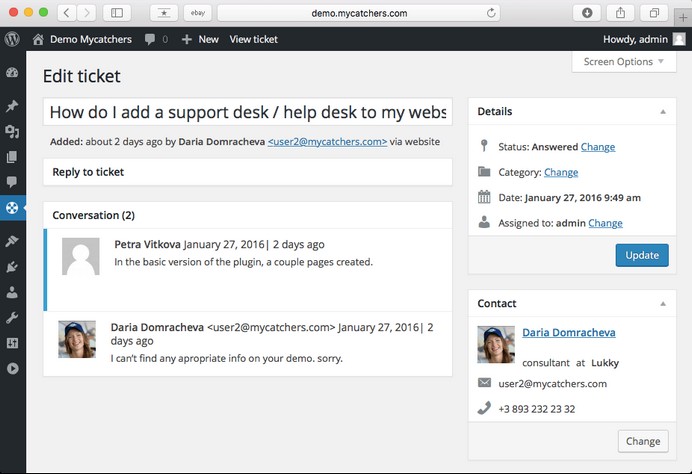 Main Features
Catchers Helpdesk WordPress Plugin includes several great features such as:
Ticket Tracking
Customer Cards
Embed Contact Form Tools
Ticket Fetching via Emails
Awesome Integration with WordPress Themes
Client's Personal Front-end Space
Easy Installation Process
And much more!
You can choose either the free or the pro-Catchers Helpdesk WordPress Plugin depending on your needs. In addition to those wonderful features of the free plugin. The pro-version of the plugin also offers:
Saved Replies
Conversation Feed Filtering
Forwarding
Cc and Bcc Fields
Private Notes
Ticket History
Insert Footer into Replies
Want to develop your WordPress website and please your customers? The Catchers Helpdesk WordPress Plugin is right there awaiting you. Why not check out the plugin demo!
Besides offering so many useful and realistic features Catchers Helpdesk WordPress Plugin also gives you a clean interface and secure platform to use. This WordPress plugin will do a great job of what it promised to do.