WordPress has 7500+ themes, and new themes are being updated daily. Does out those available Theme set what is so special about the responsive Theme?
I was curious to know how responsive Theme is useful for my startup website. This curiosity grew, and I finally took the time to research it.
I will share my findings of a responsive theme review here.
What is a Responsive Theme?
Responsive Theme is a customizable, mobile-friendly & fast free WordPress theme. It has 22+ ready-to-use starter websites and support for WooCommerce. Cyber chimps developed it.
It has customizable responsive WordPress themes that have community support. The prebuilt sites are fast and high performing.
History of Responsive Theme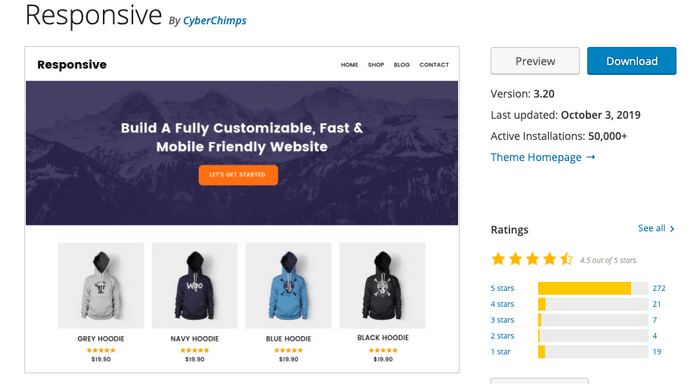 The responsive Theme was launched in 2012 by Cyberchimps. It has more than 1 million downloads. It has prebuilt, ready to use themes. The theme is for all business streams like blogs, business, professional, and e-commerce sites.
It is easy to customize, as it has a drag and drop facility for all the responsive themes. Because of user-friendliness and simplicity, responsive themes are the most preferred. Developers prefer them as per responsive theme review.
What Responsive Themes Offers for Its Users?
The Responsive theme have so many features that make it preferable. It is both developers-friendly and user-friendly. The layout is in a perfect structure. Customizations are easy to code, and we can use them most of the time with no modifications.
Responsive Designs:
Designs that adapt to any device layout. Mobile, tablet, notebook, desktop, or laptop included. All the themes are built attractively, beautifully and elegantly. These themes work well with any device and plugins. Customizations allow colors and gradient changes in the themes with WordPress Customizer support.
Ease of Use and Support:
Responsive allows you to update the design with a simple drag and drop. The support team continuously updates and improves features of the themes. It supports security enhancements and bug fixes. A dedicated team of support members handles forum and WordPress support requests.
Advanced Technology:
It supports WordPress 5.0, Twitter Bootstrap, HTML5, and CSS3. It has an advanced framework for the websites which can be customized by the developer.
Fast Performace:
With minified code Responsive provides fast performance for the website. The GT matrix report shows an "A" grade for a clean site built with this free WordPress theme.
Features of Responsive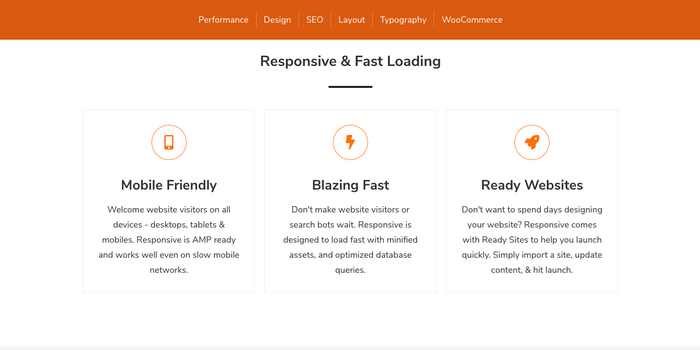 It includes customizations options, AMP ready mobile layouts that work on slow connections. High performs and blazing speed sites with minified assets and optimized database queries.
These sites are built with import content, update, and launch websites. All these customizations make your site load faster and reduce the waiting time for the user or bot.
Color and Typography Customizations
It has a customizable design that allows changing colors, layout, and typography. It matches designs with brands and logos. Header & footer layouts, container widths, and widget areas included.
We can also change page-level changes like sidebar position and show posts in a list or grid. Choice of order for post's title, meta-tag, featured image & content appearance are available. It gives the developer full control of the site or blog.
Blog and Page Design:
Not just homepage, responsive also gives importance to blog and other page design. You can customize the position of the sidebar, the overall layout of the page, and the pagination style.
WooCommerce Features
Besides, it has custom WooCommerce options like custom layout, colors, and styles. It lets the user decide the layout of the shop and product pages.
Allows product photos, title, description, price of the product, and add to cart buttons. The style and order of the appearance of the buttons are also customizable. We can customize the sales bubble to button colors.
We can also customize the style in which sales promotion bubbles appear.
SEO Friendly
All sites are SEO optimized, and HTML/CSS helps bots to crawl our websites. Fast loading sites, as suggested by the GT Metrix report. Page speed insights say that they are high performing sites and SEO friendly.
Schema.org Enabled Theme
It is schema.org enabled free WordPress theme and allows the developer to embed customized codes. It helps search engines crawl the pages with ease. This will result in improved search ranking.
Elementor Compatible
The theme has Elementor page builder support. It helps you customize your page and built with free Elementor page building plugins. It is Gutenberg Ready and helps edit WordPress posts with Gutenberg editor. Everything in the layout is customizable. We can make our page look unique through site-wide changes.
Ease of Use and Support
All the features are easy to use as they are drag and drop, and simple features. Responsive provides active support on their forum and WordPress.org support. The free WordPress theme is well documented which helps you to understand the flow and working of the theme. They need to work on wordpress.org support response time.
Ready Sites
Responsive comes with 20+ ready sites for various business domains. For example, doctors,  construction house, ecommerce site, etc. All sites are responsive and ready to import. They operate on simple mantra as import, update, and hit launch. Ready to use sites, those are prebuilt and fast loading.
Conclusion
Overall Responsive seems a decent choice for the website owner. One of the best free responsive themes I have come across. It gives you a lot more flexibility to edit and design your website.
I found their ecommerce features quite useful. For example, It has a customizable sales bubble, font, and layouts that adapt to any device. As per the name, developers have added many options to configure based on the device.
All the prebuilt sites are SEO friendly that helps bots to crawls websites. It helps search engines to index your website faster. The metrics also prove that these sites are fast loading and high performing.
Final verdict: You should definitely use the Responsive theme.
Get Responsive.