If you are working with WordPress on a frequent basis. Then you must be aware of various powerful WordPress features that enable users to manage several contents, blogs, configuration settings and other such attributes to deal with WordPress content management tool efficiently.
But other than above-mentioned amenities of WordPress content management tools. There exist several differences between multiple WordPress sites and multisite WordPress. Here I am going to explain you about brief differences that exist between multiple WordPress sites and Multisite WordPress tool.
Have you ever given a thought regarding various advantages of WordPress Multisite and WordPress multiple installation sites?
Every WordPress installation process has its own significant resources to function properly on various web servers. For better functioning of WordPress, one needs to splurge more money by devoting more time to make their WordPress run much faster by offering an optimized output to users who are dealing with.
Having a quick access to ample amount of WordPress blogs can really be a simple task to have with you. WordPress lets you work with multiple blogging features efficiently without having much trouble.
Next, we come to various problems that might occur with WordPress multisite.
Well, I must say that combining these two WordPress versions can be a good option to work with. To be very frank. In my views, WordPress multisite is best suited for specific industry types that purely focuses on various content management utilities for managing and uploading contents on different WordPress sites.
But be aware of the fact that while performing anything important related to developing blogs on your WordPress account. You are aware of the fact that WordPress is always on a network. Multisite WordPress can often lead to high-security issues as it works on various themes as well as various essential WordPress plugins. It's always a better choice to work with ManageWP.com tool for launching any WordPress site. As well as managing any blogging website.
Well, if you are a frequent WordPress user. I think you are aware of the fact that every user profile that you create on WordPress is live and can be-be accessed publicly in simple steps. Each and every multisite WordPress networks can shares every single WordPress content database that can further lead to high traffic sites on every system that you are working on by affecting your designed WordPress blogging websites in the multisite network.
Next step describes WordPress Multisite and Multiple WordPress Installation methods.
Managing multiple WordPress websites is an appropriate option for users those who want to work with multisite WordPress that can help them stay away from any serious WordPress networking issues.
But if you are confined to handling just a few websites for each blogging systems with various functionalities, purposes, and other different common goals. Then running anything related to WordPress on separate WordPress site installation would always be recommended for a better accessing option. But everything based on WordPress content handling management process has to be updated on a frequent basis to ensure it from any malicious attacks.
How you need to manage multiple WordPress websites in an efficient manner?
Take a mature decision before you start working with WordPress multisite as well as WordPress multiple site installation. But it's always recommended to have a better suggestion regarding both the versions of WordPress. Multisite WordPress as well as multiple WordPress to further avoid any serious attacks.
Working with multiple WordPress websites can lead to a challenging process. But yes one can access few numbers of third-party services for better accessing features. That will let you manage multiple WP installations techniques in an efficient way from one fixed location.
Handling WordPress Effectively with ManageWP Feature
ManageWP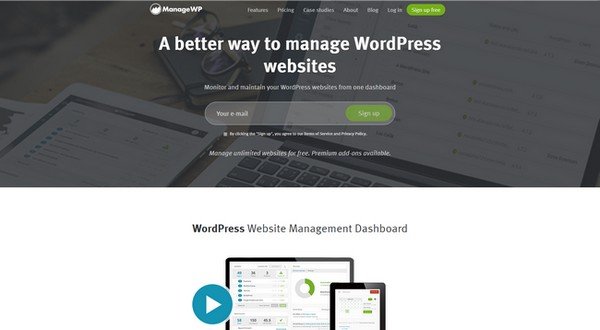 ManageWP is the most well-know WordPress service when it comes to working with WordPress management service online. Access all these high-level powerful WordPress features at your fingerprints by saving your time. As well as the effort that will effectively allow every WordPress users stay updated. It will also simultaneously keep your WordPress website quite manageable.
WordPress Powerful Amenities
Access its high flexibility to append all new and bulky posts as well as various latest packages
Every WordPress version enables users to manage and append a numerous number of users by defining their respective roles by transforming websites into professional as well as business WordPress sites.
WordPress lets user access numerous of

Google Analytics Widgets

view their created and designed WordPress website statistics according to Google requirements.
Work with Search Engine Rank Tracker while you perform your blogging task on WordPress. View each and every site ranking in various search engine websites
One of the biggest advantages of WordPress is its Traffic alert tool. It notifies every user about spikes in visitor's number.
Easily manage every content back-ups such as S3 delivery process, Dropbox tool as well as Google Drive with all packages.
Easily manage all your WordPress scheduled backups utilities for future references.
Effectively clone and migrate your WordPress websites to another location on your available managed sites.
WPRemote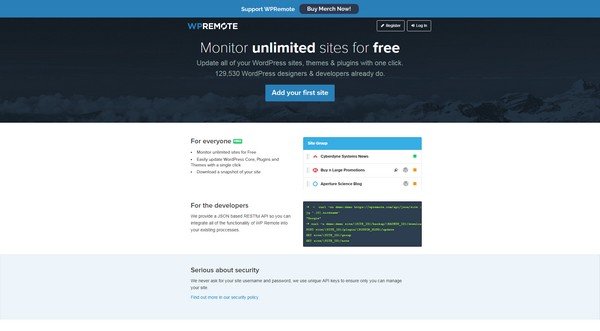 WP Remote of WordPress deals with a single method to monitor and update each and every WordPress site. Manage various updates related to installing plugins. As well as numerous WordPress themes remotely via WP Remote website that offers quick flexibility to access an ample number of mainstream updates. Apart from previously mentioned features of WordPress. Users are most welcome to access multiple Automatic Backups. As well as downloadable files by accessing a full copy of their developed WordPress website in zipping file format.
Your WordPress administration panel allows you to handle a wide number of WordPress sections to manage created WordPress site.
An automatic WordPress update offers you with a quick ability to handle numerous automatic updates for working with WordPress Plugins, Themes, and other WordPress Core features. There are numerous other advanced WordPress minor releases as well as major releases to work with. What makes WordPress highly renowned among users worldwide is its firm support of allowing WordPress users to work with Dropbox as well as  AWS S3 tool that serves as an automatic backup destination to them.
Author Bio
Priya is a Technical SEO at Hopinfirst, a leading mobile app development company which provide best ios app development and Android app development Services.